Military Expert Points Out Weaknesses in Russian Strategy on State TV
A Russian military expert invited on state TV appeared to disappoint fellow hosts as he offered a restrained view of how Russia is performing in the war, pointed out weaknesses in Russian strategy and acknowledged that Ukraine's forces are "very strong."
Speaking on Russia's Channel 1, military expert Vladimir Popov warned that Russian troops could sustain major losses if they attempted to enter big cities in Ukraine moving forward, as Ukrainian forces fighting against Russia are very strong and "motivated."
"Based on Ukraine's representations of the way its forces are positioned, on the Eastern front, there are up to 35 nationalist battalions. That is a very large force," Popov said. The military expert added that Ukrainian forces are "very motivated...you can't change or convince them."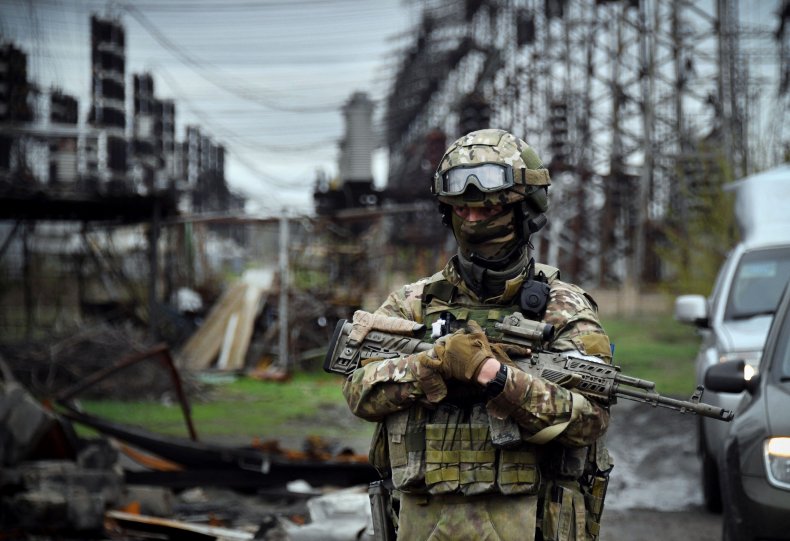 He noted that Ukraine has "very strong" military units stationed south of Kherson.
"There was a training center of special forces, those military units are very strong, they're also very motivated, they should be dealt with only through force. Meaning, they have to be physically destroyed. There is no other way," Popov said.
The hosts in the television studio remained silent throughout Popov's analysis.
He continued by saying that "there is no sense" in Russia entering large towns at this stage of the ongoing conflict, which began in February. "All of them are mined...all schools, hospitals and artillery positions," said Popov. "Solely to put our flag in the center of town we would risk major losses, so that wouldn't make any sense."
Popov suggested that entering a big city such as Kryvyi Rih, the largest city in the central Ukraine, "is too much for us to handle without jeopardizing our Armed Forces."
"These are the current military circumstances," he added.
His remarks come after the British Ministry of Defense said in an intelligence update on May 10 that Russia's losses during the ongoing conflict forced Russian President Vladimir Putin to change his goals.
Russia underestimated Ukrainian resistance, the ministry said, and this "miscalculation" has led to Moscow's "unsustainable losses" and "demonstrable operational failings," preventing Putin from announcing significant military success in Ukraine at the May 9 Victory Day parade.
That analysis was echoed in British intelligence updates Thursday.
The U.K. Ministry of Defence said Russia's failure to anticipate Ukrainian resistance "and the subsequent complacency of Russian commanders" have caused "significant losses" across Russia's more elite units.
Newsweek reached out to Russia's Defense Ministry and Ministry of Foreign Affairs for comment.