Russian Diplomat Questions Why No One Blamed His Country for Bolivian 'Coup,' but Then a U.S. Senator Did Just That
Russia's top diplomat quipped that he was surprised Moscow had not been blamed for unrest in Bolivia—but then a U.S. lawmaker did just that.
Speaking at the Paris Peace Forum, Russian Foreign Minister Sergey Lavrov said with a twinge of sarcasm Tuesday that his country had become accustomed to accusations linking it to scenes of disorder across the globe. In recent years, the U.S. especially has blamed Russia for instigating conflicts in nations such as Ukraine, sewing destabilization across Europe, and prolonging crises in countries such as Syria and in Venezuela—one of several Latin American states beset by political strife.
"Recently, we were mentioned as the ones who meddled with the situation in Chile—that's why the APEC summit was cancelled—and I was wondering why we are not mentioned in relation to the developments in Iraq, Lebanon, and now in Bolivia," Lavrov said, according to the state-run Tass Russian News Agency. "Somehow we haven't been accused of the coup in Bolivia, and this is strange. So something is happening in the minds of those who normally create the geopolitical agenda."
Bolivian President Evo Morales resigned Sunday amid protests and a loss of his armed forces' backing in a move he and supporters have denounced as a coup. The term was rejected by the U.S.
However, in a twist of irony, Republican Senator Marco Rubio of Florida suggested exactly what Lavrov hinted at. He said the phrase may be part of Russian President Vladimir Putin's designs in South America.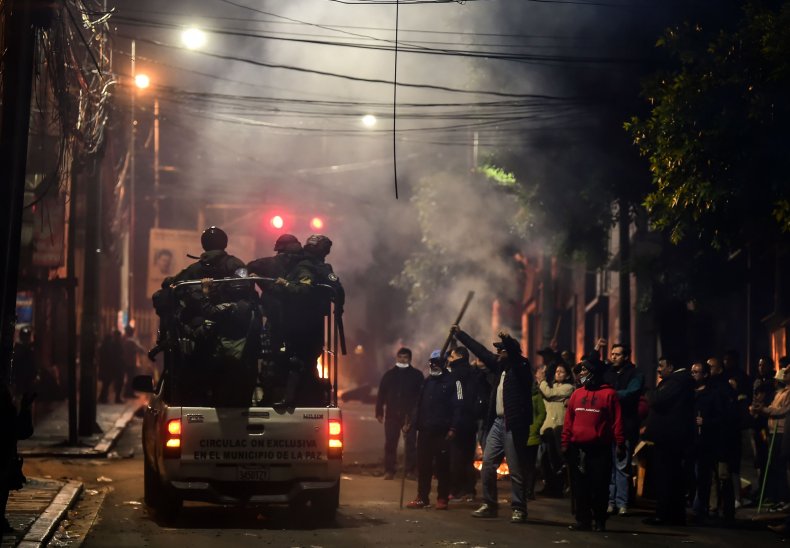 Rubio, whose parents fled Cuba in the 1950s during the rise of communist leader Fidel Castro, has long been a critic of left-wing leadership across Latin America, especially in Bolivia, Cuba, Nicaragua and Venezuela. In a tweet Tuesday, Rubio blamed not only Russia for disseminating a false narrative regarding the events in Bolivia, but held U.S. media outlets responsible for allegedly running with it.
"Those interested in how Putin uses disinformation as tool of foreign policy should study current coverage of #Bolivia 1. They create fake news 2. They spread it via vast network of outlets & social media actors 3. Disinformation gets echoed in mainstream media," Rubio tweeted Tuesday.
Those regarding recent events in Bolivia as a coup have pointed to the military's involvement in supporting the ousting of a democratically-elected leader, along with the decades-long history of the U.S. using similar tactics to remove unfavorable leaders across the continent. Backing Morales, who has sought asylum in Mexico, were fellow leftist-led nations in Latin America, as well as the likes of recently-freed former Brazilian President Luiz Inácio Lula da Silva—whose country was now run by the far-right Jair Bolsonaro, a critic of Morales—and U.S. presidential candidate Senator Bernie Sanders of Vermont, both socialists.
Those opposing the term "coup" to describe the situation in Bolivia have argued that Morales' administration had ignored electoral laws barring him from seeking another term and accused the leader and his officials of not being transparent with the latest vote, which he won by a narrow margin. President Donald Trump's administration appeared to adopt this point of view.
"You have surely seen statements by Morales and his supporters calling him the victim of a coup, despite the fact that what all these events clearly show is the Bolivian people have simply had enough of a government ignoring the will of its voters and continued incitement and unrest and violence to feed this false narrative is simply damaging Bolivian democracy," a senior State Department official told reporters Monday.
Another senior State Department official acknowledged "too much violence on both sides" as rival protests clashed in the streets of the capital La Paz. This official did not explicitly suggest Morales' Movement for Socialism (MAS) party should be barred from running again, but did state that "people who were directly implicated in trying to distort the outcome of the elections should not participate in the follow-on election."
That same day, however, the Russian Foreign Ministry said it was "alarmed by dramatic developments in Bolivia, where a wave of violence, unleashed by the opposition, prevented President Morales from completing his tenure." It argued that the "government's readiness for constructive solutions was wiped out by developments akin to coup d'etat."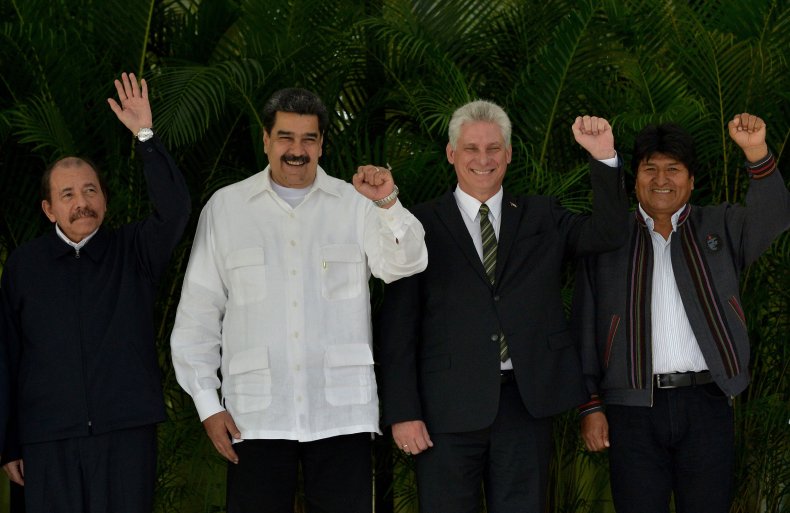 It would be only the latest venue in which Moscow and Washington were at odds in Latin America, where Putin has maintained Soviet-era ties with leftist parties suspicious of perceived U.S. imperialism in the 21st century. In the case of Cuba, Russia was joined Thursday by up to 186 nations supporting a United Nations General Assembly resolution calling on the U.S. to end a nearly six-decade embargo on the Caribbean island state.
Despite former President Barack Obama softening the U.S. stance on Cuba in 2014, the Trump administration has further cracked down on and has significantly expanded sanctions against Venezuela, where all ties with socialist President Nicolás Maduro have been severed. When opposition leader Juan Guaidó claimed the country's leadership amid an increasingly economic crisis and government corruption allegations in January, the international community was split, with Washington for him and Moscow against.
Months later, Guaidó has failed to attain power despite widespread Western backing as regional leftist-led nations, along with Russia, China, Iran, Turkey and other global powers sided with Maduro, who said Monday he and his administration "categorically condemn the coup d'état against our brother president" in Bolivia.
"The social and political movements of the world declare ourselves mobilized to demand the preservation of the life of the indigenous Bolivian people, victims of racism," he added.