Russia Suffers Blow as Germany Strikes Natural Gas Deal With Qatar
Germany said Sunday that it had reached a deal on an energy partnership with Qatar, as the European powerhouse seeks to reduce its dependence on Russia amid the invasion of Ukraine.
Robert Habeck, Germany's Federal Minister for Economic Affairs and Climate Action, met with Qatar's Emir Sheikh Tamim bin Hamad al-Thani on Sunday.
State-owned QatarEnergy said in a statement that the two countries "would re-engage and progress discussions on long term LNG supplies," Reuters reported. While Qatar didn't say that an agreement had been reached, a German spokesperson told the news outlet that a deal between the nations had been finalized.
"The companies that have come to Qatar with (Habeck) will now enter into contract negotiations with the Qatari side," the German spokesperson said, according to Reuters.
The deal with Qatar comes as Germany has taken other steps to reduce its dependence on Russian energy in recent weeks.
Last month, German Chancellor Olaf Scholz announced the nation would stop the certification of the Nord Stream 2 pipeline after Russian President Vladimir Putin said Moscow would recognize the sovereignty of self-proclaimed "people's republics" of Donetsk and Luhansk in Ukraine—a step Putin took just before he invaded Ukraine.
The pipeline was estimated to be worth about $2.7 billion per year to the Russian economy, and about $1.8 billion to the German economy. After Scholz backed out of the pipeline plans, Habeck, Germany's Federal Minister for Economic Affairs and Climate Action, began to explore options to reduce the country's reliance on Russia.
"We need to admit that in the past we have been too reliant on Russian imports," Habeck said in late February, according to Deutsche Welle. "In the medium and long term, we are going to significantly reduce the consumption of fossil fuels."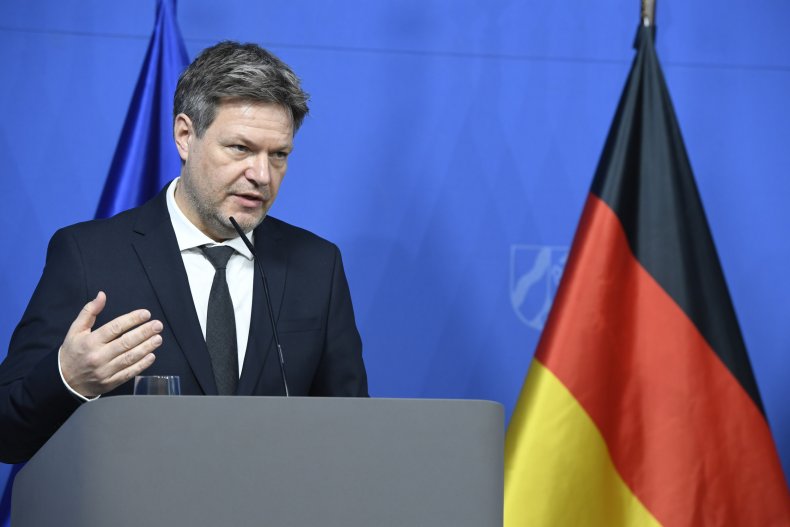 One part of Habeck's plan includes passing a new law that would ensure that Germany's energy sources would be 80 percent renewable by 2030 and 100 percent by 2035, Deutsche Welle reported.
In the weeks since the invasion of Ukraine, Western nations have sanctioned Russia, which has contributed to an increase in energy prices. In the U.S., which has seen record-high average gas prices in recent days, analysts have attributed the hike to Russia's continued offensive in Ukraine.
"Prices have spiked across the country due to the Russian war on Ukraine as sanctions cripple Russia's ability to export crude oil, spiking gas prices by nearly 41 cents in the last seven days alone," GasBuddy, a company that tracks fuel prices in the U.S., said in a statement on March 5.