Russia Takes On U.S. Syria Claims, Says It Will Join Iran 'in the Fight Against Evil' There
Russia has challenged recent statements made by U.S. national security adviser John Bolton regarding the conflict in Syria, where Moscow and Washington have been involved in rival military missions.
The U.S.-led coalition has supported the Syrian Democratic Forces, a majority-Kurd faction focused on defeating the Islamic State militant group (ISIS), while Russia—along with Iran—has thrown its weight behind the Syrian military, which has largely overcome a 2011 rebel and jihadi uprising backed by the West, Turkey and Gulf Arab states. As both campaigns enter a final push toward victory, Bolton told Reuters in an interview Tuesday that Washington had the upper hand on Moscow when it came to discussing a resolution to Syria's seven-year conflict because "the Russians are stuck there at the moment."
"And I don't think they want to be stuck there. I think their frenetic diplomatic activity in Europe indicates that they'd like to find somebody else, for example, to bear the cost of reconstructing Syria—which they may or may not succeed in doing," Bolton added.
Kremlin spokesman Dmitry Peskov rejected this assessment, however, saying: "It is not correct for anyone, let alone our counterparts in Washington, to claim that Russia has stuck up someplace," according to the state-run Tass News Agency. "Let us not forget that U.S. military personnel is present on Syrian soil, too."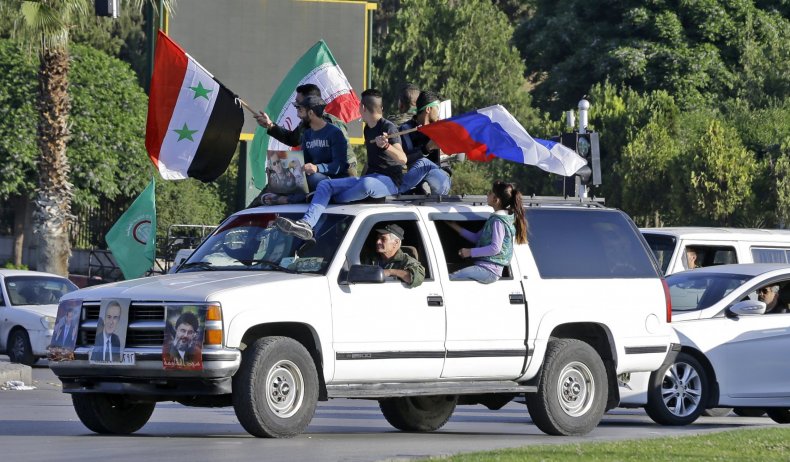 Russia's 2015 intervention on behalf of Syrian President Bashar al-Assad has allowed the Syrian government to reclaim most of the country, leaving about a quarter under the control of the U.S.-backed Syrian Democratic Forces. In recent months, Russia's political and military leaders have vowed to rebuild the war-ravaged country, stepping up calls for international support in doing so. The U.S. and some of its Western allies have so far declined to help as long as the country remains under the leadership of Assad, who they have accused of war crimes.
The Syrian Democratic Forces, however, have already entered into negotiations with the government. The largely Kurdish faction, which also includes Arabs and other local communities, has expressed skepticism toward U.S. commitment to the conflict as the fight against ISIS entered its final stages. The Pentagon has also reiterated its support for Turkey, which considers some leading Kurdish groups to be terrorist organizations, even as a political dispute plays out between Washington and Ankara. Trump himself has also expressed a willingness to withdraw sooner than later.
In Tuesday's interview with Reuters, however, Bolton identified another U.S. goal in Syria: "to worry about the presence of Iranian militias and regular forces." These mostly Shiite Muslim paramilitary groups, which include the Iran-backed Lebanese Hezbollah movement, have been deemed a threat by neighboring Israel, and have spread with the defeat of ISIS and the Syrian opposition. Bolton said that, in talks with Russia, "the one prerequisite there is the withdrawal of all Iranian forces back in Iran."
Strategic allies Russia and Iran have previously diverged over Syria, with the former calling for the eventual withdrawal of all foreign forces and the latter emphasizing the need to secure a long-lasting stability there with the approval of the Syrian government. Syria is also located between Iranian allies Iraq and Lebanon and next to its top foe Israel, while at the same time giving Tehran another major advantage in a bout for influence with its regional rival Saudi Arabia.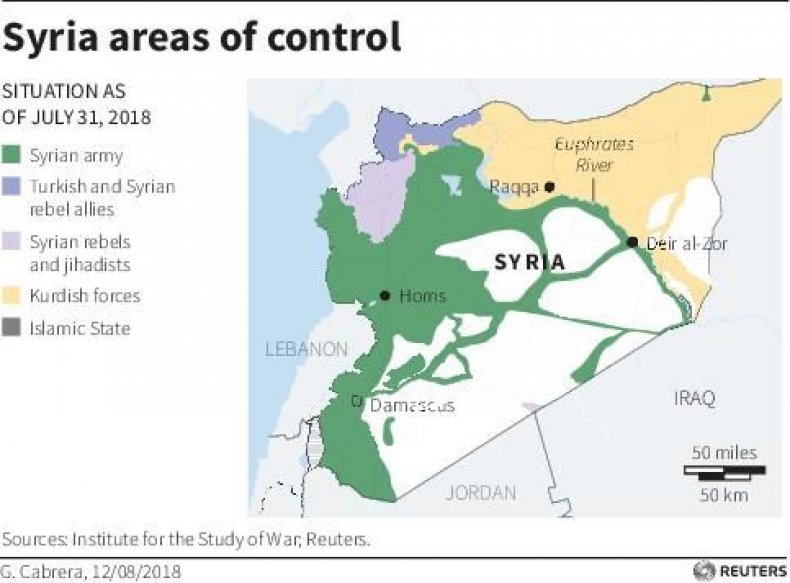 Unlike the U.S. and Iran, Russia has maintained contacts with all international parties to the Syrian conflict in a careful balance that still saw advantages to having some degree of Iranian presence in the country. On the same day, Bolton made his comments to Reuters, Russian Deputy Defense Minister Colonel General Alexander Fomin met with his Iranian counterpart Brigadier General Qassem Taqizadeh to discuss expanding their cooperation against terrorism in the region.
"We are satisfied with the level and scope of our cooperation in the military and military-technical spheres. I'm sure that we will further develop those types of cooperation with regard to existing international obligations," Fomin said Tuesday on the sidelines of the Army-2018 forum, according to the Russian Defense Ministry.
"In some regions, we support you in the fair fight against terrorism, which is, of course, the right thing to do," he added. "The world is very fragile, and the fight against terrorism is among the top priorities of our cooperation. This threat can never be underestimated, we need to strengthen our cooperation and team up in the fight against this evil."