Russia Targeting Donetsk to Divert Ukrainian Troops From Bakhmut—MOD
Russia is probably seeking to target areas in the eastern Donetsk region that it doesn't already control as part of an effort to divert Ukrainian troops from the embattled city of Bakhmut, according to an assessment by the British Ministry of Defence.
The latest British intelligence update on the conflict, which began on February 24, 2022, suggests Russia is moving to change tactics amid a nearly six-month long push to take Bakhmut, which has been one of the hottest spots of the war.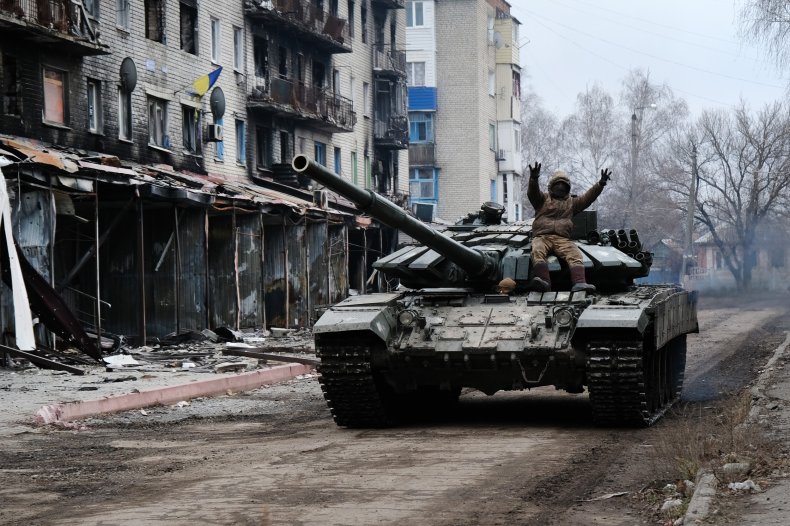 Russian troops, led by the Wagner Group paramilitary unit, have failed in recent weeks to make any operationally significant gains in their offensives around Bakhmut. They have been unable to progress beyond minor tactical gains in Soledar and other surrounding small settlements.
The U.K.'s defense ministry said on Tuesday that Russian commanders are likely "aiming to develop a new axis of advance into Ukrainian-held Donetsk Oblast, and to divert Ukrainian forces from the heavily contested Bakhmut sector."
In the last three days, Russia has probably developed its probing attacks around the towns of Pavlivka and Vuhledar into a more "concerted assault," the ministry said.
"The settlements lie 50km south-west of Donetsk city, and Russia previously used the 155th Naval Infantry Brigade in an unsuccessful assault on the same area in November 2022," the update said.
"Elements of the 155th are again involved as part of an at least brigade sized force which has likely advanced several hundred metres beyond the small Kashlahach River which marked the front line for several months."
According to the defense ministry's assessment, there is a "realistic possibility" that Russia will continue to make local gains in Bakhmut.
It added: "However, it is unlikely that Russia has sufficient uncommitted troops in the area to achieve an operationally significant breakthrough."
While clashes have continued in Bakhmut, Russian forces are also eyeing the nearby city of Vuhledar. Denis Pushilin, Russia's leader in the self-proclaimed Donetsk People's Republic, told state-run news agency RIA Novosti on Friday that the city's capture could radically change the balance of power on the Ukraine front line.
Soon, Vuhledar "may become a new, very important success for us," Pushilin said. "Taking control of this settlement will provide our troops with access to the Krasnoarmiysk (Pokrovsk) and Kurakhovskoye directions."
On Sunday, Ukrainian President Volodymyr Zelensky appealed to Western leaders to "speed up" the delivery of promised supplies to Ukraine amid Russian advances around Bakhmut.
Newsweek has contacted Russia's foreign ministry for comment.
Do you have a tip on a world news story that Newsweek should be covering? Do you have a question about the Russia-Ukraine war? Let us know via worldnews@newsweek.com.