Russia Threatens Direct Airstrikes on Ukrainian Soldiers' Homes: Report
Russia is allegedly threatening Ukrainian servicemen with direct missile strikes on their homes unless they surrender, lay down their arms or side with the invaders, according to a report issued Wednesday by the Main Intelligence Directorate of the Ministry of Defense of Ukraine.
The threats are being sent in direct messages to Ukrainian soldiers via SMS or mobile messaging platforms like Telegram or WhatsApp, the report said. These messages allegedly include the exact location of the soldiers they are being sent to and suggest that if they continue to serve Ukraine, "accurate missile strikes will be fired at the places of residence of the phone owner and his family."
The report said that Russia's special services, seemingly referring to Russian intelligence agencies, were behind these purported intimidation attempts.
News of the alleged threats followed reports of recent Russian losses during its offensive in Ukraine, even as it claimed Tuesday to have gained complete control over every suburb around the eastern city of Severodonetsk. An intelligence update released Wednesday by the U.K.'s Ministry of Defence said that Ukrainian troops had retaken an important "foothold" from Russia on the Ingulets Rivers in the southwestern Kherson region. A brigade in Ukraine's military also said in a Facebook post that an elite Russian army unit, which had been trying to advance on a strategically important highway in eastern Ukraine, was destroyed in a 14-hour battle.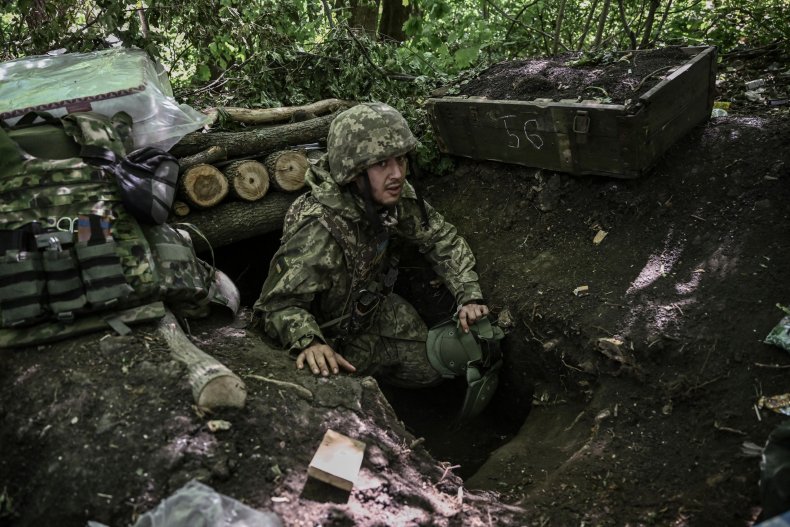 While Russian missile strikes and other explosive attacks against Ukraine have been reported frequently since the start of the war in late February, with particularly intense assaults on cities like Severodonetsk and Mariupol, the alleged threats of direct missile attacks strike a comparatively personal note. The Main Intelligence Directorate of Ukraine's Defense Ministry said in its report that the intimidation attempts are meant to decrease morale, sow doubt and destabilize the "psychological climate" among Ukraine's troops.
Russian threats that involve personal information, such as names, taxpayer codes and even data on the size and composition of the recipient's family, are "intensifying," the report said. It added that the personal information is "usually" outdated because the recipient has moved, switched military units or stopped military service altogether.
But, there is "no doubt that the threats sent are ordinary manipulations of the human psyche," the report said.
The directorate did not specify whether it believes Russia has attempted to follow through on these threats of direct missile strikes against those who do not heed its orders to halt their military service, but issued a warning to readers to "trust only verified sources."
Newsweek reached out to the defense ministries of Russia and Ukraine for comment.