Russia Warns Poland in Lengthy Letter Days Before Joe Biden's Visit
Dmitry Medvedev, deputy chairman of the Russian security council, on Monday issued a warning to Poland in a lengthy letter, just days before U.S. President Joe Biden is due to visit the country.
"The interests of the citizens of Poland have been sacrificed due to Russophobia of 'mediocre politicians' and their 'puppeteers from across the ocean' with clear signs of senile insanity," the former Russian president and prime minister wrote in a post on his Telegram channel.
Medvedev was referring to a decision made by Polish Prime Minister Mateusz Morawiecki last week to minimize dependence on Russia and sever economic ties with Moscow in response to the Ukraine invasion that began on February 24.
"We will deal with the de-Russification of the Polish and European economy," Morawiecki told a news conference on March 18. "We call for the suspension of activities on the Russian market."
Morawiecki told reporters the move will help stop food prices rising. The United Nations food agency said this month that the prices of international food and feed prices could increase by as much as 20 percent due to Russian President Vladimir Putin's invasion of Ukraine, which is now entering its fourth week.
Decision 'May Be Costly'
"Morawiecki solemnly announced the development of a program for 'de-Russification of the Polish and European economy.' Courageously specifying that 'this may be costly,'" Medvedev wrote.
"It's absolutely and completely right that it is expensive and thoughtless. But Poland can no longer take into account the costs. Everything that Poland could lose due to its long-term pathological Russophobia has already been lost," he continued.
Poland, and Polish propaganda, is "the most vicious, vulgar and shrill critic of Russia. Community of political idiots," wrote Medvedev.
"Poland forgets Soviet Army liberated it from Nazi occupation—instead, Soviet 'occupation' is equated with Nazism—this is a deceitful and disgusting rhetoric," he added, saying that Poland's decision to abandon the purchase of Russian gas, oil and coal and the opposition to Nord Stream 2 has "already caused serious damage to the economy of this country."
"The same applies to many other steps, which are based not on the economy, but on politicking under the guise of 'de-Russification'. But now it is much more important for the Polish elites to swear allegiance to their overlord - America than to help their own citizens, so they will constantly support the fire of hatred for the enemy of Russia," he said, adding that Polish citizens will gain "absolutely nothing" from doing so.
Medvedev warned that the "hatred of Russia" does not "contribute to well-being and tranquility."
Relations between Warsaw and Moscow have been shaped by centuries of animosity, not least by memories of the division of Poland between the Soviet Union and Nazi Germany during World War II and then the imposition of decades of communism after the war ended.
In 1939, eastern Poland was attacked by the Soviet Union, soon after Germany invaded the country. Weeks earlier, Hitler and Stalin had secretly agreed a nonaggression deal, the Molotov-Ribbentrop Pact, although the Soviet Union denied that the protocol existed for decades.
After the end of World War II Poland spent decades under a Moscow-backed communist regime.
Medvedev's criticism of Poland came shortly after White House Press Secretary Jen Psaki said Biden will visit the country during his trip this week to Europe for urgent talks with NATO and European allies.
In a statement Sunday night, Psaki said Biden will make a stop in Poland after traveling to Brussels.
Follow our live blog for updates on the Russia-Ukraine conflict.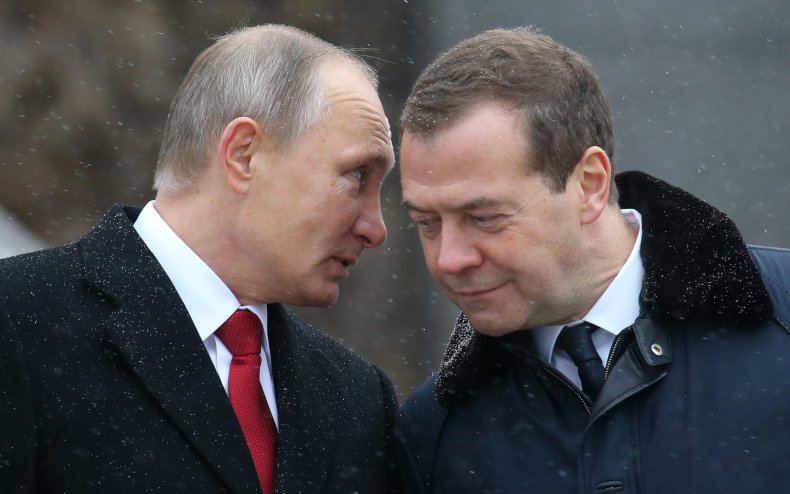 Update 03/21/22 at 12:54 p.m. ET: This article was updated with additional background information and to change the word '"threatens" to "warns" in the headline.