Trump's Praise of Putin Mocked On Russian TV With 'Señorita' Mash-Up
A prominent Russian television news program has mocked Donald Trump's attempts to reach out to Vladimir Putin, after the U.S. president said he wanted his Russian counterpart at the next summit of the world's biggest economies.
Trump' promotion of Putin during the G7 summit in Biarritz, France, got a cool reception among other world leaders.
On Monday, the U.S. president said in a press conference he would invite the Russian leader to the next summit in 2020, because "it would be better to have Russia inside the tent than outside the tent."
Poring over the details of Biarritz, and Trump's sentiment, the program 60 Minutes, which is broadcast on the Kremlin-backed Channel 1, ran a mash-up of Putin playing piano.
It segued into clips of Trump's speeches which had been edited to depict him doing a rendition of the song "Señorita."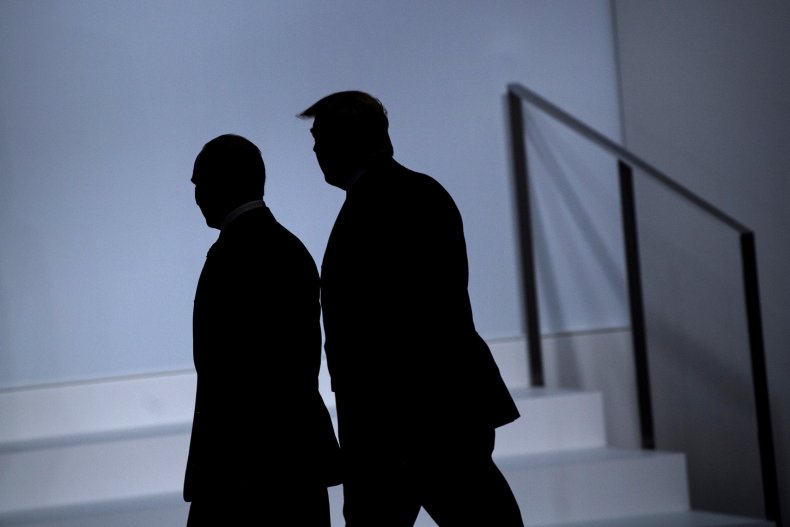 Literally singing to Putin's tune, subtitles of the lyrics of the hit by Shawn Mendes and Camila Cabello, are flashed across the screen, including "I love it when you call me senorita, I wish I could pretend I didn't need ya," to smirks from the studio guests.
The song also references "Miami", where Trump is proposing as a venue.
As a Kremlin mouthpiece, the program's tone suggested that Trump's attempts to court Putin are being interpreted in Russia as sycophancy.
The program's panel discussed Trump's press conference by playing a clip in which the U.S president blamed his predecessor for the annexation of Crimea, that ultimately led to Moscow's expulsion from the organization, then known as the "Group of Eight."
"President Obama was pure and simply outsmarted. They took Crimea during his term. That was not a good thing. It could have been stopped, it could have been stopped with the right, whatever," Trump said.
The host reacted to the clip by laughing, saying: "Beautiful, absolutely beautiful," pointing out that according to the Kremlin, no invitation has been sent.
However the studio guests appeared to take exception to Trump's assessment that Crimea was "annexed." The Kremlin position, which the program would reflect, is that the territory returned to Russia after a majority of people voted for it in a referendum, although that ballot was not accepted internationally.
But one guest sarcastically praised Trump's "ingenious attempt to discredit Obama" over the events of 2014, effectively attributing the annexation as an "immense achievement of the Obama administration."
Meanwhile, Democrats are urging Trump to keep Putin out of the G7 amid an increasingly fraught relationship between Moscow and the Senate, according to Politico.
Senate Minority Leader Chuck Schumer and other Democrats have argued that "under no circumstances" should Putin be allowed back in the group.
Two members of the foreign relations committee, Senators Chris Murphy and Ron Johnson have said they were denied visas to go to Russia.