Russia, Turkey and Iran Are Planning Syria's Future Without the U.S.
Leaders from Russia, Turkey and Iran will meet on Wednesday to plan the future of Syria and how to end the bloody civil war that has dragged on for seven years. But the U.S. and other Western countries are conspicuously absent from the meeting.
The talks, which will take place in Turkey's capital, Ankara, will center on the drafting of a new constitution for Syria and how to secure zones for "de-escalation," according to Turkish officials.
All three countries have major stakes in the ongoing war and the future of Syria. Cooperation between them increases the chances that the violence that has killed around 500,000 people could slow down, but consensus between the three regional superpowers also works to highlight how irrelevant U.S. policy toward the region has become, experts said.
"President [Donald] Trump continues to shift his position related to U.S. involvement in Syria, changing from claims that he intends to deploy troops indefinitely to wanting to get out soon," Harrison Akins, a regional security expert at the Howard H. Baker Jr. Center for Public Policy, told Newsweek. "To these nations, especially Iran and Turkey, who have direct political interests in the conflict, it would be unclear to them what value the United States would have in any talks given the unreliability of any U.S. position under the Trump administration."
Currently, the Pentagon has announced that it plans to send more U.S. troops to Syria, while Trump says the U.S. should withdraw from the country altogether.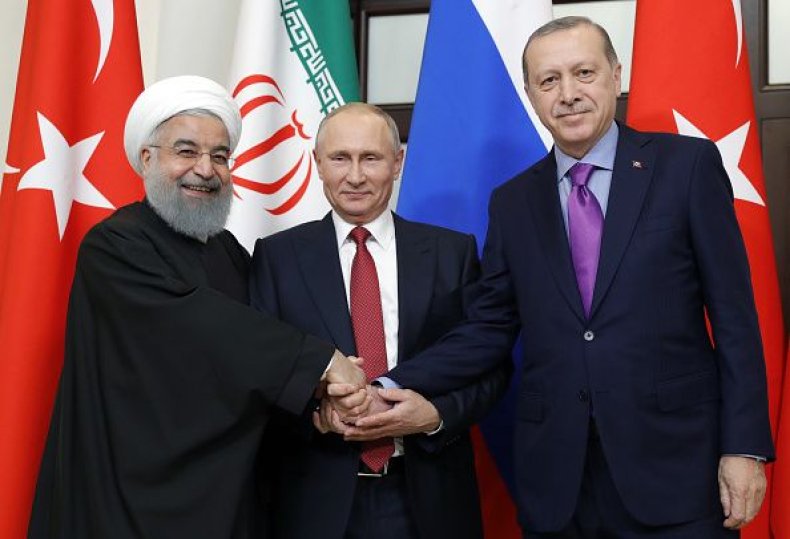 It is unclear, however, exactly how the three countries will find middle ground on Syria's future, since Russia and Iran continue to back Syria's brutal leader Bashar al-Assad, while Turkey still argues that Assad lacks legitimacy. Meanwhile, all three countries have proxy forces in Syria that sometimes clash with one another or undermine the interests of others. Turkey recently launched a strong offensive against Kurdish forces in Afrin, in northern Syria, a group that is backed by Russia's allies in Damascus. And Syria's army, together with militias backed by Iran, recently pummeled a Damascus suburb allegedly controlled by rebel groups. Turkey has sharply criticized this offensive.
Rather than trying to reach a political agreement, however, some regional experts said the meeting will focus on how to divide up the economic opportunities that will arise from the country's eventual reconstruction.
"It's a way for them to divide the spoils, and it's mostly about allocation for military and civilian contracts for reconstruction, Benjamin Radd, a Middle East expert at the University of California, Los Angeles, told Newsweek.
"Certain segments of Syria's government have promised conflicting things to Russia and Iran, and now they have to resolve their differences. Each one has invested a lot, and Turkey wants a piece of that pie. So it's not just a political sphere of influence. They are strange bedfellows, but it's about economic opportunities," Radd continued.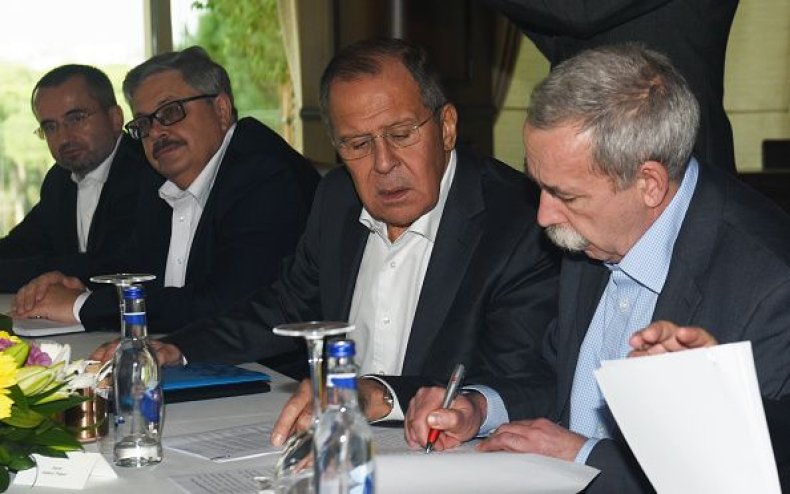 It's unclear how much the reconstruction contracts will be worth. But Russia, Iran and Turkey will likely foot the bill for reconstruction to ensure the Syrian regime is indebted to them. Then any international aid Syria receives for reconstruction will go to repaying Russian, Iranian or Turkish contractors, Radd explained.
"The constitutional element [of the meeting] is laughable. You can't have a constitution written by 10 percent of the country that applies to all of it," Radd added.
Still, even if the meeting focuses solely on economics, some said it could ultimately exacerbate political and religious tensions in Syria.
"When Russia and Iran are driving the show, it's hard to see how anything good comes out of it. This is especially true when it comes to Syria's aggrieved Sunni populations," Chris Meserole, a Middle East expert at the Brookings Institution, told Newsweek. "Without the U.S. at the table, any deal brokered by Moscow and Tehran risks compounding the political tensions that gave rise to Sunni rebel groups in the first place."
Russia has also hosted ongoing peace talks for Syria that sidelined the U.S. A meeting in January, however, ended disastrously when angry attendees heckled the Kremlin spokesman, delegates bickered over who would run the event and a group of Syrian opposition leaders boycotted the meeting by refusing to leave the airport after landing.