Russia Turns to 'Forced Mobilization' as Troop Morale Declines: Report
Ukraine's General Staff of the Armed Forces said in a Thursday Facebook post that Russia has been conducting "forced mobilization" in areas it occupies in the Donetsk region.
The Institute for the Study of War (ISW) discussed the alleged forced mobilization in an assessment of the conflict released on Thursday. In its report, the think tank wrote that Russia's decision to force individuals into service is "highly unlikely to generate meaningful combat power and will exacerbate low morale and poor discipline in Russian and proxy units."
Friday marks 100 days since Russia began its military assault on Ukraine. Throughout Russian President Vladimir Putin's military campaign, there have been reports of low morale among his troops. There have also been reports of food shortages, including one this week from Ukraine's security and intelligence agency. In that instance, the agency said it had intercepted a text message exchange between Russian troops in which one of the servicemen said he had been forced to eat a dog because of a food shortage. (Newsweek could not independently verify the report.)
The ISW also reported that a military regiment of the self-proclaimed Donetsk People's Republic (DNR) posted a video on Thursday in which "forcibly mobilized" soldiers complained to Putin about how they have spent the war on the front line in the Kherson region without proper food or medicine.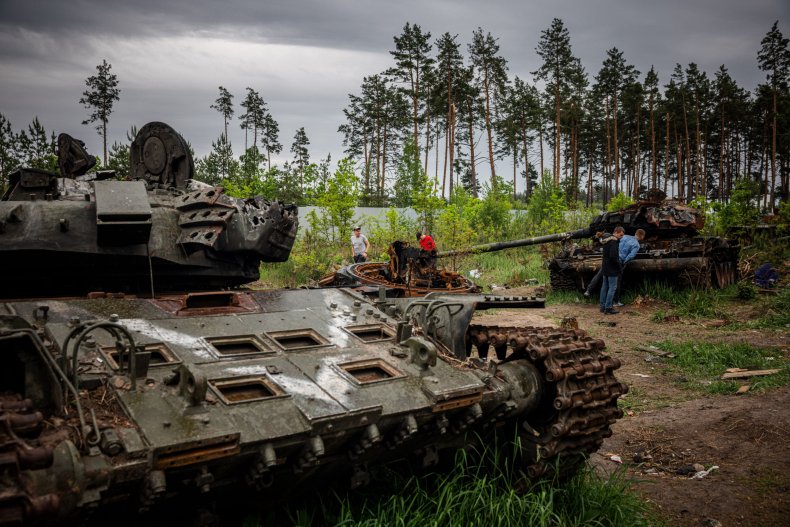 According to the ISW, the troops in the video said that mobilization committees have not conducted requisite medical screenings and that some individuals were admitted into service despite having medical conditions that should have made them exempt.
The ISW further detailed other reports that indicated low morale among DNR troops. It said Ukraine's Main Directorate of Intelligence had released an intercepted phone conversation that allegedly revealed DNR soldiers complaining about "physically unfit individuals" among their ranks. It also reported that DNR soldiers said mobilized units had been experiencing "mass drunkenness and general disorder."
Maksym Marchenko, head of Ukraine's Odesa regional military administration, said 30 to 40 percent of Russian personnel that had been rotated out of Ukraine refused to return, according to the ISW. This allegedly resulted in Russian military leaders putting "unprepared and unmotivated units back into combat."
Despite not securing a quick victory in Ukraine, as many analysts had expected, Russia's military has reportedly seen more success recently. A change in strategy led to redeployed Russian forces making some territorial gains in Ukraine's eastern Donbas region, which contains the separatist-occupied Donetsk and Luhansk territories. While the battle for the Donbas continues, Russia has reportedly managed to capture the cities of Popasna and Lyman recently.
Newsweek reached out to the Russian Foreign Ministry for comment.