Moscow has stepped up its claims the White House is stoking the Ukraine crisis, although large-scale Russian naval drills this weekend are likely to further shape the rhetoric about a potential conflict.
On Saturday morning, the Russian Embassy in South Africa shared a Politico article that specified a date for a physical assault by Russia on Ukraine, citing U.S. officials.
"#Biden tells #US allies that #Russia can attack #Ukraine on 16 February, says Politico," the mission's tweet said, "It looks more like US President is warning the allies of the date of possible US-masterminded provocation with the use of military force in Ukraine."
Earlier, Russian Foreign Ministry spokesman Maria Zakharova posted on social media that "the hysterics of the White House are more evident than ever," adding that the "Anglo-Saxon" world "needs a war at any cost."
"Provocations, misinformation and threats are a beloved method of solving your own problems," she wrote on her Telegram channel and on Facebook, adding that the, "American military-political machine is ready to go through people's lives again."
However, Zakharova said in a press release on Saturday that Russia had withdrawn part of its diplomatic staff out of Ukraine for fear of "provocations" from Kyiv or its allies.
Despite Russia's claims that it will not order an incursion into Ukraine, Moscow-led forces are stepping up military exercises close to Ukraine's border. This weekend saw the start of large-scale maneuvers involving dozens of vessels from Russia's Black Sea Fleet.
The exercises are to see frigates, patrol and small missile ships, missile boats, landing and small anti-submarine ships, as well as mine defense ships taking part in exercises from Sevastopol to Novorossiysk, Russian state news agency Tass reported. Meanwhile, exercises involving around 30,000 Russian troops have started in Belarus.
On Friday, the U.S. urged all American citizens to leave Ukraine within 48 hours as White House National Security Adviser Jake Sullivan said an attack by the more than 100,000 Russian troops massed by Ukraine "could occur any day now."
He rejected speculation that an attack was off the table during the Winter Olympics as he said that a Russian invasion "is likely to begin with aerial bombing and missile attacks that could obviously kill civilians."
As previously reported by Newsweek, Russia's ambassador to the U.S. Anatoly Antonov described Sullivan's warning as "alarmistic," and part of the Biden administration's attempt "to maximize the magnitude of the propaganda campaign against our country."
When contacted for comment, a State Department spokesperson told Newsweek that despite Moscow's assertions, there continued to be signs of Russian escalation, including new forces arriving at the Ukrainian border.
"We believe they are in a position where they can invade anytime," the spokesperson said. "President Putin has a choice before him—diplomacy and de-escalation or severe costs if he further invades Ukraine."
On Friday there was a meeting on the crisis between President Joe Biden and six European leaders, the heads of NATO and the European Union.
Biden is scheduled to speak with Putin on Saturday while talks are also expected to take place between Secretary of State Antony Blinken and Russian Foreign Minister Sergey Lavrov.
Ukrainian Foreign Minister Dmytro Kuleba tweeted Friday that Russia "must have no doubt," adding that Kyiv and its allies "are ready for decisive actions to protect our country."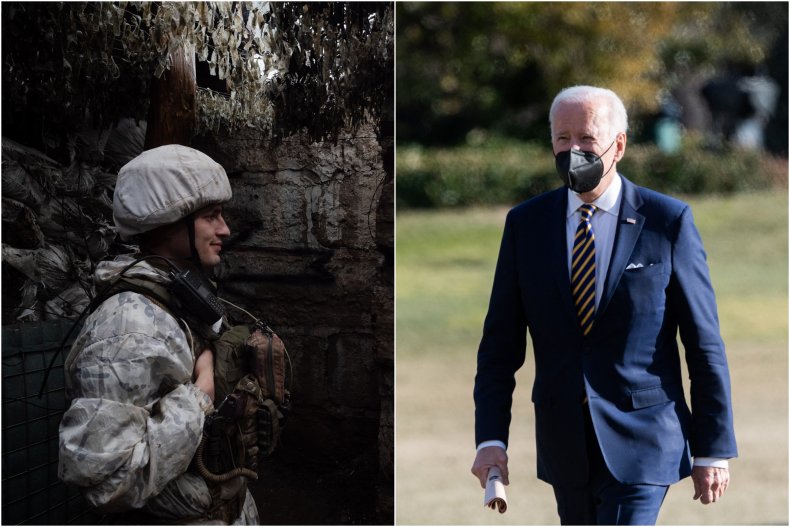 Update 02/12/22, 11:00 a.m. ET: This article has been updated with a State Department response.