Russia Vows Further Pushes as Putin Uses U.S. HIMARS Systems as 'Scapegoat'
A top Russian official has said that Moscow will respond to the continued supply of Western weapons to Kyiv's forces.
The comments by Alexander Darchiev come amid the touting by Kyiv of the effectiveness of American military assistance such as the U.S-supplied High Mobility Artillery Rocket Systems (HIMARS), whose speed and range have delivered blows to Russian forces.
Darchiev, director of the Russian foreign ministry's North America department, told the TASS news agency that "pumping Ukraine with more long-range weapons systems" will mean that the "geographical tasks of the special operation will be pushed back even further."
"Russia cannot allow the remaining Ukrainian territory to contain weapons that pose a direct threat to our country, " he said, referring to the self-proclaimed Donetsk and Luhansk People's Republics as well as the "liberated regions."
Darchiev also told the agency that "the degree of Washington's influence on Kyiv exceeds all conceivable boundaries."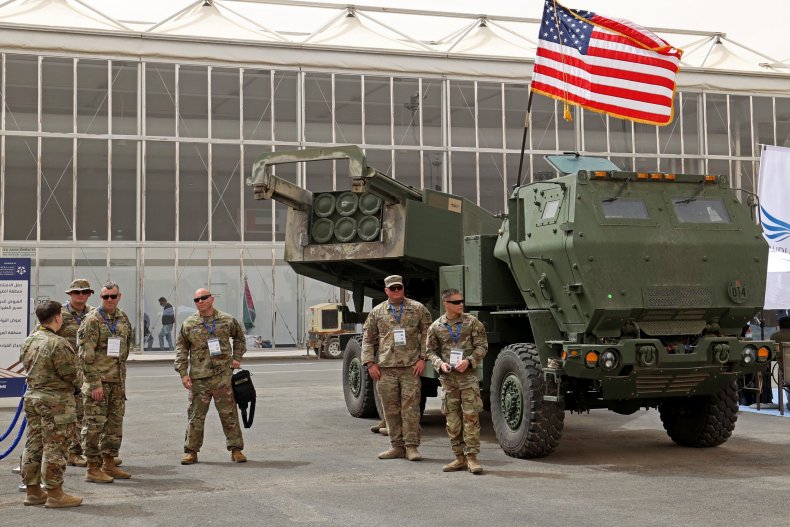 "As well as large-scale military and financial assistance and moral support for the Zelensky regime, the Americans are increasingly becoming a direct party to the conflict," he said.
He repeated Russian Defense Ministry claims that the Ukrainian military was carrying out HIMARS strikes in consultation with U.S. partners.
He said that the "deadly shelling of the civilian population" in the DPR, LPR and areas under Russian occupation in Ukraine "takes place at least with the approval of American decision-making centers."
Darchiev's comments chime with a statement earlier this month by Russia's defense ministry that the U.S. was responsible for supplying target information used by Kyiv for long-range missile strikes in the Donbas and other regions.
"Washington, contrary to White House and Pentagon claims, is directly involved in the conflict in Ukraine," it said.
While the Biden administration has said it has provided more than $9 billion in security assistance to Kyiv, it has denied it is a participant in Ukraine's war with Russia.
However, experts have said that Putin could use the western-supplied weapons as a scapegoat for Russia's failures on the battlefield and to portray to the Russian people that the war was one being fought directly with the west.
Michael Kimmage, a former member of the U.S. secretary of state's policy planning staff, previously told Newsweek this would also help Putin build the case that he was pushed into the conflict by the West "and that the West uses Ukraine...to weaken Russia."
In his interview, Darchiev also warned that the U.S. placing Russia on the U.S. State Department's list of state sponsors of terrorism could trigger a total breakdown of relations between the two countries.
Rep. Ted Lieu (D-CA) has introduced legislation that would add Russia to a list of designated State Sponsors of Terrorism [SST] in a bill with four other co-sponsors.
However, Darchiev said that if the legislation passed, it would mean that Washington would have crossed "the point of no return with the most serious collateral damage to bilateral diplomatic relations."
A U.S. State Department spokesperson told Newsweek that "it that does not discuss deliberations or potential deliberations regarding [SST] designations."
Such a designation, which would be given if the secretary of state deemed the country's government had "repeatedly provided support for acts of international terrorism."
"The U.S. government has already taken a number of significant and effective steps to respond to Putin's war of choice in Ukraine," the statement said, referring to export controls and multilateral sanctions. "The costs that we have imposed are the consequences that would result from an SST designation."
Update 08/13/22, 3:42 p.m. ET: This article has been updated with a State Department response.