Russian Military Expert Suggests Targeting NATO Member's Ship in TV Debate
A military expert who appeared on Russian State TV has suggested the country could strike a NATO member's ship, as the panel discussed the ongoing conflict.
A clip of the moment has begun circulating on social media after being posted on Twitter by the Daily Beast's Julia Davis.
Military expert Alexander Sharkovsky called for Russia to take measures against the U.K. for its support of Ukraine.
He went as far to suggest that Russia should attack a ship near its Northern border. Sharkovsky made these comments in response to political analyst Victor Olevich's comments.
Olevich said Russia had not made significant progress over the last few months. He warned that Ukraine continues to get support from the West and the conflict has the potential to become a more drawn out war.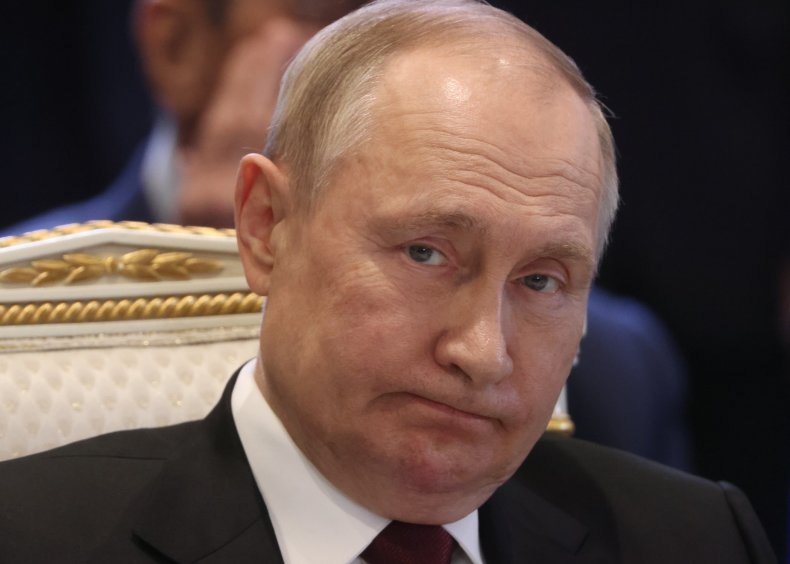 Sharkovsky replied: "We clearly see Britain's position, we see its dirty deeds. It's obvious. We have to take certain measures against Britain."
When asked what measures, he answered: " [The] Prince of Wales [ship] is near our Northern borders in the Barents Sea. We should do something to it."
Some of the Russian panel guests smirked at this suggestion with Olevich quickly interjecting that this would be bad for Russia, starting a conflict with a NATO country.
"Pardon, are you suggesting we start a direct conflict with a NATO country?" he replied.
"An attack against a military object of a NATO country, using Russia's military forces, will automatically lead to a direct conflict between Russia and NATO.
"That is not what I proposed, it would not help Russia."
The TV host, Andrey Norkin, did note that despite the recent retreats, Russia has made progress in its conflict with Ukraine after a strategy change.
Norkin said: "One month ago, we implemented a new approach in our special military operation. Now we have a certain result they're already talking about evacuating the population.
"Just for one month we've been doing things differently and we already have a result, it's already something.
"Now we can no longer say that in nine months we lost it all, had to give back the territories that were initially liberated."
Despite the host's optimism, Russian President Vladimir Putin has faced growing political pressure to end the ongoing invasion of Ukraine.
Territory officials from the Republic of Karelia, a northwestern region of Russia bordering Finland, are calling for an end to the mobilization due to its negative effects on Russian society.
They sent a letter urging the Russian President to issue a decree that would prohibit the military from continuing in Ukraine.
The letter was announced in a Telegram post on November 22 by Emilia Salbunova, who served as a member of the Karelia Legislative Assembly.
Newsweek has contacted Russia's Ministry of Foreign Affairs for comment.