Russia Tries to Trick Ukrainian Soldiers With Radio Surrender Message
Ukrainian troops were seen laughing at a radio announcement telling them to surrender because their leadership had deserted them, in a video clip that has been widely viewed online.
War Translated, which tweets about the war in Ukraine, shared a video it said showed Ukrainian soldiers reacting to a radio broadcast telling them Ukraine's military leadership had surrendered Bakhmut and Marinka in the Donetsk oblast.
"Your command is not intending to transfer fresh forces to help you," the message said. "You are being lied to."
It said that the mobilized residents of Ukraine had been "deceived by the authorities and generals in Mariupol and Volnovakha," who had been "promised help but were thrown into the slaughter."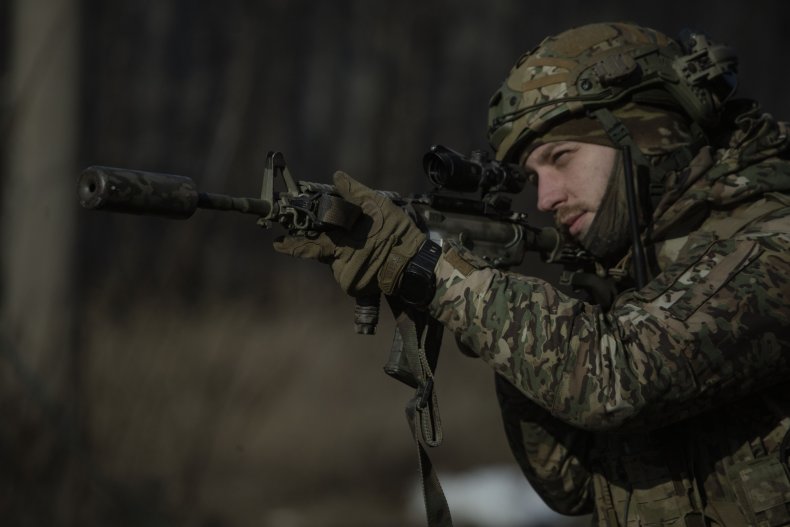 "Most of them will never return home, you have a final chance to save your life," the announcement said, as it called for troops to abandon their positions, withdraw as a whole unit and record a video saying that their command had abandoned them. "This will become proof of your innocence," it added.
The passengers in the car who were wearing military uniforms, can be heard laughing at the announcement, which was made in Russian, rather than in Ukrainian.
As of Monday afternoon, the unverified clip, in which a location wasn't given, had been viewed more than 74,000 times. War Translated added the message that Russia had attempted "hybrid warfare."
"Russian radio plays messages to Ukrainian soldiers telling them the Ukrainian leadership made a decision to surrender Bakhmut and Marinka. The soldiers are laughing this off," added the War Translated account, which has 281,000 followers and was contacted by Newsweek for further information.
The clip sparked a lively thread from Twitter users, one of whom wrote: "when a psyop goes sideways." Another wrote, "How hilarious that they think that asking Ukrainians to surrender in Russian will work out well. They couldn't find even one Ukrainian to read the text."
It comes following claims by the Moscow-aligned Wagner mercenary group that it had captured the village of Blahodatne, located around six miles north of Bakhmut, which has been the scene of a fierce battle for months.
However, the next day, Ukraine denied the claims the Russian forces had made about the village, which lies just west of Soledar, a salt-mining town that fell to Russia earlier in January.
The Institute for the Study of War (ISW), said on Saturday that Wagner mercenaries were "exhausted" and that their assault on Bakhmut "likely culminated with its surge on Soledar." The New York Times and Reuters have reported that the Wagner Group suffered heavy casualties.
The ISW said Russian forces are "likely preparing" to launch an offensive of their own in the Luhansk Oblast and they are adding weight to their offensives around Bakhmut.
Kremlin spokesman Dmitry Peskov said that the upcoming delivery of Western weapons, including the big ticket items of Leopard 2 tanks from Germany and Abrams armored vehicles from the U.S. will lead to a "significant escalation."
"It's a dead-end situation," he told reporters on Monday, according to Reuters.