Ukraine Remains Firm in Defense of Bakhmut
Kyiv has reiterated its commitment to defending Bakhmut amid reports of a battle between Ukrainian troops and Moscow-backed forces at a sprawling industrial complex in the city.
Ukraine's president Volodymr Zelensky said Tuesday that the "main focus" for his forces included Bakhmut, where his troops intended "to inflict maximum possible damage upon the occupier."
Oleksiy Danilov, Secretary of Ukraine's National Security and Defense Council, also said that defending Bakhmut was the first issue discussed at meetings between the president and his top commanders.
Ukrainian news outlet Ukrinform reported that the Commander-in-Chief of the Ukrainian Armed Forces, Valerii Zaluzhnyi, said the defensive operation in the Bakhmut area "is of paramount strategic importance for deterring the enemy."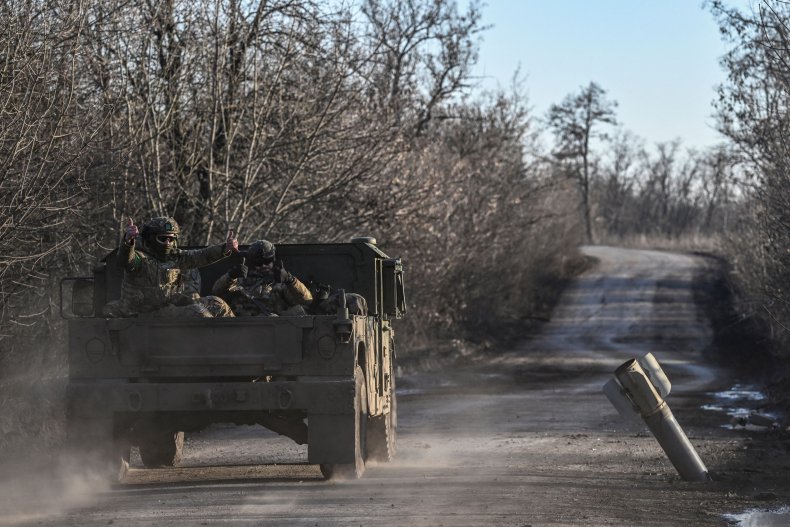 However, it comes amid claims from Yevgeny Prigozhin, the financier of the Wagner Group of mercenaries, that his troops are advancing on the center of the Artyomovsk Metal Processing Plant (AZOM) zone in the north of the city, where Ukrainian troops are said to be holed up.
He said on his VKontakte social media page that Ukrainian troops at the site "do not have the necessary equipment," such as thermal imagers and night vision devices.
"Despite the seriousness of the defense, the Wagners managed to penetrate it, especially thanks to night sorties," he wrote.
Russian military bloggers have said that Wagner fighters had captured the "Vostokmash" plant in the northern part of the AZOM complex from where images were posted purportedly showing them at the site. A Wagner fighter said in one video that they faced constant Ukrainian artillery fire.
Russian state media reported on Tuesday that as many as 500 Ukrainian personnel from the armed forces, the National Guard and territorial defense brigades were in underground passages, some of which were several hundred meters deep.
Yan Gagin, an adviser to the acting head of the self-proclaimed Donetsk People's Republic said that Ukraine's troops may turn the AZOM plant into another Azovstal, the steel plant near Mariupol that was a pocket of Ukrainian resistance in 2022.
The battle there culminated in the surrender of the Ukrainian defenders and the plant was almost completely destroyed by Russian bombardment.
"In terms of complexity of the assault operation, it will be the local equivalent of Azovstal, and the mopping-up operation will be similar to the one conducted at Azovstal,"Gagin told Russian state news agency Tass.
Newsweek has contacted the Ukrainian defense ministry for comment.