Russia Black Sea Fleet HQ Hit by Drone Strike as Videos Circulate Online
A drone has hit Russia's naval headquarters in Crimea in the latest setback for Moscow's forces on the peninsula.
The Russian-installed governor of occupied Sevastopol, Mikhail Razvozhayev, said in a Telegram post there had been an explosion at the fleet's headquarters on Saturday morning following the strike by the drone which "unfortunately ... was not shot down."
He said that there were no casualties and called for calm. Videos of the aftermath of the strike shared on social media showed a plume of smoke rising into the air above the building near the waterfront.
Journalist Christo Grozev tweeted a video of the building, with the message, "With or without (as Russia says) casualties, a direct drone attack in the heart of the Russian Black Sea Navy is bound to be an embarrassment."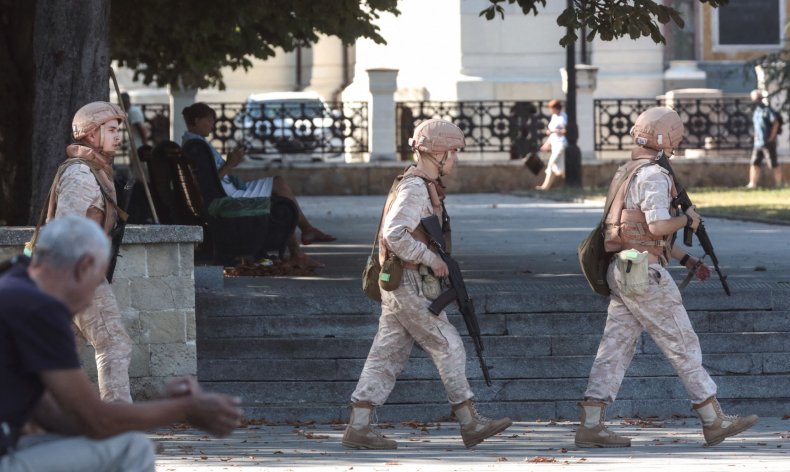 Media outlet Nexta TV tweeted a video and the message, "Occupiers in #Crimea didn't start their morning with coffee", adding "a drone crashed into the roof of the headquarters of the Black Sea Fleet in the occupied #Sevastopol."
The Ukrainian armed forces, which Newsweek has contacted for comment, have not confirmed they were behind the strike which is the latest widely believed to have been inflicted by Kyiv on Moscow.
President Vladimir Putin annexed Ukraine's Crimea Peninsula in 2014 after Russian forces occupied it.
Crimea, a popular vacation spot for Russians, was previously considered beyond the reach of Ukrainian attacks but it has recently been the scene of a number of strikes that have dealt a blow to Russia's war efforts.
On August 9, the Saki airbase there was hit by a series of explosions, taking out of action a number of the Black Sea fleet's naval jets and sparking an exodus of Russian vacationers.
Also this month blasts at an ammunition depot in the Dzhankoi district of Crimea, damaged power lines, a power plant, and residential buildings in what Russia's Defense Ministry called an act of "sabotage."
Ukraine's recapture of the strategic outpost of Snake Island and the destruction of the flagship vessel the Moskva are other blows to Russia's efforts in the Black Sea which British defense officials have said that Moscow is struggling to control.
This week, Russia appointed Vice Admiral Viktor Sokolov as commander of Russia's Black Sea Fleet, following the dismissal of Igor Osipov after a series of setbacks in the region.
The strikes in Crimea were having a psychological effect in Moscow, Western officials said this week, according to the BBC, which reported that Russia's Black Sea fleet has been reduced to little more than a coastal flotilla acting cautiously due to Ukrainian attacks.