Russia and Ukraine Bound for 'Korean War Ending' in 4-6 Months: Stavridis
Former NATO Supreme Allied Commander James Stavridis said Sunday that the Russia-Ukraine war will likely end in four to six months and have a resolution similar to the Korean War in the 1950s.
Speaking with host John Catsimatidis on news station WABC, Stavridis said that the conflict has become "bogged down on both sides."
"The Ukrainians are putting up a very strong fight. Putin's war plans have proven to be not particularly effective. He has gained a little bit of territory over what he started the conflict with," Stavridis said.
"But...I see this one headed toward a Korean War ending, which is to say an armistice, a militarized zone between the two sides, ongoing animosity, kind of a frozen conflict. Look for that in a four- to six-month period. Neither side can sustain it much beyond that," he added.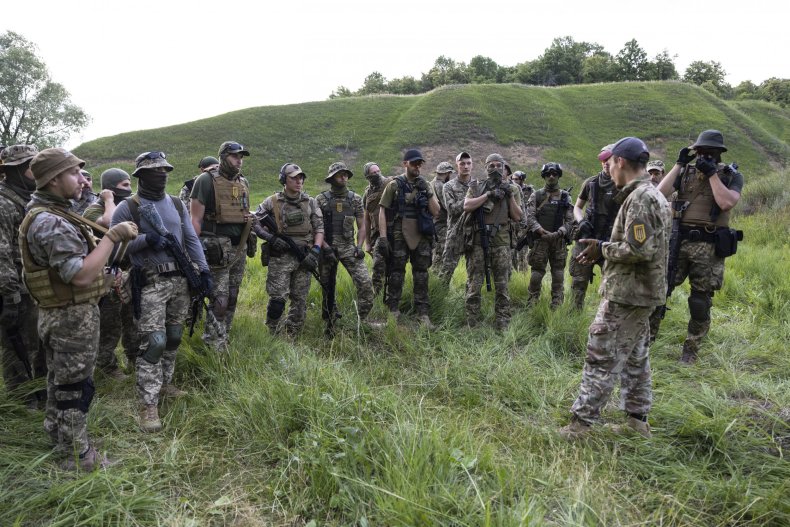 Earlier this week, officials at the U.S. Department of Defense said that American-supplied weapons to Ukraine are having a "significant impact" against Russian forces.
A Pentagon official told reporters on Friday that Ukraine is "spending a lot of time striking targets like ammunition, supplies, other logistical supplies, command and control."
On Sunday, Russia bragged about destroying NATO weapons in strikes. Its defense ministry said it had destroyed a warehouse that held Harpoon missiles and a vehicle with HIMARS (High Mobility Artillery Rocket Systems), according to state news agency TASS.
Newsweek has reached out to the Russian Foreign Ministry and the Ukrainian Foreign Ministry for comment.
Stavridis previously said that Russia has displayed "amazing incompetence" during the war after the country lost several of its generals.
"In modern history, there is no situation comparable in terms of the deaths of generals," he said in early May.
Last week, U.K. officials said that as Russia assembled reinforcements near Ukraine, many of its troops are being equipped with "obsolete or inappropriate" gear.
"Despite President Putin's claim on 07 July 2022 that the Russian military 'has not even started' its efforts in Ukraine, many of its reinforcements are ad hoc groupings deploying with obsolete or inappropriate equipment," the United Kingdom's Ministry of Defence said in an intelligence update on July 9.
In another update on Thursday, the British agency said Russian forces are hindered in Ukraine by outdated vehicles and weapons.
"The ageing vehicles, weapons, and Soviet-era tactics used by Russian forces do not lend themselves to quickly regaining or building momentum unless used in overwhelming mass—which Russia is currently unable to bring to bear," the ministry stated.