Russian State TV Responds to Bryansk Incident: 'Provoking Nuclear War'
Moscow has said that Ukrainian saboteurs staged a terrorist attack on Russian territory, which a Kremlin propagandist has said could lead to a nuclear response.
Ukraine has dismissed claims by Russian officials that a Ukrainian sabotage group had crossed into the Russian region of Bryansk on Thursday and fired at a moving car, killing one person and injuring a 10-year-child who was hospitalized.
Russian President Vladimir Putin has described the alleged incident in the border district of Klimovsky as a "terrorist act" adding that "we will crush them."
In contrast, Ukrainian presidential advisor Mikhailo Podolyak has described the report as a "classic deliberate provocation."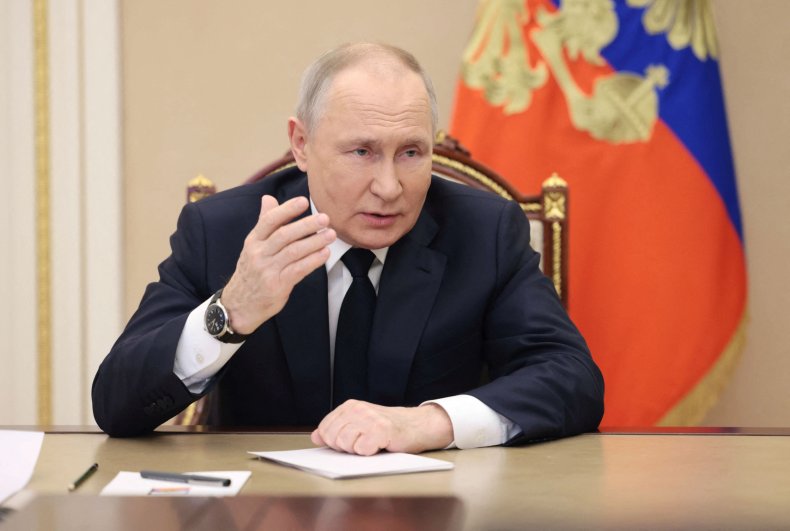 A group identifying itself as the Russian Volunteer Corps appeared to claim credit for the alleged attack in a social media post and videos. Made up of Russians fighting for Ukraine against Putin's invasion, the group denied that a Ukrainian sabotage unit had been involved. The group also said civilians had not been targeted.
Newsweek has contacted the Ukrainian defense ministry for comment.
Russia 1 anchor Olga Skabeyeva hypothesized Ukraine's president Volodymr Zelensky was behind the incident, which could have dire consequences for both Kyiv and its allies.
"Does the American President Biden, or whoever is controlling Zelensky, understand that Zelensky himself is in fact provoking, with no exaggeration, nuclear war, by organizing such terrorist forays into Russian territory?" she told viewers of the Russia 1 channel.
She then praised what she saw as the measured actions of Putin and the good fortune that Russia was led by such a prudent and experienced politician.
Skabeyeva discussed what it would mean if those who allegedly infiltrated Russian territory from Ukraine had NATO uniforms and weapons and whether it would be considered "an act of aggression by NATO against Russia?"
"As a consequence we should strike those very centers and we know where they are, in Poland and the U.K., where Ukrainian terrorists are being trained right now," she said, reiterating a theme of her program 60 Minutes calling for strikes on Western countries that back Kyiv.
The clip was tweeted by Francis Scarr of BBC Monitoring, who wrote how Skabeyeva had said "it's just as well Russia is led by" Putin because another leader "might have fired missiles at NATO countries in response to today's strange incident in Bryansk Region."
Ukraine has been intensifying attempts to strike inside Russian territory amid reports of drone attacks that have defied Russia's air defenses. But Kyiv, the U.S. and other allies have warned that Russia intends false flag operations to give a pretext for further escalation.