Ukraine's president Volodymr Zelensky has appealed to Western countries for more military equipment as soon as possible, even if his forces do not yet have the expertise to operate it.
"We are prepared to use any type of equipment but it needs to be delivered very quickly," he told CNN in an interview aired Monday.
Zelensky's comments come as American troops are set to train Ukrainian forces on how to use U.S. 155mm howitzers. The Pentagon is sending 18 of the howitzers as part of a $800 million U.S. military aid package for Kyiv that includes 40,000 artillery rounds.
While Ukraine already uses howitzers, such as the Soviet-era 152mm mSATA-B and 122mm D-30, their troops will still need instruction on the American weapons, Pentagon spokesman John Kirby said Monday.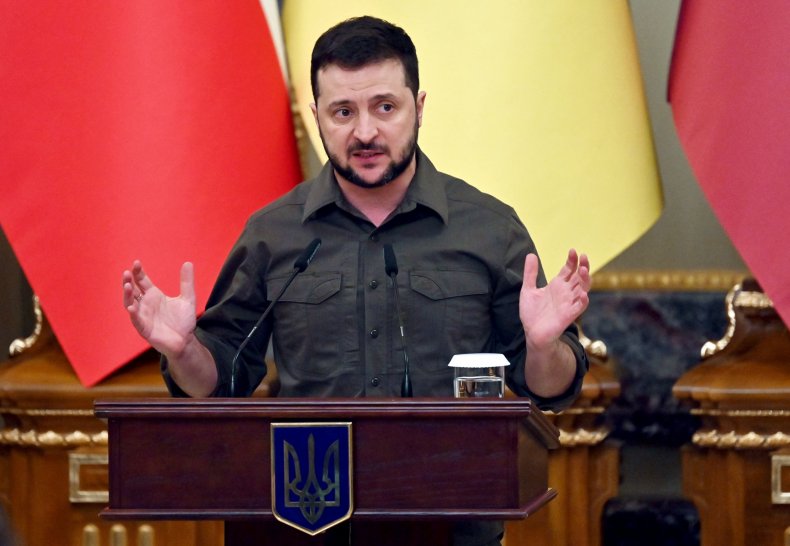 After the training, Ukrainian troops will then return to the fight and train others, Stripes.com reported.
Zelensky did not mention the delivery in the CNN interview but he has made repeated calls for more arms from Western countries since Vladimir Putin's forces invaded Ukraine on February 24. After the war started, he refused a U.S. offer to be evacuated, saying, "I need ammunition, not a ride."
Zelensky accepted what weapons the international community provides his country "is definitely not up to us," telling CNN that there was a reluctance among some countries to give equipment that his troops "are not ready from a technical standpoint to use."
However, he believed that "our instructors will get our troops ready to fight in them.
"If it's a plane, for example, pilots can be ready in two weeks. Whether it's kamikaze drones, artillery, howitzers or MLRS complexes," he said, referring to multiple launch rocket systems.
"We have very smart people for these," Zelensky told CNN's Jake Tapper. "We've had training with NATO countries and I've heard these tall tales that we would need months to train our troops to use new tanks.
"Okay, give us a Soviet-era tank," he said. "There are people that are offering solutions, but it seems they're just self serving.
"We have the ability to learn how to use new equipment but it needs to come fast," he said. Newsweek has contacted the Pentagon for comment.
During the interview, Zelensky also described how Ukrainian forces in the besieged city of Mariupol "are not going to surrender." However, he knew that it meant Russian forces would not allow Ukraine to remove those who have been wounded.
"This is why it is a complicated and tragic situation because the military doesn't want to surrender and without it the Russians are not ready to let them go," he said.
In an excerpt of the interview released earlier, Zelensky told CNN that Ukraine would not yield territory in the Donbas region which is a renewed focus for Russian forces.
"It is very important for us…to stand our ground, because this battle," Zelensky said. "It can influence the course of the whole war."
In his nightly video address, Zelensky said on Monday, "No matter how many Russian soldiers are driven there, we will fight. We will defend ourselves."