Russia Consumed by More Mysterious Fires as Huge Blazes Rage
Two people were reportedly killed in an apartment block fire in a Russian city only days after a fatal blaze at a residential building in the same region.
Elsewhere, a landfill site in Siberia was engulfed in flames at a time when authorities are dealing with a record number of fires in Russia, which have included unexplained blazes believed to be linked to the war in Ukraine.
In the first incident, around 100 people were evacuated from a building at around 5.30 a.m. Tuesday in the city of Kemerovo, located around 1800 miles southeast of Moscow.
Three dozen responders were at the building on Voroshilov Street in the Leninsky district of the city and the fire was extinguished within around half an hour.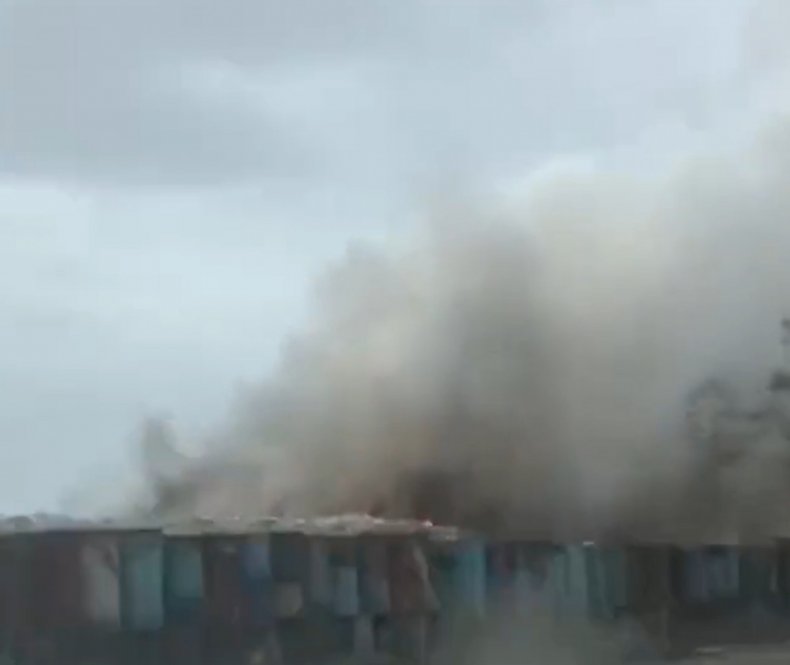 The regional department of Russia's emergency situations ministry, which Newsweek has contacted for comment, said that there was smoke coming from the window of an apartment on the seventh floor which also spread across two floors above it.
Of those who fled the building, around a quarter had to be helped by emergency responders.
A resident told local news outlet NGS42.RU that the bodies of two people were found in the apartment, a man and a woman, although this has not been confirmed.
On May 20, a woman and two men died after a fire in an apartment block in the same region. Local media reported that neighbors said the three had been drinking for days and called firefighters when they detected smoke in the building located in the city of Mezhdurechensk, around 200 miles south of Kemerovo.
In the far-flung city of Yakutsk, firefighters tackled a blaze on Tuesday which threatened a nearby forest. Video footage on social media shows smoke billowing from a landfill on the outskirts of the city, around 3000 miles east of Moscow in the Sakha Republic, south of the Arctic Circle.
A local news outlet tweeted that around 5,300 square feet was on fire, which 25 responders were trying to put out.
Earlier this month, Russia's Emergencies Ministry reported more than 4,000 wildfires in the country so far this year. Fires in Russia during the spring and summer months are common, but a number of unusual blazes and explosions have occurred since the start of the Russian invasion of Ukraine, which have not been formally explained.
These include fires at fuel depots in Belgorod and Bryansk near the Ukrainian border, a gunpowder factory in the Urals city of Perm and an aerospace research institute in Tver. The incidents have sparked speculation that they were acts of sabotage by Ukraine.
Military enlistment offices in Russia have also been hit by arson attacks since the beginning of the war in Ukraine, according to media outlets.