Wives of Dead Russian Soldiers Up In Arms As Fur Coat Gifts Taken Back
Fur coats purportedly given to widows of soldiers fighting for Russia in Ukraine as compensation for their deaths were taken back after the women were filmed expressing their gratitude for them, it has been reported.
A video clip widely viewed on Russian social media shows a group of women holding up the garments in the town of Makiivka, in the Russian-occupied Donetsk region of Ukraine.
"Thank you so much from the bottom of our hearts…for taking care of us," said one woman before the group said "thank you" in unison.
The man filming the women was reportedly Yevgeny Skripnik, an associate of Igor Girkin, the prominent military blogger who was key to Russia's war effort in the Donbas region in 2014.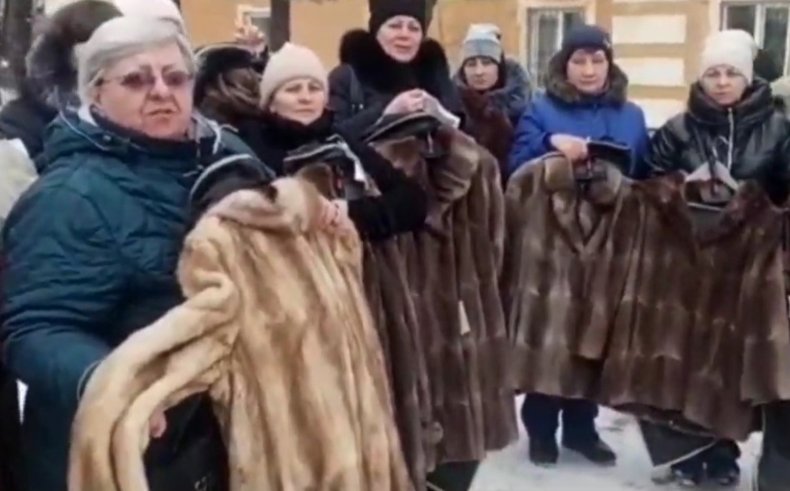 Skripnik said in the video "at such moments you feel that we are one family" about the coats, which were reportedly courtesy of the Furs of Yugra company and Girkin's wife Miroslava Reginskaya.
But the Feminist Anti-War Resistance Movement, a Russian group that opposes the Kremlin's invasion of Ukraine, contacted one of the women in the video who said that she and three other women had their fur coats taken away immediately after the recording.
They had initially been told that the fur coats were of poor quality so were promised new ones. However, they were then informed that there had been a mistake and that the garments had been intended for other people, according to a post on the feminist movement's Telegram channel.
The unnamed woman the feminist movement contacted said the group had been invited to make the video in exchange for gifts from Moscow, which was a common practice.
"It often happens that they bring us something from Moscow and shoot videos, and we're always very thankful," she said, suggesting that such clips can be fake. The post by the Russian feminist group, which Newsweek has contacted for comment, said it was "unclear" how many of the women were genuine widows.
Ukrainian internal affairs adviser Anton Gerashchenko, who had tweeted the original story about the gift of the coats, wrote on Thursday how it had "received a new development."
"One of the wives said they were made to give the coats back after filming the video," he wrote. "How many of you predicted that scenario in the comments?"
This comes amid claims from Kyiv that Russian forces are facing huge losses. Ukraine's armed forces said on Thursday that nearly 3,000 Russian troops had been killed over the previous three days.