Russians Wearing Ukrainian Soldiers' Uniforms Driving Toward Kyiv
Russian troops captured Ukrainian military vehicles and are heading toward Kyiv wearing the uniforms of their adversaries, Ukraine's deputy defense minister said.
In a post on Facebook, Hanna Maliar said Russian troops had seized two Ukrainian vehicles and changed into Ukrainian military uniforms. They were "moving at speed to the center of Kyiv from the Obolon side."
"They are followed by a column of Russian military trucks," Maliar said, according to a translation. "They will surely be destroyed."
Her comments were shared on social media along with footage of military trucks driving along a road, and their authenticity hasn't been confirmed.
Media outlet Nexta later tweeted that "the Russian saboteurs, who had disguised themselves...have been liquidated."
It comes as invading Russian forces pressed deep into Ukraine and battles on the outskirts of Kyiv raged overnight.
Among the signs that the Ukrainian capital was increasingly threatened, the military said on Friday that a group of Russian spies and saboteurs was seen in a district of Kyiv about 5 kilometers (3 miles) north of the city center.
Videos shared on social media showed what appeared to be Russian tanks driving through Obolon, where Ukraine's defense ministry said Moscow's forces had infiltrated.
Secretary of State Antony Blinken said Kyiv "could well be under siege" as Washington believes Russian President Vladimir Putin seeks to install his own regime.
Ukraine's military chief Valerii Zaluzhnyi said his army was successfully resisting Russian forces coming from the Chernihiv area north of the capital, Kyiv, CNN reported.
However, it appears Russian forces are consolidating their positions to the northwest of Kyiv after taking the airbase at Hostomel.
Maliar tweeted that there was a "possible invasion of the occupiers in Vorzel and surrounding settlements," located around 15 miles from Kyiv.
The assault by Russia is the largest ground war in Europe since World War II and Ukrainian President Volodymyr Zelenskyy praised the efforts of those defending the country, saying in a TV address that "Ukrainians show real heroism."
Meanwhile, Ukraine's Defense Force has called for all civilians to join regardless of their age. A statement, attributed to the Commander of Troops Yuri Galushkin, reads: "Today, Ukraine needs everything. All procedures for joining are simplified."
"Bring only your passport and identification number. There are no age restrictions," it said in a tweet.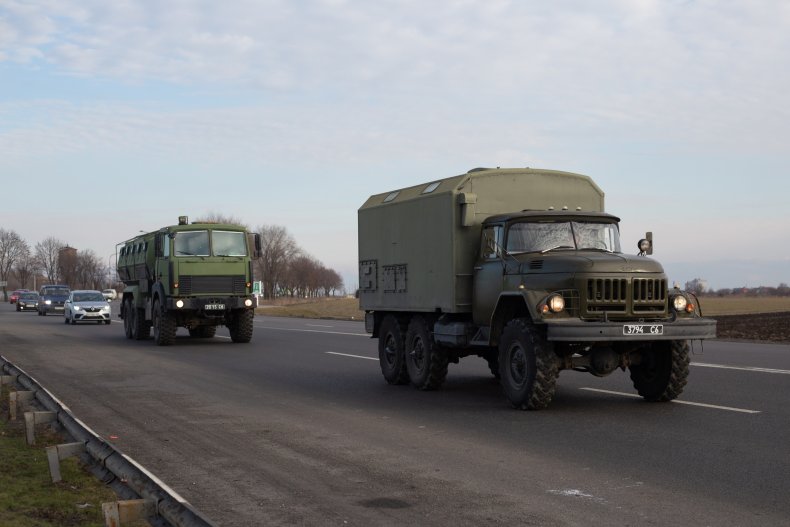 Update 02/25/22 at 5:13 a.m. ET: This article has been updated with additional information.