Russian Tanks Roll Into Kyiv, Ukraine Capital Could Fall Within Hours
Russian tanks have entered a district north of the Ukrainian capital, according to footage shared on social media.
The videos, apparently taken by locals in their homes, show the vehicles driving through Obolon, which is about six miles north of Kyiv's parliament in the city center.
Ukraine's defense ministry said Russian forces had infiltrated the residential district and tweeted that residents should use Molotov cocktails if needed to "neutralize the occupier."
Video shared on social media also showed what appears to be a Russian tank driving in the district, crushing a car with a civilian still inside.
One of the videos, posted by Ukrainian journalist Alexander Khrebet, was recorded on a rooftop. Another video showed the public's attempts to rescue the person trapped inside although it was unclear if they were seriously injured.
Kyiv city authorities have appealed to residents in the district not to go outside due to the presence of Russian troops, news outlet Strana reported.
Local journalist Kristina Berdynskykh tweeted that Obolon's metro is overcrowded and "can no longer take people seeking shelter."
"They are asked to go to other stations where there is still space—for example, the Olimpiyskaya metro station," she said.
Russian forces have closed in on the capital after advancing from a number of fronts in the north, east, and south of Ukraine amid fears the capital could fall today, Friday.
Gunfire has been heard near the government quarter of the capital which was hit by rocket attacks overnight, while the sound of air raid sirens was heard early in the morning.
There have been multiple reports of gunfire in residential districts. Ukraine's defense minister Oleksiy Reznikov said thousands have joined the territorial defense units and that Kyiv could be the scene of a street war.
"In Kyiv alone, there are already 18,000 submachine guns and corresponding ammunition," the minister said, according to the Financial Times.
A Ukrainian counter-intelligence source told the publication Ukrainska Pravda that Russia's plans to take control of the capital includes seizing a major Kyiv airport and air traffic control to allow an influx of troops to land.
Moscow will also seek to sabotage Kyiv's electricity and communications, seize government buildings and bring in pro-Russian leaders, according to the source, also reported by the BBC.
Meanwhile, the UN human rights office said there had been at least 127 civilian casualties in Ukraine, with 25 people killed and 102 injured due to "shelling and airstrikes," although this was likely to be an underestimate.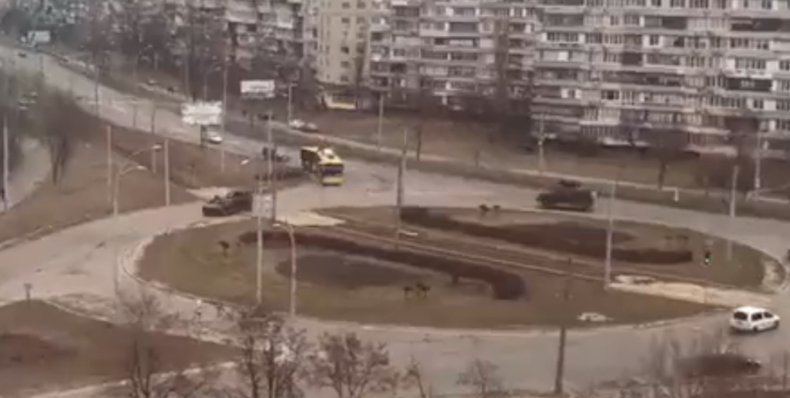 Update 02/25/22 5:46 a.m. ET: This article was updated to add more information.