Russia Preparing Major Luhansk Offensive as War Anniversary Nears—Official
The Ukrainian head of the Luhansk region has said that a Russian offensive in eastern Ukraine is imminent, chiming with Western assessments of Vladimir Putin's intentions in his invasion.
Serhiy Haidai, who is head of the Luhansk regional military–civil administration, told the Russian language news outlet Vot Tak that "more and more" reservists are heading "towards our direction" and that Russian forces were transferring equipment which they were hiding and building fortification lines.
He said that it could take around two weeks for Russia to transfer troops and equipment to the occupied territories from its other bases, such as in Belarus, once training had ended.
"Probably the minimum they need is 10 days to gather the reserves" he said, which means an offensive could happen "in principle, after February 15th, or at any time."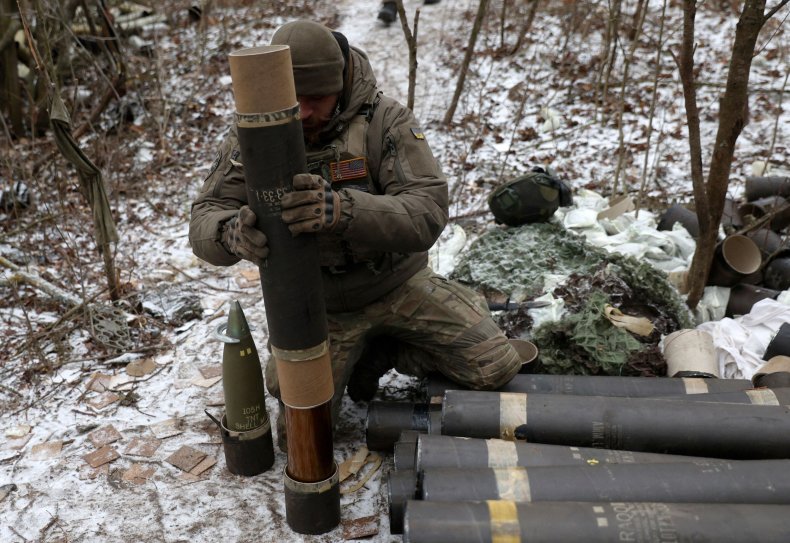 His comments follow numerous warnings by Kyiv that along with a renewed mobilization, the Russian president was planning an offensive imminently. Ukraine has said the threat should spur the West to step up its supply of weapons.
An adviser to the Ukrainian military told the Financial Times that Kyiv had obtained "very solid intelligence of intent" for Russia to launch the attack which could come within 10 days.
The FT reported that a new Russian attack would likely start in the western part of the Luhansk region near Kreminna and Lyman in Donetsk oblast, a city which had been recaptured by Ukraine during its counter-offensive in the fall of 2022.
Kyrylo Budanov, head of Ukrainian military intelligence, told the publication that a Russian attack was likely to be spearheaded by elite units, warning that they would be "proper mechanized brigades."
He added that around half of the 300,000 men Russia said it mobilized last fall had been trained for months and could be more effective than the recruits that had immediately been thrown into battle.
Before leaving his post as Ukrainian defense minister, Oleksiy Reznikov said on Sunday he expected Russian forces to launch a new offensive in the Donbas and southern areas it occupies later in February around one year on from the February 24 start of Putin's full-scale invasion.
Russian forces are attempting to surround Bakhmut with Ukraine saying it still holds the city in the Donetsk oblast that has been fiercely fought over for months.
Ukraine military intelligence agency staffer Andriy Chernyak told the Kyiv Post in an article published on February 1 that Putin had ordered his troops to fully capture the Donetsk and Luhansk regions by March.
This was indirectly confirmed by Reznikov who told France's BFMTV, "considering the fact that they love symbolism, they are plotting something around 24 February."
Newsweek has contacted the Russian Defense Ministry for comment.