Russian Soldiers' Successful Bakhmut Tactics Emerge—ISW
A Ukrainian soldier's account of the front line in Bakhmut has given rare insight into the tactics being employed by Russian soldiers in the eastern industrial city in the Donetsk region, which has, for months, been one of the war's hottest spots.
The Institute for the Study of War (ISW), a think tank based in Washington, noted in its daily assessment of the conflict that Ukraine's Joint Forces Task Force posted an interview on February 1 with a Ukrainian serviceman operating in Bakhmut.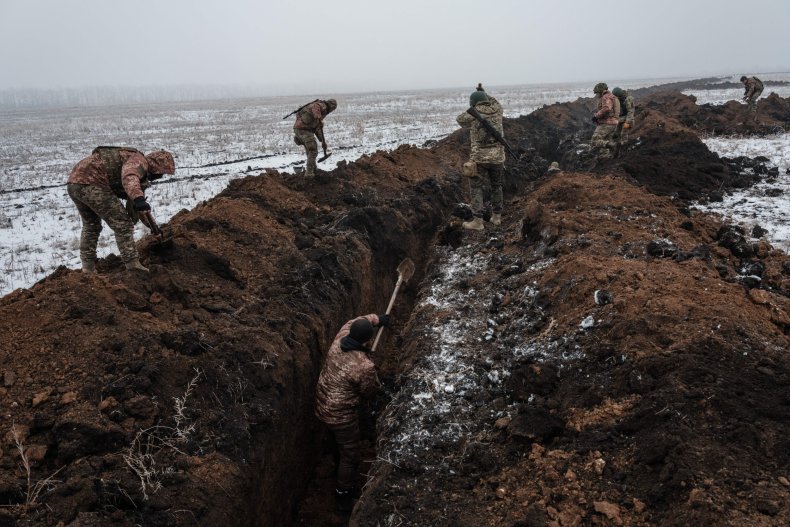 His account "provided granular insight into Russian tactics in the Bakhmut area," the ISW said.
In his interview, the Ukrainian soldier said that the situation in Bakhmut has recently "radically changed." Russia has committed to the city competent fighters from the Wagner Group, a shadowy paramilitary outfit, and operatives from the Main Directorate of the Russian General Staff (GRU).
"Wagner and the GRU may be committing more elite special operations and reconnaissance elements to augment human wave attacks in the Bakhmut area," the think tank said.
The Ukrainian soldier also said in his interview that Russian troops are carrying out "fairly successful infiltration techniques" in Bakhmut. Russia is, according to the soldier, sending unarmed, unequipped military personnel to deliver ammunition and weapons to front-line positions in the city.
These military personnel are then often able to "approach Ukrainian positions without detection," the ISW said.
"They came to our positions 20 meters [65 feet] away, and we just didn't notice them," the soldier said.
Buildings from which Ukrainian forces are operating are also being identified and destroyed by Russian troops, the soldier added.
"They destroy them, level them to the ground, so that it would not be possible to lead the fire from there," the Ukrainian serviceman said in his interview.
The ISW explained that these techniques, "which are likely helping reinvigorate the stalled Russian advances in and around Bakhmut," are not likely scalable to support larger offensive operations.
"It is also unclear how effective they would be in terrain lacking the kind of cover they appear to be using immediately around and in Bakhmut," the think tank concluded.
On Wednesday, Pavlo Kyrylenko, head of the Donetsk region military administration, posted on social media that Russian forces were hammering Bakhmut into a "total ruin."
"Russians are leveling Bakhmut to the ground, killing everyone they can reach. We are carefully documenting all war crimes. They will be held accountable for everything!" Kyrylenko wrote on his Telegram channel.
The ISW said earlier this week that it doesn't forecast the "imminent fall" of Bakhmut to Russian forces, although Ukraine "may choose to withdraw rather than risk unacceptable losses."
Do you have a tip on a world news story that Newsweek should be covering? Do you have a question about the Russia-Ukraine war? Let us know via worldnews@newsweek.com.