Ukrainian Artillery Reportedly Destroy Russian Anti-Aircraft System Worth $15M
Ukrainian artillery reportedly destroyed a Russian anti-aircraft system worth $15 million.
Ukrainian military officials said Saturday its artillerymen destroyed a Russian Pantsir-1S missile system, shown in released images. The system entered service in the Russian military in 2012 and is designed to protect a limited area against enemy aircraft.
The footage was obtained from the Ukrainian Joint Forces Task Force, along with a statement. The images were also relayed by the General staff of the Armed Forces of Ukraine.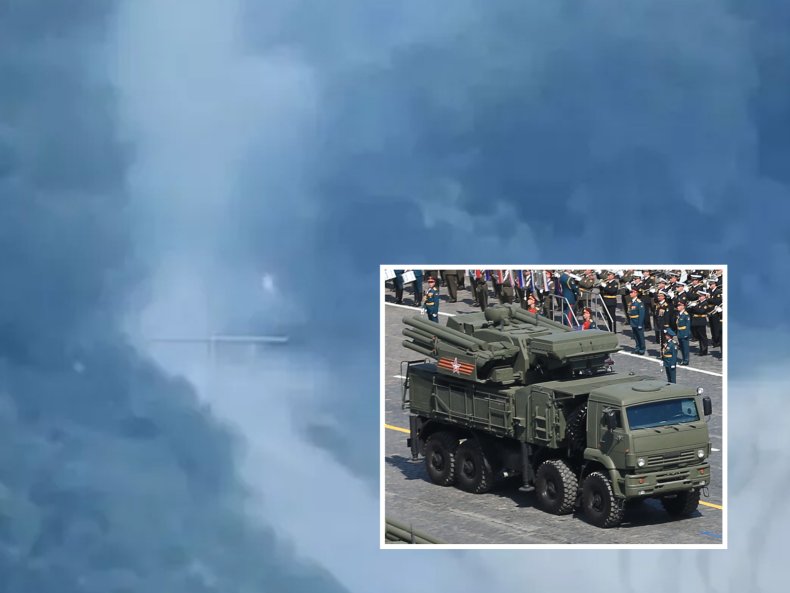 The Joint Forces Task Force said: "How can one well-placed blow deprive an enemy of equipment worth $15 million? It's very simple: when in the steppes of Donbas Ukrainian artillerymen encounter a much-hyped, Russian 'Pantsir-1S' anti-aircraft system.'"
They explained: "Pantsir-S1 is a Russian self-propelled anti-aircraft missile and gun system. It is used to cover civilian and military objects from air attack. It can also protect a facility from ground and surface threats.
"The machine was developed by the Tula Design Bureau of Instrumentation. The complex was created in 1994, since then it has been modernized. At the end of 2012, the Pantsir-S1 air defense system was used by the Russian army.
"The deployment time of the complex is up to 5 minutes. Its ammunition: 12 57E6-E missiles, 1400 shells. Missiles can hit targets at an altitude of up to 15 kilometers [9 miles] and at a distance of up to 20 kilometers [12 miles] ; projectiles can fly a distance of up to 4 kilometers [2.4 miles]. The cost is $15 million."
The Ukrainian General Staff said: "How one well-aimed shot can deprive the enemy of equipment worth almost $15 million."
Zenger News contacted the Ukrainian Joint Forces Task Force for further comment, as well as the Russian Ministry of Defense, but had not received a reply at the time of writing.
Russia invaded Ukraine on February 24 in what the Kremlin is still calling a "special military operation." July 4 marks the 131st day of the invasion.
The General Staff of the Armed Forces of Ukraine reported that between February 24 and July 4, Russia had lost about 36,200 personnel, 1,589 tanks, 3,754 armored combat vehicles, 804 artillery units, 246 multiple launch rocket systems, 105 air defense systems, 217 warplanes, 187 helicopters, 658 drones, 144 cruise missiles, 15 warships, 2,629 motor vehicles and fuel tankers, and 65 units of special equipment.
Other developments in the Russia-Ukraine war:
The leaders of dozens of countries, as well as international organizations and companies are gathering in Switzerland to elaborate a "Marshall Plan" roadmap to rebuild Ukraine after the war is over.
Russia said that it has captured the eastern Ukrainian city of Lysychansk, in the Severodonetsk Raion of the Luhansk Oblast region. This has now also been confirmed by Ukraine's military, who said they had withdrawn their troops from the city after heavy fighting in order to "preserve the lives of the defenders."
Ukrainian President Volodymyr Zelensky, has claimed that Ukrainian forces would retake the city "thanks to the increase in the supply of modern weapons."
The fall of Lysychansk comes just over a week after the nearby city of Severodonetsk fell to the Russians.
Sloviansk, an eastern Ukrainian city in the Donetsk Oblast region, was hit by shelling on Sunday, resulting in the deaths of at least six people, with 20 others injured, according to the city's mayor, Vadim Lyakh.
The Ukrainian Governor of Luhansk, Serhiy Haidai, claimed that Russian forces are now likely to shift their focus to the neighboring Donetsk region.
Australian Prime Minister Anthony Albanese visited Kyiv, with Australia vowing to send more than $100 million in new aid to Ukraine.
Turkish authorities have detained a Russian cargo ship carrying grain allegedly stolen from Ukraine. The ship is said to contain over 7,000 tons of grain that Russian officials said would be sent to "friendly" countries.
Ukraine has dismissed Russian claims that its forces targeted civilian areas in the Russian city of Belgorod, killing three people.
Russian state media claimed that two more Britons captured by Russian troops in Ukraine have been charged with mercenary activities. They have been named as Dylan Healy, a chef who had been volunteering as an aide worker, and Andrew Hill, who was shown by Russia in military uniform.
The announcement comes after two other British men, Shaun Pinner and Aiden Aslin, were sentenced to death last month. The European Court of Human Rights intervened, demanding the sentences not be carried out, but this was rejected by Russia, saying that it would not be implementing the court's decisions and that the decision to execute the men lies with the pro-Russian, so-called Donetsk People's Republic.
This story was provided to Newsweek by Zenger News.