Battle for Bakhmut Rages as Ukraine Claims 'Great Losses' for Russia
The grueling, months-long battle for the eastern Ukrainian town of Bakhmut continues to rage, with Ukraine's military claiming Wednesday that Russia is suffering "great losses."
Nearly a year after Russian President Vladimir Putin launched a full-scale invasion, and six months after Russia and the paramilitary outfit the Wagner Group put their forces into Bakhmut, the industrial town remains an epicenter of fighting.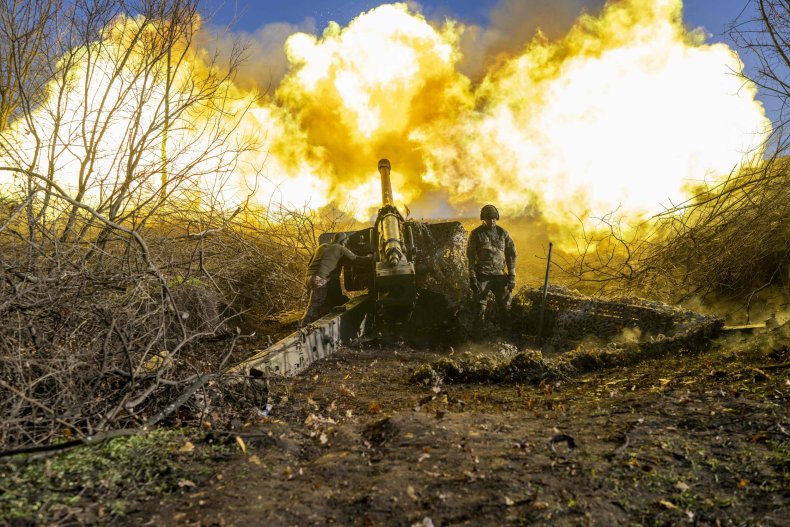 The brutal battle for Bakhmut has been described as one of the most intense spots of the war so far, and clashes in the region show no signs of slowing down. The General Staff of the Armed Forces of Ukraine said on Wednesday that Russia is not stopping its push in Bakhmut.
Russian troops have suffered "great losses," Ukraine's military said in a statement posted to Facebook.
Pavlo Kyrylenko, head of the Donetsk region military administration, said Russian forces were hammering Bakhmut into a "total ruin."
"Russians are leveling Bakhmut to the ground, killing everyone they can reach. We are carefully documenting all war crimes. They will be held accountable for everything!" he wrote on his Telegram channel.
Kyrylenko said two people were killed on Tuesday, including a child, and four others were wounded.
Days earlier, Ukraine's Deputy Defense Minister Hanna Malyar wrote on Telegram that "the enemy is intensifying pressure in the Bakhmut and Vuhledar sectors."
"The enemy is throwing a significant number of personnel, weapons, and military equipment into the battle, trying to break through our defenses, [and] is suffering significant losses but is not giving up its plans," Maylar said on January 25. "The intensity of the fighting is increasing."
On Sunday, Ukrainian President Volodymyr Zelensky asked Western leaders to "speed up" the delivery of promised supplies to Ukraine amid Russian advances around Bakhmut.
According to the Institute for the Study of War (ISW), a think tank based in Washington, Moscow's decision to introduce Russian conventional forces to the front line in Bakhmut has "offset the culmination of the Wagner Group's offensive and retained the initiative for Russian operations around the city."
It observed that the commander of a Ukrainian unit operating in Bakhmut, Denys Yarolavskyi, confirmed that "super-qualified" Russian conventional military troops are now fighters recruited by the Wagner Group in an ongoing effort to encircle Bakhmut.
Another Ukrainian Bakhmut frontline commander, Volodymyr Nazarenko, has also confirmed that the Russian military command committed Russian airborne troops to the Bakhmut offensive, the ISW said.
The ISW said Russian forces are continuing to conduct offensive operations northeast and southwest of Bakhmut and have secured limited territorial gains since capturing the nearby salt-mining town of Soledar in January.
The think tank said it doesn't forecast the "imminent fall" of Bakhmut to Russian forces, although Ukraine "may choose to withdraw rather than risk unacceptable losses."
Michael Kofman, the director of Russian studies at CNA, a U.S. research institute, said on a recent episode of the podcast "War on the Rocks" that Russia has likely lost more troops than Ukraine in the battle for Bakhmut as its forces have often fought on foot, and many are convicts recruited by the Wagner Group.
Do you have a tip on a world news story that Newsweek should be covering? Do you have a question about the Russia-Ukraine war? Let us know via worldnews@newsweek.com.