Russia Denies New Warship Strike by Ukraine as Makarov Rumors Swirl
The Kremlin has denied that it has any information about a reported Ukrainian strike on a Russian warship in the Black Sea.
Speculation has been growing over the fate of the Admiral Makarov, which Ukrainian MP Oleksiy Goncharenko said on his Telegram account had been hit in a missile strike and burst into flames.
He said that the ship had been "badly damaged" after being hit by Ukrainian attacks but remained afloat for now. "Yes, yes, you understood everything correctly! The God of the seas takes revenge on the offenders of Ukraine," he wrote.
Other unconfirmed reports on social media and Ukrainian news outlets said the warship had been hit by missiles near Snake Island in the Black Sea south of Odesa.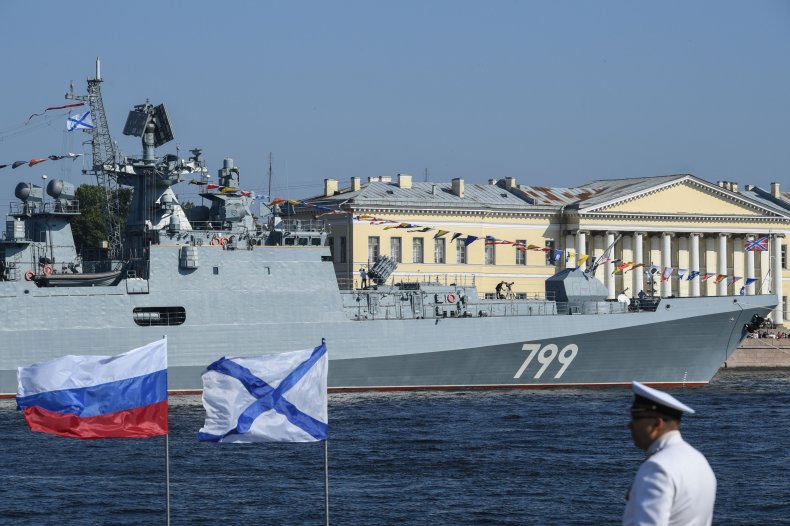 Russian forces sent helicopters to rescue the crew of the ship, according to Ukrainian news site Dumskaya, which said that the vessel had been hit by a Neptune missile.
Open source intelligence monitor OSINTdefender tweeted that it was "seeming more and more likely" that the reports that the vessel had been hit were "true."
"Multiple rescue ships and aircraft are reportedly in the area with U.S. surveillance drones keeping eyes on it," it added.
In its daily report, Ukraine's defense ministry said another ship had been destroyed although it did not specify if it was referring to Admiral Makarov.
Newsweek has contacted the Ukrainian defense ministry for comment.
Kremlin spokesman Dmitry Peskov rejected the reports, telling reporters "we do not have such information" about the reported strike, RIA Novosti reported.
Commissioned in 2017, Admiral Makarov is a modern frigate loaded with guided missiles.
If the strike on the vessel is confirmed, it would be another blow to Russia's Navy. Last month, the warship Moskva, the flagship of its Black Sea fleet, sank after a Ukrainian missile strike.
It follows reports this week that the U.S. had provided targeting data that helped Kyiv's forces sink the vessel, which was a major public relations coup for Ukraine and a blow for Russia's forces.
However, Pentagon spokesman John Kirby said in a statement to Newsweek that the U.S. did not provide information to target the Moskva and was "not involved in the Ukrainians decision to strike the ship."
The Moskva was the largest Russian warship to be sunk in combat since World War II. However, Moscow has denied Ukrainian missiles caused the vessel's demise, saying it sunk due to an an onboard fire caused a munitions explosion.
Update 05/06/22, 9:40 a.m. EDT: This article has been updated with further information, including comment from Ukrainian MP Oleksiy Goncharenko.