Russia, Ukraine Pull Off Humongous Prisoner Swap as Fierce Battles Continue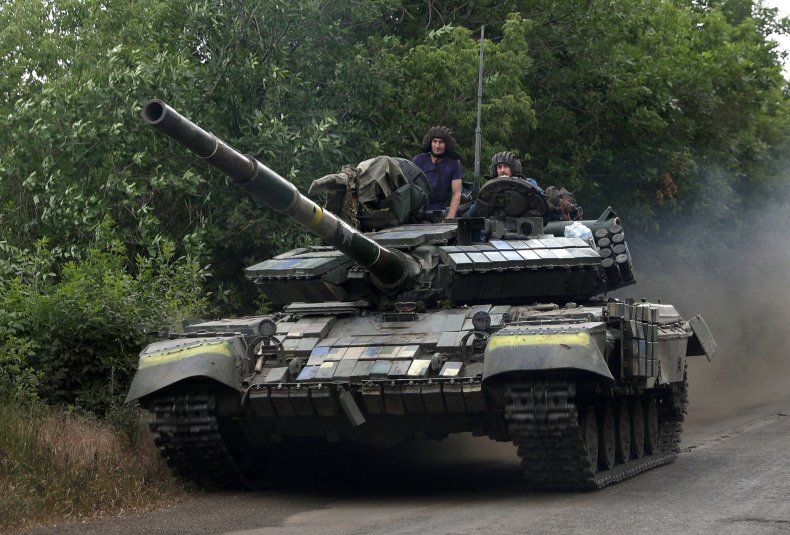 The Ukrainian military remained locked in fierce battles with invading forces while the countries exchanged a total of over 280 soldiers in the war's largest prisoner swap.
The Main Directorate of Intelligence of the Ministry of Defence of Ukraine, also known as HUR, announced that 144 Ukrainian soldiers had been released as part of the exchange on Wednesday. The same number of Russian soldiers were released by Ukraine, according to a post to the Telegram account of Denis Pushilin, the head of the pro-Russian separatist government in Ukraine's Donetsk region.
A statement posted to the HUR Facebook page said that most of the Ukrainians released would be receiving "proper emergency medical and psychological help" due to injuries that included "fire and fragment wounds, explosive injuries, burns, fractures" and amputated limbs. Pushilin said that most of the Russian soldiers released were also injured and in need of "urgent qualified medical assistance."
Of the Ukrainians released, 95 were captured after defending Mariupol's Azovstal steel plant, including 47 soldiers from the Azov Regiment. Thousands of soldiers defending the plant surrendered following negotiations between Russia and Ukraine in mid-May.
Some Russian politicians strongly opposed any prisoner exchanges that involved members of the Azov Regiment and instead called for their execution, according to The New York Times. The regiment has been frequently cited by Russia to bolster false claims of widespread "Nazism" in Ukraine, due to the group's origins as a far-right, neo-Nazi militia.
Ukrainian President Volodymyr Zelensky commented on the "important" prisoner swap in an address on Wednesday night, praising his military intelligence forces while providing additional details about the soldiers that were released.
"144 Ukrainian warriors were returned home from Russian captivity. 59 soldiers of the National Guard, 30 - Navy; 28 - army, 17 border guards, 9 territorial defense soldiers, 1 policeman," Zelensky said, according to a translated transcript of the address obtained by Newsweek.
"The oldest of the liberated is 65 years old, the youngest is 19. In particular, 95 Azovstal defenders return home," he added. "I am grateful to the Defense Intelligence of Ukraine and to everyone who worked for this result. But let's talk about this later. We will do everything to bring every Ukrainian man and woman home."
Newsweek reached out to the Russian government for comment.
Recent fighting in Ukraine has continued to be largely focused in the eastern Donbas region. Serhiy Haidai, governor of the Luhansk province, said in a Telegram post on Wednesday that Russian forces were "constantly" shelling the embattled city of Lysychansk, resulting in "catastrophic" damage.
However, Haidai said he was also confident that Ukrainian forces would ultimately win, while Britain's Ministry of Defense said on Tuesday that Russia was fighting an "unsustainable" battle with forces that were "increasingly hollowed out."