Russian Forces 'Increasingly Hollowed Out' in Ukraine—U.K. Intel
The scale of the onslaught by Vladimir Putin's forces in Ukraine amid a fierce ongoing fight for a city in the eastern Donbas region is "unsustainable" in the long term, British defense officials have said.
The daily assessment by Britain's Ministry of Defense (MOD) said Ukrainian forces "continue to consolidate their positions on higher ground" in Lysychansk, days after Putin's troops seized control of its twin city Severodonetsk which lies across the Siverskyi Donets river.
British defense officials said on Tuesday that Ukrainian troops "continue to disrupt Russian command and control with successful strikes deep behind Russian lines."
The assessment said that the "unusually intense waves of strikes" by long-range Soviet era missiles, which were designed to make strategic strikes, were being expended "in large numbers for tactical advantage."
It said that despite Russia fielding "the core elements of six different armies," they achieved "only tactical success at Severodonetsk" and that the Russian armed forces are "increasingly hollowed out."
Putin's forces, the defense officials concluded, are accepting "a level of degraded combat effectiveness, which is probably unsustainable in the long term."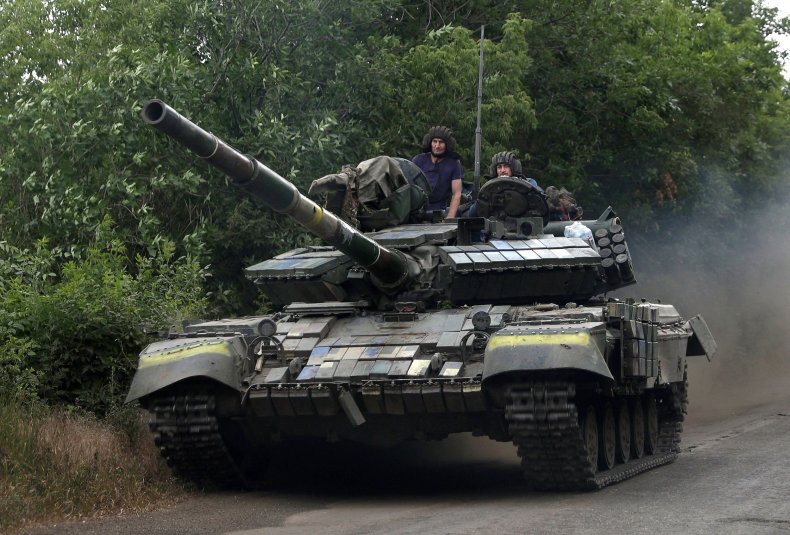 Intelligence reports such as ones by the U.K. MOD tend to focus on Russian shortcomings and are often part of the information warfare conducted by Ukraine's allies against Moscow. Newsweek has contacted Russia's defense ministry for comment.
The Kremlin continues to present its own version of the Ukraine war, suggesting that a missile strike on a shopping center in Kremenchuk in which at least 18 people died, was a false flag attack.
Russia's deputy permanent representative to the U.N. Dmitry Polyansky tweeted that the attack was a "provocation" and referred to Bucha, the city where Russian troops were accused of carrying out a massacre which Moscow says was staged.
Russia has repeatedly denied it targets civilian infrastructure, although evidence shows shopping malls, theaters, hospitals, kindergartens and apartment buildings have been hit.
Ukrainian President Volodymyr Zelensky said the mall contained around 1,000 civilians and described the attack as "one of the most daring terrorist acts in European history." The G7, which is meeting in Germany, denounced the attack as a "war crime."
Meanwhile, a separate assessment of the Ukraine war by the U.S. Institute for the Study of War said on Monday that Russian military authorities are trying to "seek ways to replenish their increasingly exhausted force capabilities without announcing general mobilization."
It cited an unnamed senior U.S. defense official that Russian forces are likely to be running low on senior military leaders and "are relying more heavily on retired officers and reserves to replace officer casualties."