Russia Opposes UN Investigation of Bucha War Crimes Allegations
Moscow has said it would oppose an independent investigation into an alleged massacre at Bucha at the center of claims Russian troops committed atrocities, which might form an International Criminal Court (ICC) case against Vladimir Putin.
Reports of a mass grave and bodies strewn in the streets after Russian forces pulled out of the Kyiv suburb shocked the world and prompted Ukrainian President Volodymyr Zelensky to call for an end to Russian "war crimes."
But Russian foreign affairs ministry official Pyotr Ilyichev raised the prospect that Russia would use its veto to stop any move by the United Nations to investigate alleged atrocities in Bucha.
"So far, this topic has not been raised at the UN," said Ilyichev, who is the foreign ministry's director of the department of international organizations.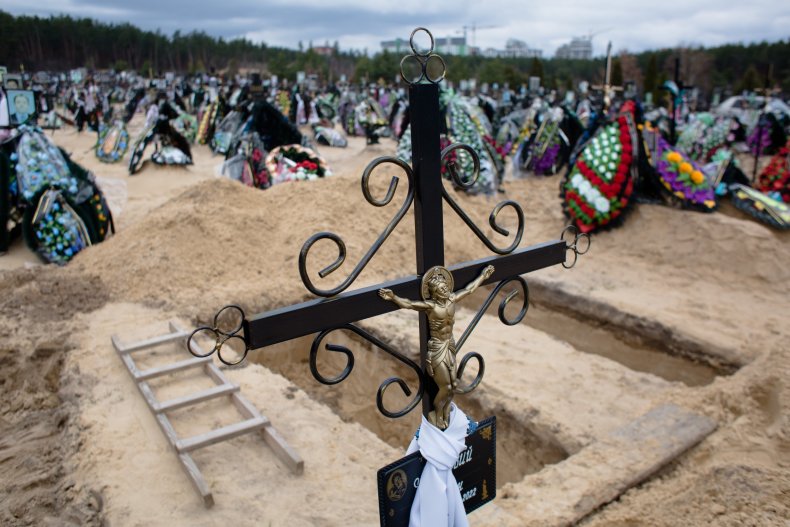 "We need to look at what kind of investigation it might be, who will conduct it," he told state-run news agency RIA Novosti. "Unfortunately, the experience of previous investigations, including through the ICC, shows only a biased position."
The RIA Novosti article Ilyichev is quoted in, reported "many questioned" the authenticity of the images of dead civilians in Bucha.
This reiterated the Russian defense ministry's line that Kyiv had presented the images as a "provocation," with RIA reporting that "none of the local residents suffered from violent actions."
War crimes cases can be referred to the ICC by the United Nations Security Council, in which Russia holds a veto. They can also be brought by national governments.
So far, dozens of referrals have been made about the war in Ukraine to the ICC, whose chief prosecutor Karim Khan visited Bucha last week.
These include the strike on a railway station in the eastern city of Kramatorsk, where civilians were waiting for evacuation trains to safer regions of the country. At least 50 people were killed, according to Ukrainian authorities.
Russia's bombing of hospitals and a theater in Mariupol where children were among those seeking refuge have also been described as war crimes.
Last month, Khan told CNN "it's never as easy as people think to get to the truth" which might lead to a successful war crimes prosecution.
"But at the same time, we've seen time and time again, from Nuremberg onwards, the truth will out, and that gives me confidence."
Newsweek has contacted the ICC for comment.