Russia's 'Abominable' Attack on Ukraine Mall a 'War Crime': G7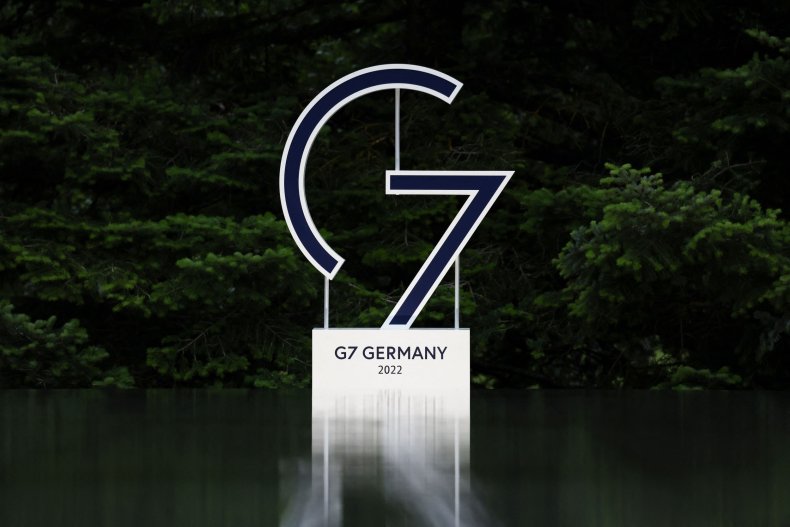 Group of Seven (G7) world leaders have declared Russia's "abominable" missile attack on a shopping mall in Ukraine a "war crime."
At least 15 people were killed following the attack in Kremenchuk, central Ukraine on Monday, according to regional governor Dmytro Lunin. Around 50 additional victims were injured when two Russian missiles struck the crowded mall, according to Reuters. The attack was quickly condemned by the G7 leaders, who are currently meeting at the organization's annual summit in Germany.
"We, the Leaders of the G7, solemnly condemn the abominable attack on a shopping mall in Kremenchuk," the leaders said in a statement shared to the official Twitter account of the 2022 German Presidency of the G7. "We stand united with Ukraine in mourning the innocent victims of this brutal attack."
"Indiscriminate attacks on innocent civilians constitute a war crime," they continued. "Russian President [Vladimir] Putin and those responsible will be held to account."
The leaders also pledged their "unwavering support" for Ukraine amid Russia's "unjustified war of choice that has been raging for 124 days," vowing to continue to provide financial, military and humanitarian aid "for as long as it takes."
Ukrainian officials have said that they consider the mall attack to be a "terrorist" incident, while noting that the final death toll is still unknown.
Lunin said that at least 21 people had been hospitalized following the attack, with another 29 victims having received medical care without hospitalization.
A video showing the fiery aftermath of the attack had been viewed millions of times within hours of being shared online.
On Twitter, Dmitry Polyanskiy, Russia's deputy permanent representative to the United Nations, suggested without evidence that the attack was a manufactured "provocation" by Ukraine.
Polyanskiy tweeted that the attack was "exactly what Kiev regime needs to keep focus" on Ukraine ahead of this year's NATO summit, which is set to begin in Madrid, Spain, on Tuesday.
Ukrainian President Volodymyr Zelensky said that the attack was "one of the most defiant terrorist attacks in European history" in an address on Monday night, adding that there were around 1,000 civilians inside the mall before an air alarm warned of the impending missile strike.
"Only totally insane terrorists, who should have no place on earth, can strike missiles at such an object," Zelensky said, according to a translated transcript obtained by Newsweek. "And this is not an off-target missile strike, this is a calculated Russian strike—exactly at this shopping mall."
Zelensky said that he had urged the United States to officially add Russia to the State Department's list of state sponsors of terrorism—a roster that currently includes only Syria, Iran, North Korea and Cuba.
"The Russian state has become the largest terrorist organization in the world. And this is a fact," said Zelensky. "People in the Kremenchuk shopping mall deserved security just as much as people in any mall in the world ... The world can, and therefore must, stop Russian terror."
Newsweek reached out to the government of Russia for comment.