Video Shows Massive Fire at Ukraine Mall After Russian Missile Attack
At least 10 people have been killed and 40 others injured after Russian missiles hit a shopping mall in Kremenchuk in central Ukraine.
Video posted by Ukrainian President Volodymyr Zelensky on Telegram showed the mall in flames as large black clouds of smoke rose into the air. Zelensky wrote that over 1,000 civilians were inside the mall at the time of the attack, which could potentially result in the most fatal missile strike since the war began in February.
"It is on fire, and rescue workers are trying to put out the fire. The number of victims is impossible to imagine," Zelensky said, according to an English translation. "It posed no threat to the Russian army. No strategic value. People only wanted to live a normal life, which is what angers the occupiers so much."
"Out of helplessness, Russia continues to hit ordinary people. It is vain to expect it to be reasonable or humane," Zelensky added.
An official with the city of Poltava's regional administration said that 10 people have been killed and that 40 others have been injured in the incident, the BBC reported, adding that those figures could increase.
The missile attack came as U.S. National Security Adviser Jake Sullivan confirmed that a U.S. aid package for Ukraine was being finalized to include advanced air defense capabilities, according to the Kyiv Independent.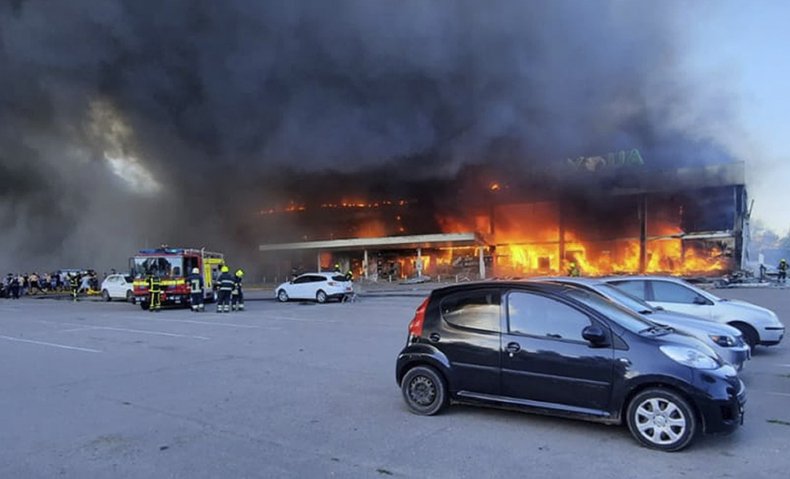 Andrij Yermak, head of the Ukrainian president's office, did not mince words about Russian aggression in connection to the attack.
"Russia should be designated a state sponsor of terrorism," Yermak tweeted. "This evil must be punished. We need more weapons to protect our people, we need missile defenses."
World leaders are currently present at the Group of Seven (G7) summit in Germany, where the Russia-Ukraine war is among the top priorities being discussed.
Yermak's tweet came hours after he said world leaders at the summit "reaffirmed their unwavering support" for Ukraine.
"They will continue to provide financial, humanitarian, military and diplomatic support and stand with us for as long as it takes," he said, adding that "stronger sanctions" and a weapon supply increase are being called for by Ukrainian officials.
U.S. Secretary of State Antony Blinken told CNN on Sunday that Ukraine will remain independent long after Russian President Vladimir Putin is gone.
"When it comes to Putin's strategic objectives, he's already failed," Blinken said. "His strategic objective was to end Ukraine's sovereignty and independence, to erase it from the map, to subsume it in Russia. That has failed, and a sovereign, independent Ukraine is going to be around a lot longer than Vladimir Putin is on the scene."
Other missile attacks occurred in Ukraine over the weekend, causing at least one death.
Update 06/27/2022 at 1:05 p.m. ET: This article was updated with additional information.