Putin's Silence on War Anniversary Likely Due to Failures in Ukraine: ISW
The Institute for the Study of War said that the Kremlin was tight-lipped on the first anniversary of its invasion of Ukraine because it has not achieved any of its war aims.
Solemn commemorations took place in Ukraine and around the world to mark one year since the war started. But Vladimir Putin was notably silent and made no statements about the anniversary.
Putin made numerous public appearances this week, including laying a wreath at the Tomb of the Unknown Soldier in Alexander Garden by the Kremlin Wall to mark Defender of the Fatherland Day on Thursday.
The Washington D.C.-based think tank noted that the Kremlin probably did not comment on the one-year anniversary of the war because Russia "has failed to achieve any of its stated objectives and has not made significant territorial gains since July 2022."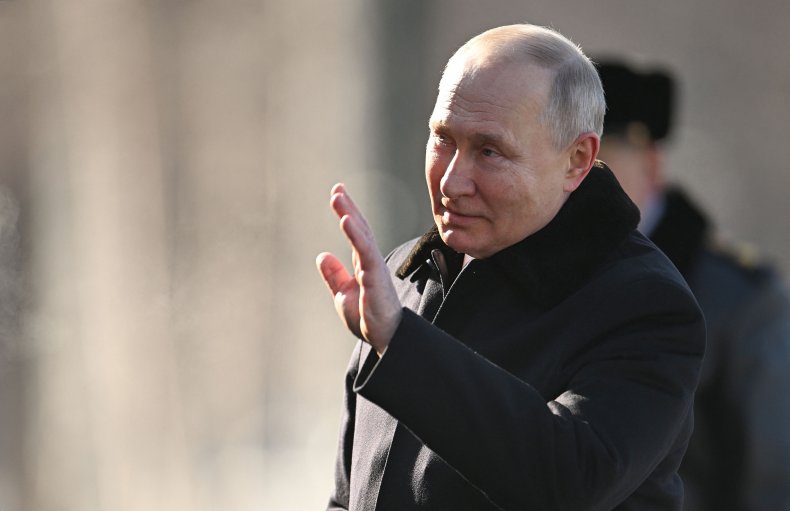 However, former president and current deputy chairman of the Russian Security Council, Dmitry Medvedev, said that Moscow needed to push back the borders threatening Russia as far as possible "even if they are the borders of Poland."
The ISW has previously said the Kremlin is using Medvedev for messaging against Western military support for Ukraine to deflect attention from Moscow's military failures.
The ex-president's statements also signal that the Kremlin has "maximalist" goals even though it has achieved "no meaningful successes," the ISW added.
Some Russian military bloggers commented on the Kremlin's silence on Friday, such as former FSB officer Igor Girkin, who took aim at Medvedev's comments as delusional.
A critic of Russia's forces, Girkin said on his Telegram channel that he had long predicted a "protracted, exhausting war." He added that Russia would require "large-scale external support" to continue fighting.
Newsweek has contacted the Russian defense ministry for comment.
Western countries used the first anniversary of the war to announce aid packages, with the U.S. committing a further $12 billion in aid to Ukraine, and imposing additional sanctions on Russia.
President Joe Biden said on Friday that "brutality will never grind down the will of the free." In an interview with ABC News, he ruled out "for now" the U.S. supply of F-16 fighter jets Kyiv has been calling for.
The EU also approved a 10th package of sanctions against Russia on Friday. Meanwhile, Canada, Germany, and Sweden announced they would supply Leopard 2 battle tanks to Ukraine, and Poland said it would soon send an additional 60 PT-91 Twardy main battle tanks.