Russia Only Managing Tiny Advances Amid Ammo and Troop Issues: U.K.
Russian forces have been trying to restart offensive operations in Ukraine since the beginning of the year, but they are being hampered by problems with manpower and ammunition, according to British defense officials.
In its daily update, the U.K. Ministry of Defence (MOD) said on Tuesday that Russia was "almost certainly" aiming to capture the areas of the Donetsk oblast that are currently held by Ukraine.
However, Russian troops "have only managed to gain several hundred metres of territory per week." These gains have only been incremental because Russia is likely to be lacking the munitions and units required for successful offensives.
It also said that senior Russian commanders have undermanned and inexperienced units, as they face political and professional pressure "to achieve unrealistic objectives," while Russian leaders continue to demand "sweeping advances."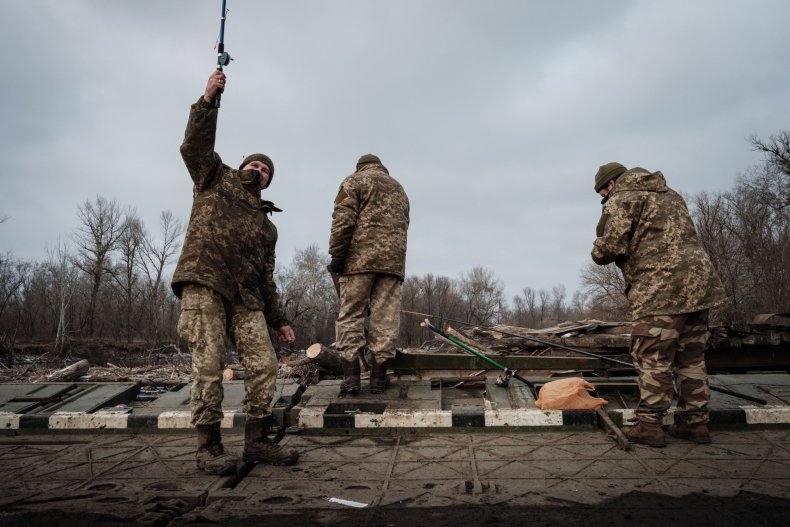 It is "unlikely" that Russia can build up the forces needed to make a significant impact on the war in the coming weeks, according to the British assessment, which emphasizes Russian setbacks and Ukrainian gains. Newsweek has contacted the Russian defense ministry for comment.
Kyiv has said that Russian forces are preparing to launch a large-scale offensive in the east of Ukraine later this month, to symbolically tie in with the first anniversary of Vladimir Putin's full-scale invasion.
A Ukrainian military official told the Financial Times that Russia was looking to launch an offensive by February 15, before newly pledged Western tanks and infantry fighting vehicles arrive, such as German Leopard II and American Abrams tanks. The Ukrainian head of the Luhansk region, Serhiy Haidai, has said Russian forces are continuing to deploy reserves to his oblast.
Russian nationalist voices have expressed doubt that Russia will be able to launch a successful offensive after late February. One military blogger linked with the Wagner Group of mercenaries fighting for Moscow, said there was a limited time window to launch a large-scale offensive.
Meanwhile, former Russian intelligence officer and military blogger Igor Girkin said that an attack won't be successful until Russia mobilizes more manpower, industry and economy. "Both observations highlight that the Russian military command appears to be in a rush to launch the decisive offensive," the Institute for the Study of War (ISW), a U.S. think tank, said on Monday.
"It is clear the Kremlin thinks it has the capacity to continue the war and resume the offensive," said Ian Ona Johnson, assistant professor of military history at the University of Notre Dame, South Bend, Indiana, in emailed comments to Newsweek.
Johnson said that Putin believed that the West "will eventually tire of supplying Ukraine."
"Ukraine's war effort is almost entirely dependent on the provision of aid from Europe and the United States, which has been forthcoming, but in some countries like Germany is contentious."
With many observers expecting a major Russian effort aimed at securing most of the eastern half of the country in the late spring, Ukrainian president Volodymyr Zelensky has made clear he won't negotiate with Moscow while Russian troops are on Ukrainian territory. "However, Ukraine's manpower is limited," added Johnson.