Russian State TV Says Queen's Funeral Was Ideal Time to Nuke U.K.
A Russian TV anchor has said that Moscow should have taken advantage of Queen Elizabeth II's funeral to launch a nuclear missile strike on the U.K.
The comment on the program 60 Minutes was made by Olga Skabeyeva on the Russia-1 channel where there are frequent call for strikes against Western countries in retaliation for their support of Ukraine's war effort.
During a discussion on Monday, Andrey Gurulyov, a Russian member of parliament and a former army commander, disparaged President Joe Biden's appeal to Vladimir Putin not to use weapons of mass destruction, such as nuclear arms.
When asked last week by CBS News about what his message would be to Putin if he was considering WMDs to help his faltering invasion, Biden replied, "don't, don't, don't," adding that this would spark consequences, without specifying further.
But Gurulyov appeared to dismiss the threat of any nuclear strike by Russia against Ukraine by suggesting that another target would be more likely.
"Did you hear all that nonsense he was spouting?" Gurulyov said of Biden, "what made him think we would conduct a nuclear strike against Ukraine?"
"We'll still have to live over there, in Ukraine. We have plenty of targets," he said, first mentioning the U.S. Air Force base in Ramstein, Germany. "Why would we bomb Ukraine and Germany when there is Britain, the root of evil?" he said.
Skabeyeva interrupted with, "We should have done it today. All the best people are there for the funeral."
On Monday, leaders and dignitaries from around the world—including Biden, Japanese Emperor Naruhito and French President Emmanuel Macron—gathered in London to pay their respects to the queen. It followed a period of national mourning in the U.K which has seen an outpouring of grief and reverence over the death of the British monarch.
The exchange was tweeted by journalist and Russia watcher Julia Davis, who wrote that Skabeyeva said Moscow "should have conducted a nuclear strike on Monday, since many important people were in attendance for the Queen's funeral." Newsweek has contacted the British Foreign Ministry for comment.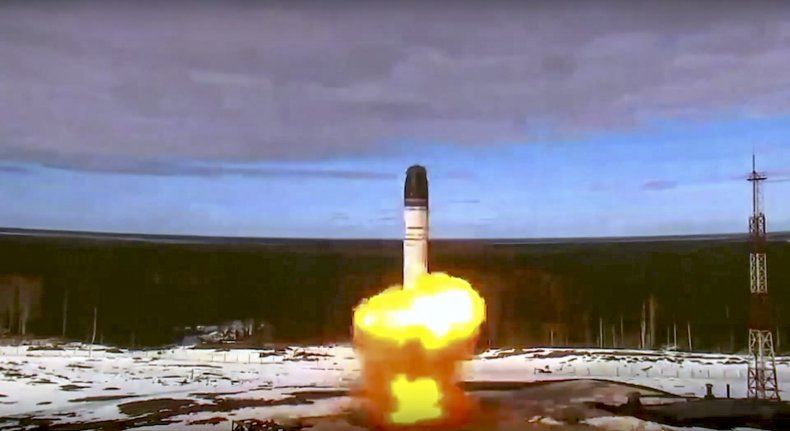 In the rest of the exchange, Gurulyov reiterated a motif he had raised the previous day on the same channel in describing the barren aftermath the U.K would face in the event of a nuclear strike.
"Will they defend a Martian desert as per their 5th Article?" he told Skabeyeva, referring to NATO's collective defense pledge, "there will be nothing left. What do they call it, an unshakeable island? We'll shake it up."
Co-anchor of 60 Minutes, Evgeny Popov, interrupted to say, "let me remind you that Great Britain...also has nuclear weapons," prompting Gurulyov to say that the U.K.'s warheads could be "instantly decimated" and that, "we are a lot more powerful in that respect."
Gurulyov, who has been sanctioned by the U.S. since March 24, said last month on the same program that Putin should launch missile strikes on the U.K which "would be the end of the British Crown."