Russia Staging 'Bloody Show' Near Zaporizhzhia to Hide Nuclear Crimes: Kyiv
Ukraine accused Russia on Monday of staging a "bloody show" near Zaporizhzhia, the home of Europe's largest nuclear power plant, in a bid to hide its "nuclear crimes."
Ahead of a visit by the International Atomic Energy Agency (IAEA) to the Russian-controlled Zaporizhzhia nuclear power station, Ukrainian officials said at least 10 civilians were wounded in shelling by Russian forces in residential areas on Sunday night.
"Two of these people have been hospitalized in the intensive care unit and are in a critical condition," Dmytro Orlov, mayor of the occupied city of Enerhodar in southeast Ukraine, where the nuclear power plant is located, said on Telegram.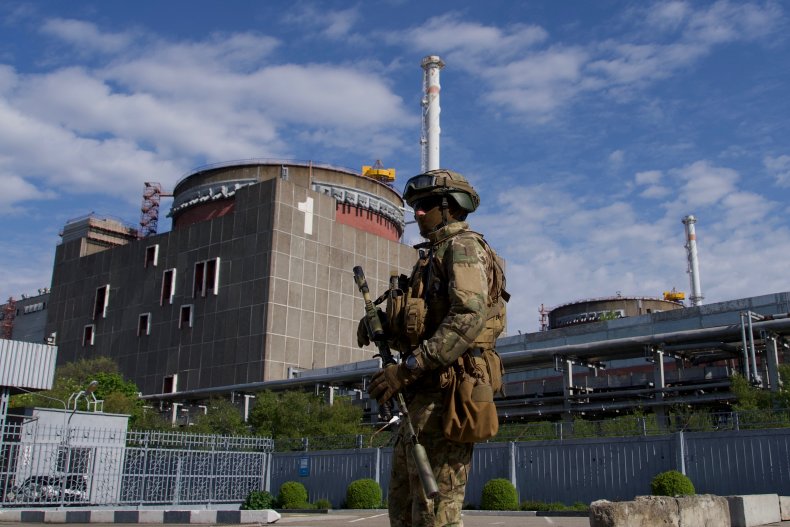 Ukrainian nuclear operator Energoatom recently claimed that four employees of the nuclear power plant were among the victims.
Meanwhile, the occupation administration of Enerhodar, and Russia's defense ministry, blamed the shelling on Ukrainian forces. The defense ministry claimed that "Ukrainian artillery fired eight large-caliber shells at residential areas of the city," and that two shells exploded "in the immediate vicinity of the perimeter of the nuclear power plant."
Both Ukrainian and Russian officials linked the shelling with the upcoming IAEA visit to the Zaporizhzhia nuclear power plant.
Ukrainian presidential advisor and peace talks negotiator Mykhailo Podolyak responded to the shelling in a scathing statement on Twitter.
"Cynical and systematic shelling of Energodar occupied by RF – specially organized bloody show, the purpose of which is to intimidate local civilians, blaming the [Ukrainian] Armed Forces and mask their 'nuclear' crimes," he wrote. "Barbarians do not mind killing for the sake of a propaganda picture."
IAEA Director General Rafael Mariano Grossi said on Twitter Monday morning local time that a delegation from the U.N. nuclear watchdog was "on its way" to the Zaporizhzhia nuclear power plant, which has been under Russian control since March 1.
The power plant was one of the first sites to be seized by Russian forces, but it is still run by Ukrainian staff.
Energoatom said on August 25 that the power plant went offline which was allegedly caused by nearby fires, and that all six of its reactors were still disconnected until Friday afternoon.
Experts raised concerns about the consequences of the plant being disconnected from the Ukrainian grid. Prior to the war, the nuclear plant supplied more than a fifth of Ukraine's electricity needs.
Mikhail Ulyanov, a top Russian diplomat, was quoted by Russia's state-run RIA news agency as saying that Moscow hoped the IAEA visit would dispel misconceptions about the allegedly "unfavorable state of affairs" at the plant.
Ukraine has accused Russian President Vladimir Putin's troops of using the Zaporizhzhia nuclear power plant as a military base, while Moscow has maintained that its military presence at the facility is to safeguard its security.