Russia, Ukraine Talks Far Enough Along to 'Cease Hostilities': U.N.
United Nations Secretary-General António Guterres on Tuesday called for an end to the "absurd war" that Russia is waging in Ukraine, saying there are enough workable solutions on the negotiating table "to cease hostilities now."
During a news briefing with reporters in New York, Guterres also warned the widening war could cause "a global hunger crisis."
His comments came as Russian forces increased their attacks on Mariupol, where the local council claimed two large bombs were dropped. Also on Tuesday, U.S. and NATO officials told CNN that Belarus could "likely" join Russia in its attacks on Ukraine.
"Even if Mariupol falls, Ukraine cannot be conquered city by city, street by street, house by house," Guterres said. "This war is unwinnable. Sooner or later, it will have to move from the battlefield to the peace table."
He added, "There is enough on the table to cease hostilities now...and seriously negotiate now."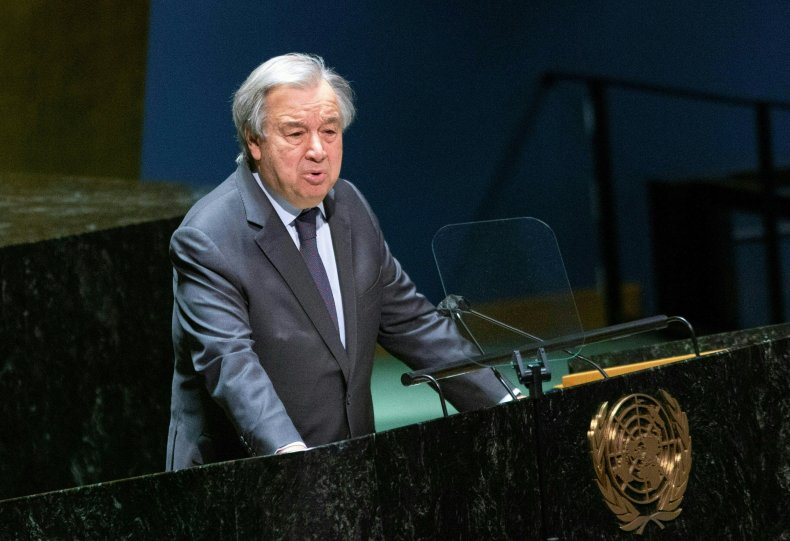 Guterres told reporters during the briefing that around 10 million Ukrainians have left their homes because of the war. He also said that prices for food and energy all over the world have already been affected by the conflict and that these costs will only continue to climb.
Last Friday, members of the U.N.'s World Food Program said that Ukraine's food supply was "falling apart" because of the Russians' attacks. The global wheat trade has also been hit by the war. Wheat shipments from Ukraine and Russia combine for a total of 30 percent of the world's wheat trade, according to a market monitor from the G-20 Agricultural Market Information System.
"The consequences of the conflict in Ukraine, are radiating outwards, triggering a wave of collateral hunger across the globe," Jakob Kern, a senior manager at the World Food Program, said during the Friday meeting.
Last week, Guterres also addressed the global damage that has resulted from the war.
"This war goes far beyond Ukraine. It is also an assault on the world's most vulnerable people and countries," Guterres said during a March 14 press briefing. "All of this is hitting the poorest the hardest and planting the seeds for political instability and unrest around the globe."
Guterres again made a plea for peace on Tuesday. He said, "Continuing the war in Ukraine is morally unacceptable, politically indefensible and militarily nonsensical."
Video of Guterres' remarks were posted on the Twitter account for the United Nations' news service.
Newsweek reached out to Ukraine's Ministry of Foreign Affairs and the Russian Foreign Ministry for comment but did not hear back from either in time for publication.