Russia Loses 50k Soldiers in Two Months—Kyiv
The rate of casualties suffered by Russian forces in Ukraine shows no sign of slowing according to the latest figures released by Kyiv.
On Tuesday, the General Staff of the Armed Forces of Ukraine said in its update that 550 Russian troops had been killed in the previous 24 hours.
It brings Kyiv's total for Russian deaths in the invasion of Ukraine since the start of the war to 149,240. While the conflict has raged for just over a year, the statistics provided by Ukraine suggest that one third of Russian losses took place in only the last two months.
The milestone of 100,000 Russian soldier deaths according to Kyiv was passed on December 21, 2022. In the subsequent 69 days, Ukraine has tallied deaths of Moscow's troops at 48,440.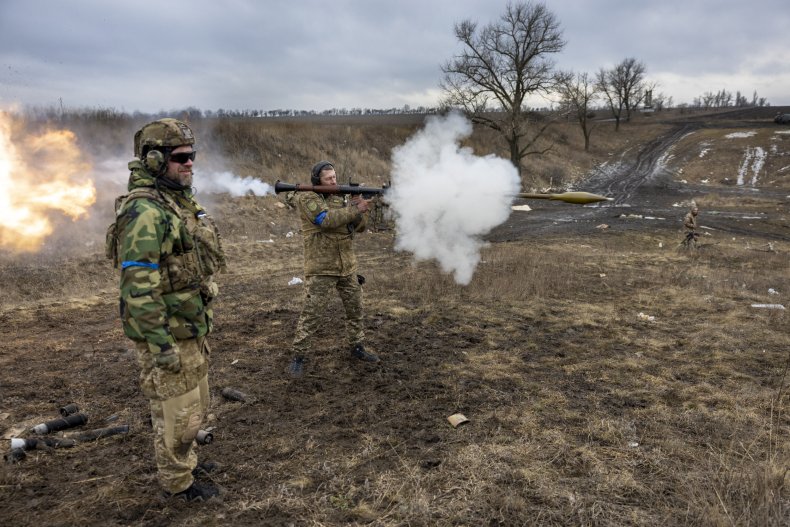 Newsweek has contacted the Russian defense ministry for comment regarding the latest figures, which have not been independently verified.
The total number of fatalities suffered by Russian forces in Ukraine is difficult to assess, and Moscow has not updated its official toll from September of just under 6,000.
Ukraine is similarly tight-lipped about its own military casualties but has admitted 13,000 deaths since the start of the war.
There are reports of large-scale casualties on both sides amid fierce fighting for Bakhmut in the Donbas region.
On Sunday, British defense officials said that Russia's elite 155th Naval Infantry Brigade had been suffering heavy battlefield losses. Its capability was being degraded because replacements were inexperienced.
Sharing satellite imagery it said showed 10 destroyed Russian armored vehicles near the city of Vuhledar, the U.K. Ministry of Defense said that the unit has been involved in some of the toughest tactical missions in the war and has suffered extremely high casualties.
This comes amid a report that the partial mobilization announced by Vladimir Putin to replenish troop numbers was spurred by the success of Ukraine's counteroffensive last fall when some former occupied territory in Kharkiv Oblast was retaken by Ukrainian forces.
The Institute for the Study of War said on Monday that the draft was needed because Putin realized that "irregular volunteer formations" were not enough to defend Russian positions or conduct successful offensive operations.
According to Ukraine's armed forces, as of Tuesday, Russia had also lost 3,388 tanks, 6,630 armored fighting vehicles and 5,252 other vehicles and fuel tanks. Ukraine also said on Tuesday that 60 Russian attacks in five areas in Kharkiv Oblast and Donetsk Oblast in northeastern and eastern Ukraine had been repelled.