Ukraine's Counteroffensive 'Shocked' Putin Into Another Mobilization: ISW
Ukraine's fall counteroffensive "shocked" Russian President Vladimir Putin into launching a partial troop mobilization late last year, according to a new assessment by the Institute for the Study of War (ISW).
Putin ordered the mobilization last September following months of stagnation in the war against Ukraine. Putin launched his "special military operation" on the Eastern European country on February 24, 2022, hoping for a quick victory. However, Kyiv responded with a stronger-than-expected defense effort bolstered by Western military aid that blunted Russian military gains.
Following months of combat, Ukraine launched its own counteroffensive last fall, retaking thousands of square miles of formerly occupied territory in the eastern part of Ukraine from Russian control—delivering a major loss to Putin, as the Kremlin continued to face growing criticism over the handling of the invasion.
Ukraine's counteroffensive reportedly prompted Putin to order a decree of the partial mobilization of soldiers to the battlefield, the ISW, a U.S.-based think tank, wrote on Monday.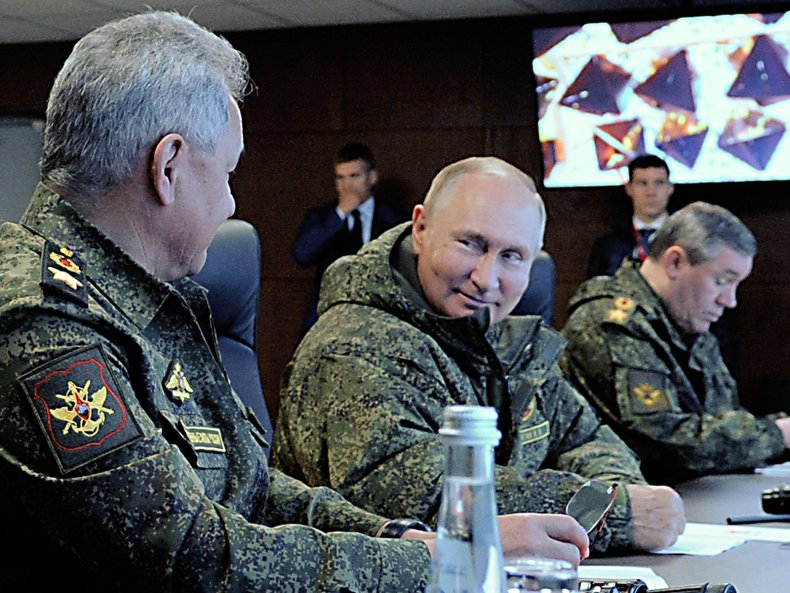 Putin's decree saw up to 300,000 soldiers called to fight against Ukraine, but was met with some resistance as Russians sought to avoid being called to fight in the war, which has reportedly seen a high rate of troop attrition on the Russian side, Ukraine has alleged.
"Ukraine's sweeping counteroffensive in Kharkiv Oblast between September 6 and September 11 likely shocked Putin into realizing that he needed to order an involuntary reserve call-up," the assessment reads. "Putin declared partial mobilization shortly after the Ukrainian counteroffensives on September 21."
The order came as Putin allegedly realized that "irregular volunteer formations were not sufficient to defend Russian positions or conduct successful offensive operations," the ISW reported.
Ahead of the mobilization, the Russian leader also allegedly consulted with "Kremlin-affiliated milbloggers" about his troops' position on the battlefield. These bloggers may have "expressed concern over the ability of the volunteer forces to hold the frontline," according to the ISW.
Despite this counteroffensive, Russia's position in Ukraine remained stagnant as the war passed its one-year mark last week. The mobilization was criticized for being botched, with reports that drunk soldiers were called to the front lines in Ukraine.
Dr. Gian Gentile, associate director of the RAND Arroyo Center, told Newsweek on Monday that from a technical sense, the mobilization was successful, as Russia was able to meet its goals of how many new soldiers it wanted in combat.
However, the mobilization did not allow Putin to achieve his goals in Ukraine, he said. These new troops have not shown the ability to do anything other than "poorly trained infantry assaults" on the battlefield, and the line of contact has not shifted much, according to Gentile.
"They aren't even close to achieving the aims that Putin laid out for his military in Ukraine a couple of months ago," he said. "So in that sense, I think it's been a failure."
Gentile added that these new troops do not appear to have received enough training or the organization needed to propel the Russian military to success.
"This stuff takes time. And it sure doesn't seem like Putin has been willing to give his military in Ukraine time to do that," he said.
The Russian military also began launching missile strikes on Ukrainian infrastructure following this counteroffensive, leaving civilians across the war-torn country without electricity and water.
Russia has continued to struggle to retake significant territory from Ukraine, despite claims of progress in the areas around Soledar and Bakhmut. While Ukraine touts high Russian losses, Moscow has not publicly confirmed these numbers. Meanwhile, its leaders have expressed optimism that Russia will still manage to hold its own in the war.
Ahead of the war's one-year milestone, concerns mounted that Putin could call more troops to fight in Ukraine. The ISW reported earlier this month that the Kremlin tried to boost its troops with a covert draft out of concerns that a larger mobilization would cause backlash.
Newsweek reached out to the Russian Ministry of Defense for comment.
Update 02/27/2023, 3:06 p.m. ET: This story was updated with commentary from Dr. Gian Gentile.