Putin Pursuing 'Silent Mobilization' As War Proves Unpopular in Russia—ISW
Russian troops fighting in Ukraine are being boosted by a covert draft because Vladimir Putin fears the backlash that a widespread mobilization might cause, the Institute for the Study of War (ISW) has said.
The Russian president announced a partial mobilization in September, although the draft was widely criticized as being botched, as numerous anecdotes emerged of a lack of training and equipment for recruits, some of whom were older and infirm.
The ISW said on Sunday that Putin is "evidently reticent" to announce a second call-up, and instead is "again leaning towards conducting 'silent mobilization' due to the concerns over the extreme unpopularity," of the first draft.
However, Putin is also trying to gauge how Russians perceive the draft and has not made up his mind whether to implement another one, despite the announcement of wide-ranging military reforms on January 17 to boost personnel to 1.5 million. Last week, Kyiv reiterated its warning that Moscow was preparing for another draft ahead of an imminent Russian offensive.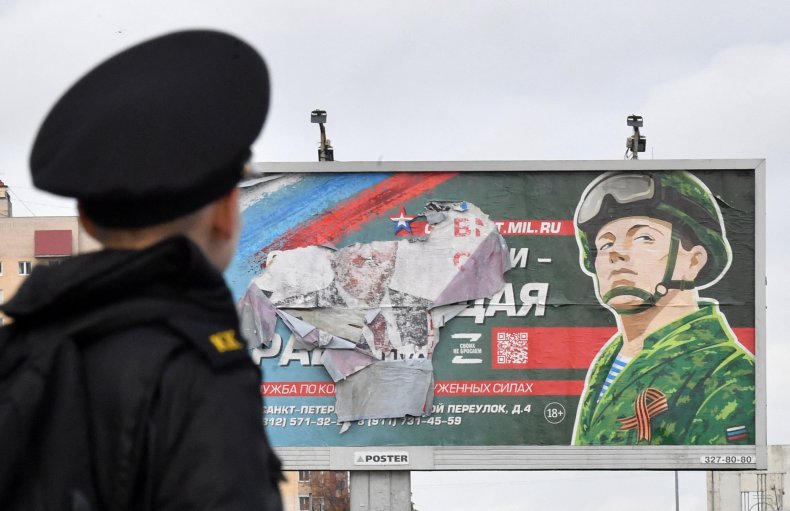 The U.S. think tank said Putin's mobilization was part of a "pattern of reserved decision making" by the Russian leader in which there is a "disconnect" between what risks he is prepared to take, and what is needed to achieve his maximalist aims of seizing all of Ukraine.
Putin probably believed that Russian forces could force Kyiv to capitulate quickly without significant military losses, the ISW said. But facing "an increasingly costly and protracted conventional war" the Russian leader "has consistently ignored, delayed, or only partially implemented" big decisions needed for his invasion, such as a full mobilization that military bloggers had been calling for.
Reluctant to order a full draft following the capture of Severodonetsk and Lysychansk in June and July 2022, Putin ignored calls from the Russian nationalist community to mobilize reservists, declare war on Ukraine and implement martial law in Russia.
While Putin could have announced a bigger draft than the estimated 300,000 servicemen, he "likely feared that the already unpopular prospect of mobilization would further damage his appeal within Russian society."
Last week, the Kremlin released a video and transcript of Putin being told by Russia's Prosecutor General Igor Krasnov about "significant problems" with the draft.
The ISW said that Putin has been trying to deflect blame for the draft, making his Defense Minister Sergei Shoigu and the ministry he leads "the face of his most domestically unpopular decision to date."
Putin has not formally rescinded the initial draft and reports on social media suggest some are still being recruited, albeit covertly. Newsweek has contacted the Russian Defense Ministry for comment.