Russia-Ukraine War: Angela Merkel and Emmanuel Macron Demand That Russia Release 24 Ukrainian Sailors Detained in Kerch Strait
German Chancellor Angela Merkel and French President Emmanuel Macron issued a joint statement on Friday demanding that Russia release the 24 Ukrainian sailors it detained in the Kerch Strait on November 25.
"We demand safe, free and unimpeded transit for all ships through the Kerch Strait and the immediate and unconditional release of all illegally detained Ukrainian seafarers," Merkel and Macron said in their statement. "They too should be able to celebrate the upcoming festivities with their families."
"The human rights situation in Crimea, which was annexed by Russia in violation of international law, and the use of military force by Russia in the Strait of Kerch and abusive controls in the Sea of Azov are also a source of great concern to us," the two leaders continued.
Russia and Ukraine have been in conflict for five years, ever since a pro-Western social movement in Ukraine ousted the country's pro-Russian president Viktor Yanukovych. Since then, Moscow has helped prop up pro-Russian separatists in the eastern Ukraine region known as Donbass and has annexed the Crimean peninsula from Ukraine.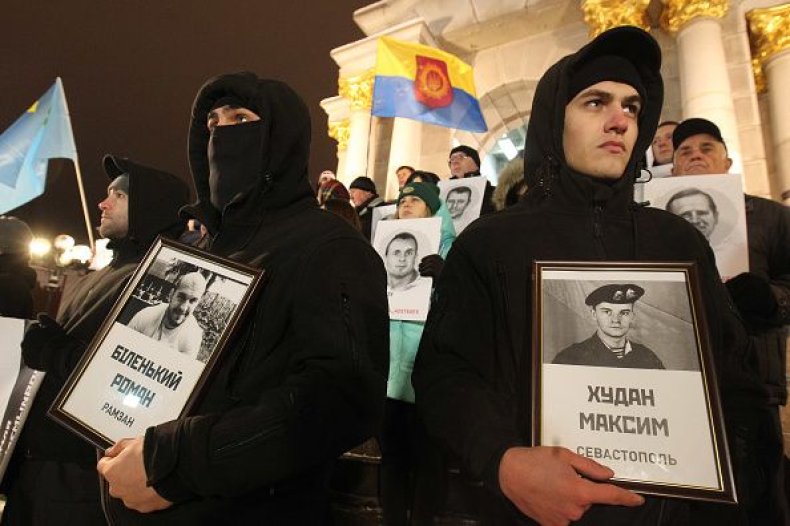 But the conflict came to a head in late November, when Russian soldiers prevented three Ukrainian naval ships from entering the Sea of Azov from the Black Sea via the Kerch Strait. Moscow detained 24 Ukrainian soldiers along with all three ships, and none of them have been released. At least two of the soldiers were wounded.
Also on Friday, the 24 Ukrainian sailors issued a statement through their Russian lawyer in which they declared themselves prisoners of war.
Russia has accused the Ukrainians of provocation, but intercepted radio communications later revealed that it was the Russians who pursued the Ukrainians into international waters. International law dictates that both Russia and Ukraine must cooperate in their use of the waters, including the Sea of Azov, but analysts said that Russia has been working to ensure that Ukraine does not have access to key ports.
Some experts argued that Russia was attempting to control all of the Kerch Strait and the Sea of Azov and had wider territorial ambitions in the region. Officials in Ukraine's navy, meanwhile, have said they plan to exercise their right to navigate the waters and will be prepared in case the Russians attack them again.
The response from the international community, however, has been tepid. NATO's Secretary-General Jens Stoltenberg met Ukrainian President Petro Poroshenko on December 13, and the NATO head reaffirmed the military alliance's support for Ukraine's territorial integrity. NATO will also supply Ukraine with secure communications equipment this year. But analysts said those moves are unlikely to deter Russia from making further incursions into Ukraine.
Russia has not yet responded to the European leaders' demands.