Europe will take new steps to reduce its dependence on Russian fossil fuels, the U.S. and EU announced Friday. The move is a shot at the heart of Russia's economy in response to the invasion of Ukraine.
President Joe Biden and European Commission President Ursula von der Leyen announced a joint task force that will boost the flow of liquefied natural gas (LNG) from the U.S. and other countries to Europe by 15 billion cubic meters this year, with a goal of significantly increasing LNG exports to the EU through 2030.
The task force will also support renewable energy projects and technologies in an effort to help Europe reduce its dependence on natural gas and meet international goals to cut greenhouse gas emissions.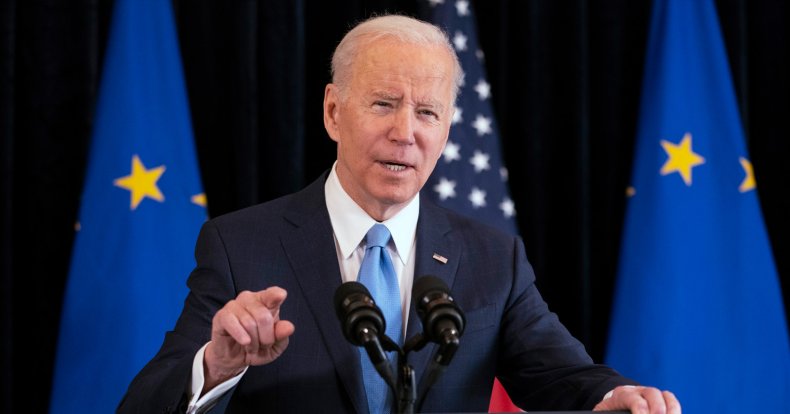 "[Russian President Vladimir] Putin's war has highlighted an urgent need [for Europe to diversify its energy portfolio]," a senior Biden administration official said, speaking on background to discuss the agreement. The task force is "ushering in a new era of energy security for Europe."
Europe currently imports approximately 40 percent of its natural gas from Russia, according to EU data. The flow of energy has not stopped since the Russian invasion of Ukraine began last month.
But as the war continued Germany and other European countries that rely heavily on fossil fuels from Russia faced growing pressure to include an energy ban in broader economic sanctions against Russia.
Russia is already facing crippling economic sanctions targeting the country's leading financial institutions and wealthy elites. In Brussels on Thursday, Biden announced new sanctions targeting more than 300 members of the Russian state Duma, among others.
Earlier this month, Biden took aim at Russia's energy sector by banning Russian oil imports to the U.S. The move also banned U.S. imports of Russian LNG.
LNG is easier to transport than natural gas and produces lower carbon emissions than traditional fossil fuels like oil and coal.
U.S. and European sanctions have also blocked the Nord Stream 2 pipeline, an $11 billion energy project that would have allowed Russia to boost natural gas exports to Europe.
But Biden has acknowledged it would be hard for Europe to ban Russian oil and gas in the short term, and top White House officials warned ahead of the president's trip to Europe this week that Biden would not pressure European allies to cut off Russian oil and gas right away.
Europe does not have the capacity to immediately replace all of the fossil fuel it buys from Russia with other sources, most energy experts believe, making it harder for countries like Germany to respond swiftly to calls for an energy boycott because of the war.
Nevertheless, the new push announced Friday by the U.S. and Europe represents a critical step, a separate senior Biden administration official said.
The task force will accelerate a "rapid clean energy transition," the official said, and help Europe meet its goal of reducing dependence on Russian gas "altogether by the end of the decade."
The below graphic, courtesy of Statista, shows some possible alternate nations that the EU could receive its gas from.