Russian Support for Putin's War Falling Fast as Economic Fallout Bites—Poll
Russians are less likely to believe Kremlin propaganda about its invasion of Ukraine the more they feel the financial pinch caused by sanctions, a poll by an independent Moscow group has found.
Russia's economy has demonstrated some resilience to tough sanctions imposed since the war started just over a year ago, however, analysts expect the measures to be felt more as the invasion continues.
Restrictive laws that criminalize criticism of what is officially referred to in Russia as a "special military operation" have stifled public expression of discontent in surveys, especially if people are asked a question about supporting the war.
But Moscow-based research group Chronicles said its survey of 1,600 people aimed for a truer snapshot of sentiment by asking questions that try to capture the meaning of "support" and would not put respondents on the defensive for fear of repercussions.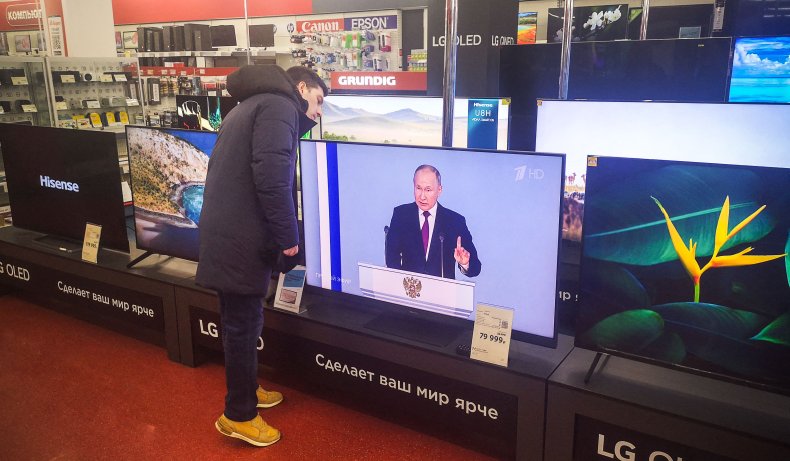 These included questions about whether they believed public funds should be spent on the army rather than the social sector, and if they backed Russia withdrawing troops from Ukraine to start peace talks without achieving the Kremlin's military goals.
The survey conducted between February 2 and 9 found that just over one-fifth of respondents (22 percent) were "core supporters" of the war. Slightly fewer (20 percent) were "core war opponents." There was a 3 percent margin of error.
Economic difficulties
However, when asked if they had faced financial difficulties due to the war—for example, job loss, decrease in income or having to cut on food due to inflation—each economic problem reduced the level of declared "support" by approximately 8 percent.
"We see that people are getting poorer and that it influences how they view the war," Aleksei Miniailo, a Russian opposition politician who launched Chronicles last year with a team of sociologists, told Newsweek.
His poll refers to the common metaphor used in Russia comparing the standard of living with what state propaganda portrays, known as the battle between the refrigerator versus the television set. Speaking to Newsweek from Moscow, Miniailo said that the time "when the fridge will win over the TV is starting to finally happen."
This is because Kremlin messaging that the Russian economy is coping with sanctions is jarring with the reality of the price tags that Russians are seeing. He said that state television might tell them that the economy is coping, "but then they go to the shop and they see that prices rose by 10 percent in half a year."
"They think critically that they see that the TV is lying more than usual, and that makes people critical about other things. So they are less happy with what is happening," he said, "and they start questioning."
Miniailo said that his polls' findings showed that economic sanctions, "do work in terms of not just stifling Russia, Putin's ability to produce more weapons, but also in terms of support for the war inside."
A poll Chronicles carried out in November found that Russian support was falling and had reached "a historic minimum" of just over a half, or 51 percent, compared with 55 percent in July and a high of 66 percent in April.
In December, independent news outlet Meduza reported that the Russian government would limit the public release of findings about attitudes to the war done by Kremlin-friendly pollster VTsIOM (the Russian Public Opinion Research Center).
It reported how a poll commissioned by the Kremlin "for internal use only" showed only 25 percent of Russians backed the war continuing, compared with the figures of over 70 percent from VTsIOM and the Public Opinion Research Center (FOM).
Miniailo told Newsweek that his group's findings showed that poorer people were becoming less in favor of the war. "That's counterintuitive because a lot of people think that if a person is poor, then he is more susceptible to propaganda, he's less educated, and so on," said Miniailo.
But the opposite is true because for a poor person, the war "is not just some faraway thing. He's feeling economic pressure. For rich Russians, it's a picture on the telly. For the poor person, it means his children won't get a meal."
Newsweek reached out to the Kremlin for comment.