Zelensky Calls Putin a 'Nobody,' Dismisses Prospect of Peace talks
Ukrainian President Volodymyr Zelensky has rejected the prospect of negotiations with Russian counterpart Vladimir Putin.
In an interview with Britain's Sky News, which was broadcast on Thursday, Zelensky said that Putin "doesn't want negotiations because he doesn't want peace."
The Ukrainian leader said he was "convinced" that Ukraine was "just the first step" for Putin, who has his eye on "other countries."
When asked if a face-to-face meeting with Putin would be held to end the conflict, Zelensky switched from Ukrainian to English to say: "It is not interesting for me. Not interesting to meet, not interesting to speak."
He said of a meeting with Putin under the Normandy Format before Russia's full-scale invasion on February 24, 2022: "I saw the man who said one thing and then did another."
"After [the] full-scale invasion, for me he is nobody, nobody," he added.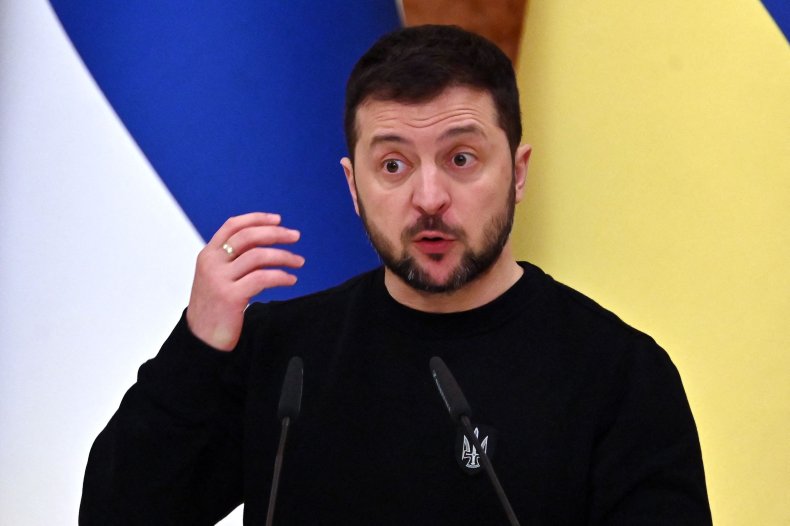 Russia has rejected Zelensky's 10-point peace plan as a condition for negotiations, which includes restoring Ukraine's territorial integrity and Putin pulling out all of his troops.
Putin's spokesman Dmitry Peskov has also rejected the prospect of talks, telling reporters on Monday they "are now impossible since there are no conditions for them either de facto or de jure."
On a visit to South Africa, Russian Foreign Minister Sergei Lavrov accused Kyiv of rejecting peace talks that Moscow was prepared to hold early in the war. He said the U.S. and other allies had advised Kyiv not to negotiate.
Luke Cooper, a senior research fellow at the London School of Economics foreign policy think tank LSE IDEAS, said Moscow would need to offer something significant before any talks could take place.
This could be rescinding its territorial claims on the four oblasts it said it had annexed, withdrawing from the Zaporizhzhia nuclear power plant, or ceasing attacks on civilian energy infrastructure.
"Given that Ukrainians have made clear that peace without justice isn't an option, they are unlikely to start talking unless Putin shows at least some willingness to climbdown from his maximalist objectives," he told Newsweek.
"While neither side have much incentive to start negotiations at the moment, President Zelensky's 10-point peace plan has been carefully crafted to hold open the possibility of a future agreement.
"But it would require significant movement in Moscow for even the more minimal, humanitarian-focused components to get a hearing," added Cooper.
During the Sky News interview, which was recorded on Wednesday— Zelensky's 45th birthday — the Ukrainian president was informed about the decision by Berlin to supply Leopard 2 tanks, for which he said he was "very thankful."
Washington has also announced it would send 31 M1 Abrams tanks to Ukraine. The announcement comes amid speculation of a Russian surge in southern and eastern Ukraine, for which Zelensky said his forces must be prepared.
"It all depends on our defensive strength," he told Sky. "It all depends on how much we can hold them back."