Russia, the U.S. and a Short History of Animals as Weapons of War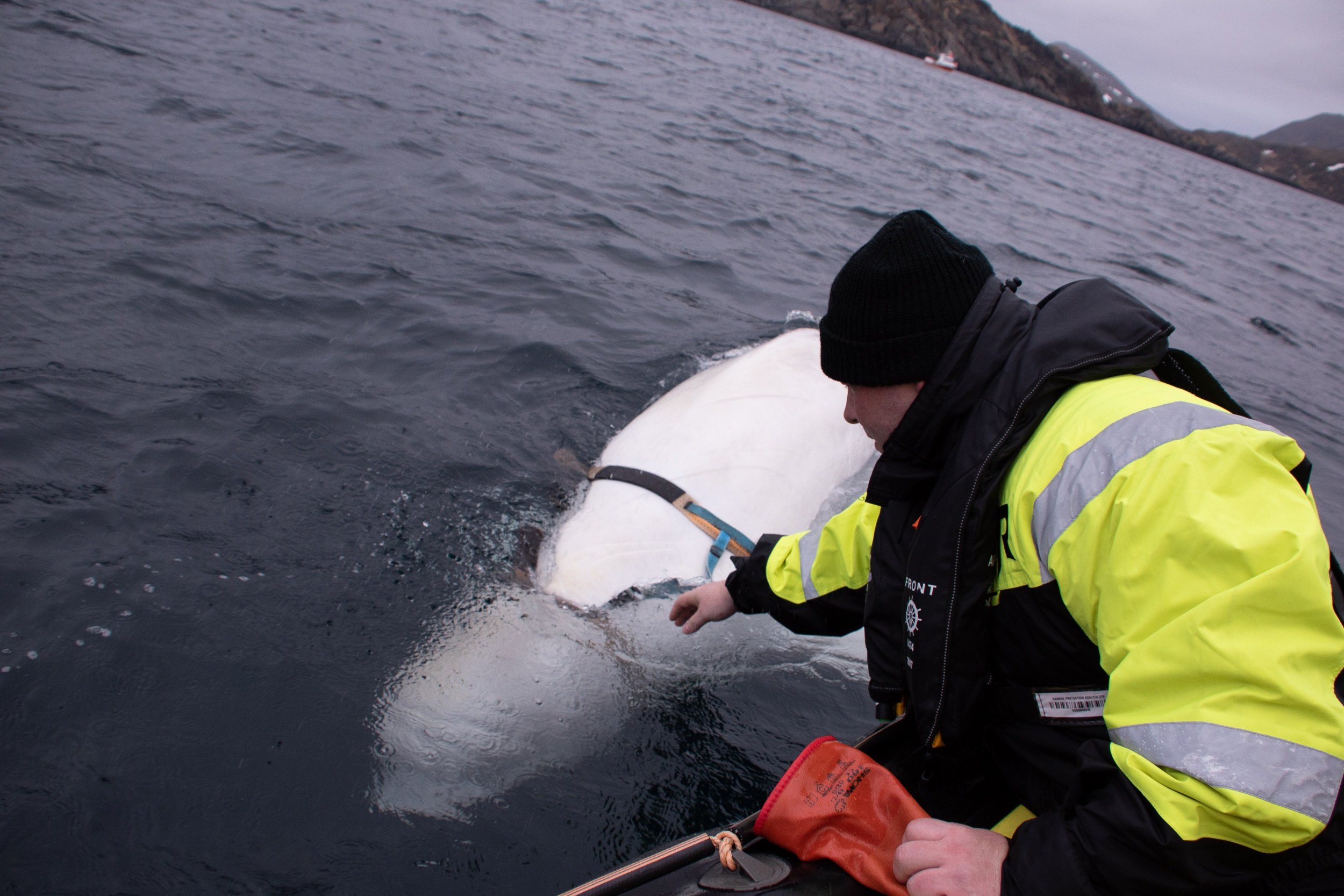 Norway's discovery of a Beluga whale with what appeared to be a Russian harness strapped to it has elicited concerns that Moscow was using the marine mammal for a military mission—and it would not be the first time.
Joergen Ree Wiig of the Norwegian Directorate of Fisheries told the Associated Press that the whale, spotted last week in the Barents Sea by local fishermen, was wearing a strap with the words "Equipment St. Petersburg" written on it. He said "people in Norway's military have shown great interest" in the harness and the whale.
While Russia's beluga whales recently made headlines after a so-called "whale jail" was spotted illegally keeping some dozens of them in Srednyaya Bay in Russia's Far East—Moscow announced earlier this month that the animals would all be released into the wild—allegations of using the cetaceans for military purposes follow a long history of mankind using weaponizing animals for warfare.
Russia was no stranger to the practice, and at one time it appeared to be a centerpiece of the Cold War-era arms receive between the Soviet Union and the United States.
Get your unlimited Newsweek trial >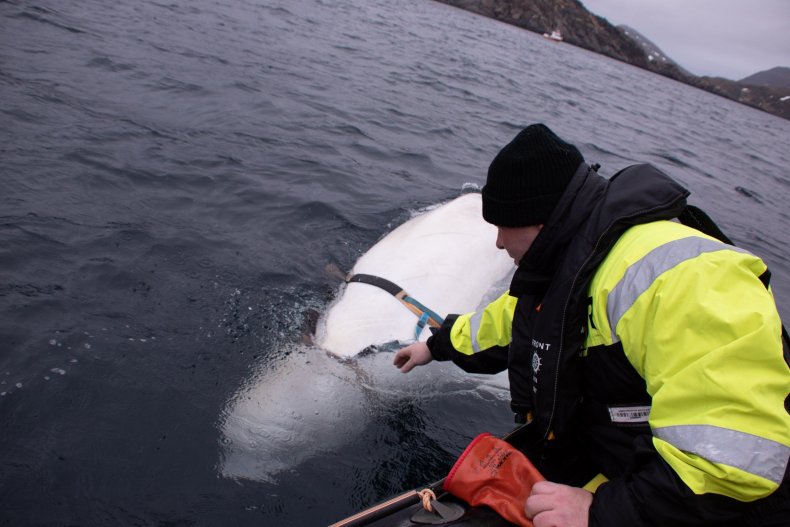 Horses were utilized by some of the world's first major conflicts, dating back thousands of years to the Eurasian region occupied today by Russia. As tactics evolved, different peoples found new uses for animals on the battlefield, such as Carthage commander Hannibal's famed war elephant march across the Alps during the Second Punic Wars in the early second century B.C.
The Soviet Red Army trained dogs to carry anti-tank explosives, a tactic that was used extensively against the invading forces of Nazi Germany in World War II. The U.S. also reportedly began a similar program during this period, but never it never saw action. After winning the war, which also saw iconic Syrian brown bear Wojtek supporting Poland's II Corps, the two superpowers turned their attention toward recruiting another kind of animal altogether.
The Soviet Union reportedly operated a research facility designed to train dolphins to perform missions near the Crimean city of Sevastopol. Funding dried up after the fall of collapse of the Soviet Union in the early 1990s, however, and BBC News reported in 2000 that Russia had sold a team of 27 suicide bomb-trained animals, including walruses, sea lions, seals and a white beluga whale, to Iran.
Get your unlimited Newsweek trial >
Other dolphins that stayed in Crimea reportedly returned to Moscow's control when Russia annexed the Crimean Peninsula amid a 2014 political uprising in Ukraine. Kiev's Crimea representative claimed last year that the creatures went on hunger strike and died after falling into Russian hands, a claim quickly dismissed by a representative from Moscow.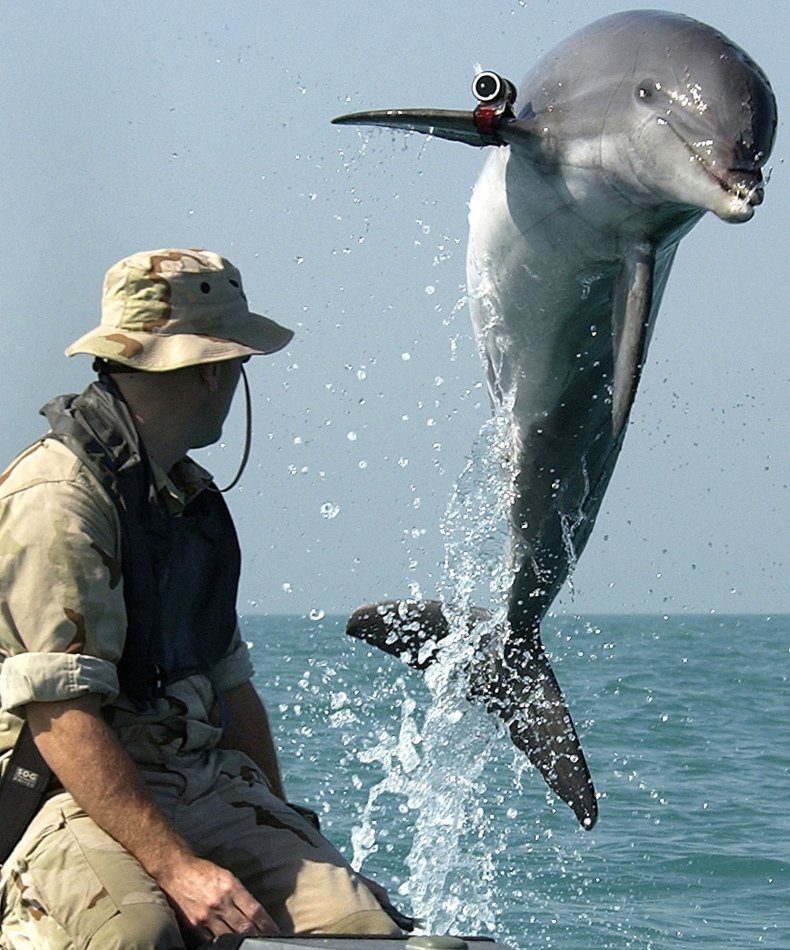 The U.S. continues to maintain its own aquatic animal defense wing, known as the U.S. Navy Marine Mammal Program, in San Diego. While there are no known stories of rival cetacean clashes clashing, the Russian Defense Ministry's official Army Collection magazine claimed earlier this month that Soviet specialists managed to develop psychic techniques in the 1980s that allowed them to command their dolphins fleet via telepathy.
Animals have also been spotted among the ranks of insurgent groups using dogs and donkeys as living bombs, though some have proved troublesome, such as the wild boars that reportedly killed three fighters of the Islamic State militant group (ISIS) in Iraq in 2017. Animals have also been at the center of multiple spying scandals in the Middle East, usually with Israel at the center.
Egypt, Iran, the Lebanese Hezbollah movement, the Palestinian National Authority, the Palestinian Hamas movement, Saudi Arabia and Turkey were among those who have accused Israel of using boars, birds, dolphins, lizards, rats, sharks and other animals to spy or sabotage on the country's behalf.
Russia, the U.S. and a Short History of Animals as Weapons of War | World