Russia has accused the United States of lying about its missile defense intentions after a recent intercontinental interception test used technology Moscow officials say the Pentagon has assured them were not aimed at Russia's long-range capabilities.
Two days after the U.S. military for the first time downed an intercontinental ballistic missile (ICBM) with a missile fired from a warship, Russian Foreign Ministry spokesperson Maria Zakharova branded the move "a new confirmation of the dangerous and destabilizing character" of Washington's anti-ballistic missile strategy "and its obvious anti-Russian orientation."
She took exception at the Pentagon's use of a Standard Missile-3 (SM-3) Block IIA missile fired by Arleigh Burke-class destroyer USS John Finn to take down the ICBM launched from the Kwajalein Atoll in the Pacific Ocean. The weapon is a part of the Aegis Ballistic Missile Defense System, which Moscow has long suspected to be a major node in a U.S. global missile shield to undermine Russian military power, as opposed to the official U.S. line of countering regional threats such as Iran and North Korea.
"For many years our American colleagues assured us that the interception of Russian ICBMs by American Standard systems—including this modification—is technically impossible," Zakharova told journalists, "and that they need a global missile defense system exclusively to counter some limited regional threats, recall the Iranian theme."
She said the latest test belied this narrative.
"The recent test directly confirms the falsity of American assurances that the U.S. global missile defense system is not directed against Russia," Zakharova said. "This is direct evidence of a concrete example of how Washington manipulated the public opinion of its country, lied to its international partners and justified its actions in the international arena with absolutely far-fetched pretexts."
The SM-3 Block IIA missiles can also be found even closer to Russian soil, deployed to Aegis Ashore sites in Poland and Romania.
"Naturally, we will have to take the necessary response measures," Zakharova said, "which we have talked about many times, proceeding from the tasks of ensuring national security and maintaining strategic stability."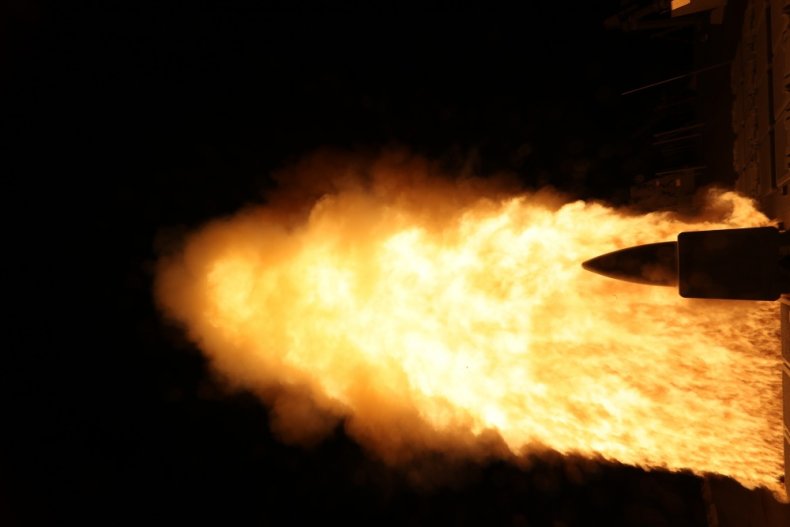 Russia has long contended that such Aegis Ashore sites constitute a violation of the Intermediate-range Nuclear Forces (INF) Treaty because they could theoretically be converted into offensive systems. The United States left the 1987 agreement in August of last year, instead accusing Russia of breaking its terms with the deployment of the Novator 9M729, a cruise missile U.S. officials claim violates the agreement's 310 to 3,420-mile limit.
The accusation was featured in last year's U.S. Missile Defense Policy Review, which as Zakharova pointed out Thursday, deemed Russia "a potential adversary."
She also said Russia had not yet closed the door on negotiations to extend the New Strategic Arms Reduction Treaty (New START), the last remaining bilateral nuclear weapons deal between the country since the collapse of the INF and the earlier Anti-Ballistic Missile Treaty.
New START limits the U.S. and Russia's deployed ICBMs, submarine-launched ballistic missiles (SLBMs) and nuclear-capable heavy bombers to 700; their deployed nuclear air, land and sea nuclear warheads to 1,550; and their deployed and non-deployed ICBM launchers, SLBM launchers and nuclear-capable heavy bombers to 800.
It also provides crucial measures for the mutual verification of inspection of one another's strategic capabilities.
The Trump administration entered into successive rounds of talks to renew New START this year. Discussions stalled, however, over the Washington delegation's insistence on conditions involving a wider, more comprehensive deal that included more weapons platforms as well as additional countries such as China, which has repeatedly refused due to its far smaller stockpile.
In Russian President Vladimir Putin's most recent proposal last month, he offered to agree to the Trump administration's request for a nuclear warhead freeze should the U.S. sign off on a one-year extension of New START. The State Department welcomed the move, but little has been heard of efforts to resolve the issue since then.
But U.S. special presidential envoy for arms control Marshall Billingslea, the lead negotiator on New START talks with Russia, did take the opportunity Wednesday to comment on the latest U.S. ICBM interception test, calling it "a clear message to all who mistakenly think they can threaten the American people with long-range missiles."
Billingslea's office did not immediately respond to Newsweek's request for comment.
The deal is set to expire on February 5, just about two weeks after President-elect Joe Biden is scheduled to take office. As per his official foreign policy, the former vice president "will pursue an extension of the New START Treaty, an anchor of strategic stability between the United States and Russia, and use that as a foundation for new arms control arrangements."