Russia Compares U.S. to Venezuela, Says a Lot of People Didn't Want Donald Trump as President Either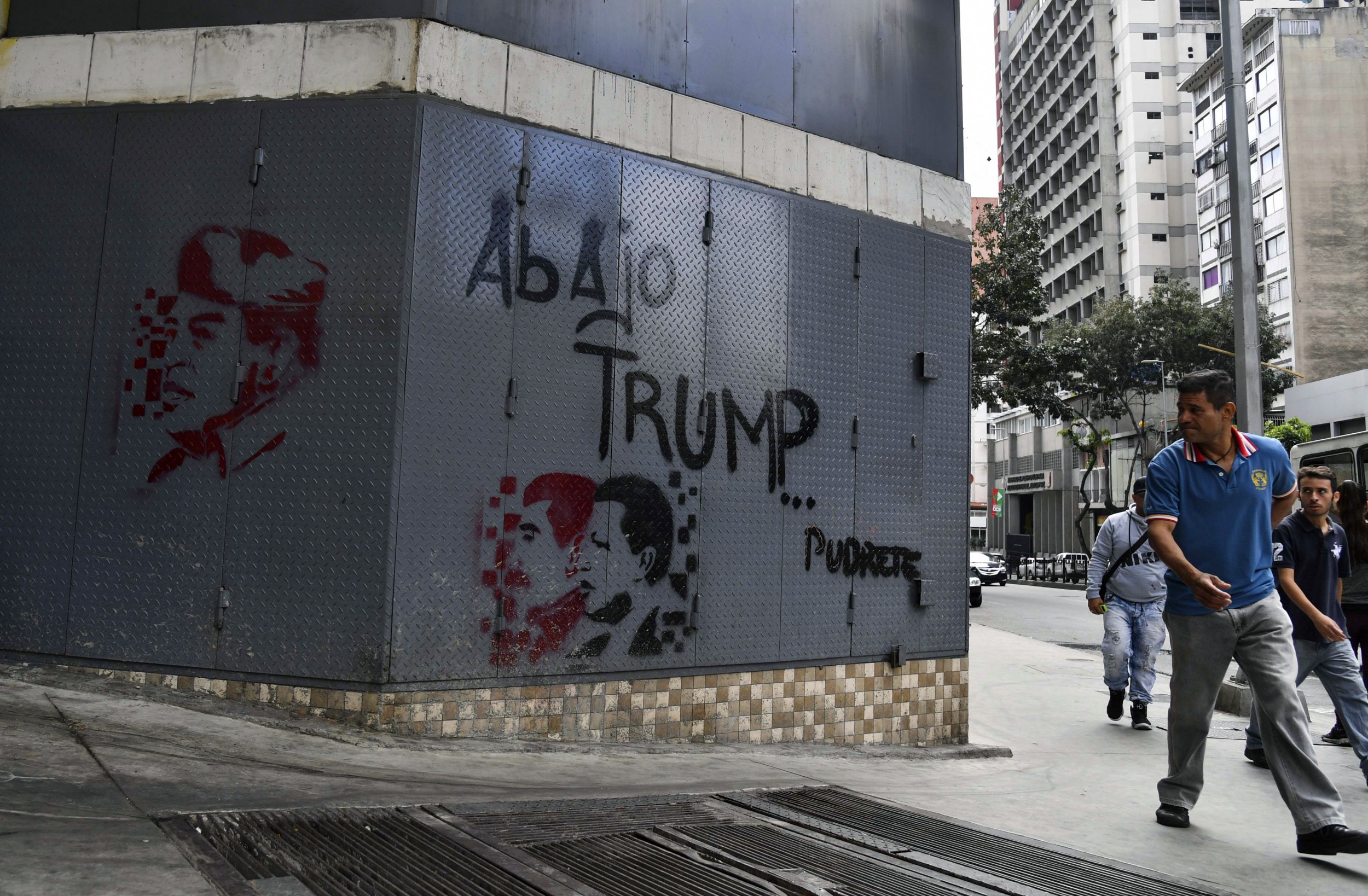 Russia has compared the ongoing crisis in Venezuela to the political situation in the United States following the 2016 election of President Donald Trump, who was opposed by at least half the population.
Addressing a press conference Thursday, Russian Foreign Ministry spokesperson Maria Zakharova condemned what she described as "the White House's plan to implement a coup d'état in Venezuela," where the Trump administration has endorsed opposition leader and National Assembly head Juan Guaidó's challenge to President Nicolás Maduro. As Washington steps up pressure on Maduro through sanctions and leaves the door open for "all options," Moscow drew a parallel between events in Venezuela and the U.S.'s own recent political experience.
"When American officials talk about the basis of their decision to intervene in the affairs of Venezuela, they tend to say that they want to return democracy to this state, a significant part of the country's population does not agree with the course and policies pursued by the legitimate president, people are unhappy because they can not be heard," Zakharova told reporters. "Doesn't this remind you of anything? This is the current situation in the United States, where a large part of the population does not agree with the course of the current American president, a significant part of the population is unhappy with the changes and the policy that he is pursuing within the country."
"Do you remember the situation in the USA in 2016 immediately after the elections? I would like to remind you that a truly large part of the U.S. population voted for a candidate who did not come to power," she said. "I think it could be reasonable to support the majority of Americans who did not agree with the election results.
Zakharova added: "Why did nobody do this? Isn't that what democracy is, when, contrary to the opinion of many, the laws, the constitution and following the constitutional order prevail? I understand that there are a lot of different things in these situations, but there are a lot of things in common."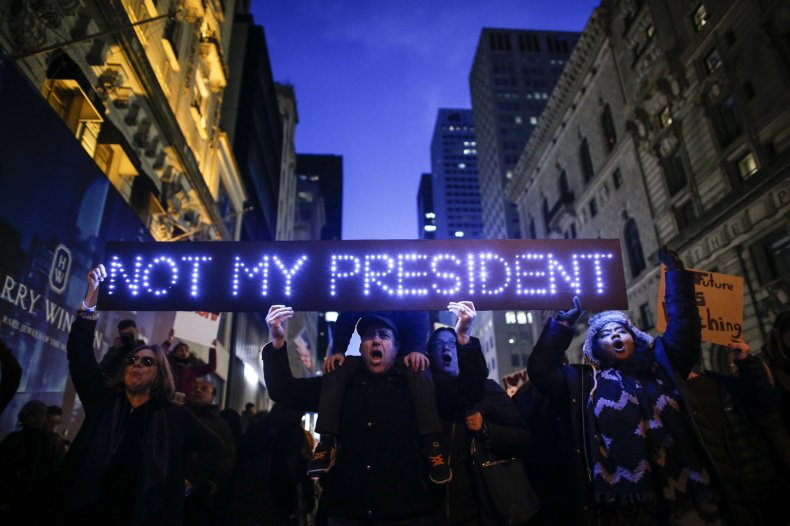 The most recent U.S. presidential race polarized the country, with real estate tycoon and media personality Trump having been widely dismissed early on only to ultimately receive the Republican nomination. This pit him against Democratic pick Hillary Clinton, a former senator and first lady who served as outgoing President Barack Obama's secretary of state. Trump managed to secure a shock victory in November 2016 though the Electoral College system, but actually lost the popular vote.
While Trump's election inspired scores of "resistance" protesters to take to the streets declaring the Republican leader to not be their legitimate president and some even formed "alternative" government institutions on social media, no opposition figure put forth any serious challenge to the presidency. The most significant threat to Trump's mandate came from the U.S. government itself, which claimed that Russia interfered on his behalf and has continued to investigate whether there was conspiracy between the two parties, both of whom deny the charges.
In Venezuela, Guaidó declared himself interim president last week as national protests against deteriorating economic conditions as well as alleged human rights abuses and election-rigging rocked the start of Maduro's second term. The country's main opposition refused to participate in last year's vote, which the U.S. and a number of its allies refused to recognize. Amid the current crisis, the international community was again divided along partisan lines.
In support of Maduro in Latin America were fellow leftist-led Bolivia, Cuba, El Salvador and Nicaragua, as well as Dominica, Suriname, Saint Kitts, Nevis, Saint Vincent and the Grenadines in the Caribbean sphere. Abroad, he received backing from Belarus, China, Cambodia, Equatorial Guinea, Greece, Iran, Laos, North Korea, the Palestinian government, Russia, South Africa, Syria and Turkey. Guaidó has received the support of nearly every other Latin American state, as well as the U.S., alongside Albania, Australia, Canada, Georgia, Haiti, Israel, Kosovo, Morocco, Taiwan and the United Kingdom.
Mexico and Uruguay, who both still recognize Maduro as head of state in Venezuela, have set out to plan an international conference on the issue, a move that Zakharova said Thursday was an example of "a balanced approach" to the situation. France, Germany and Spain have threatened to recognize Guaidó if new elections were not held within the next week, while the EU itself, along with India and Japan among others, have appealed for international talks.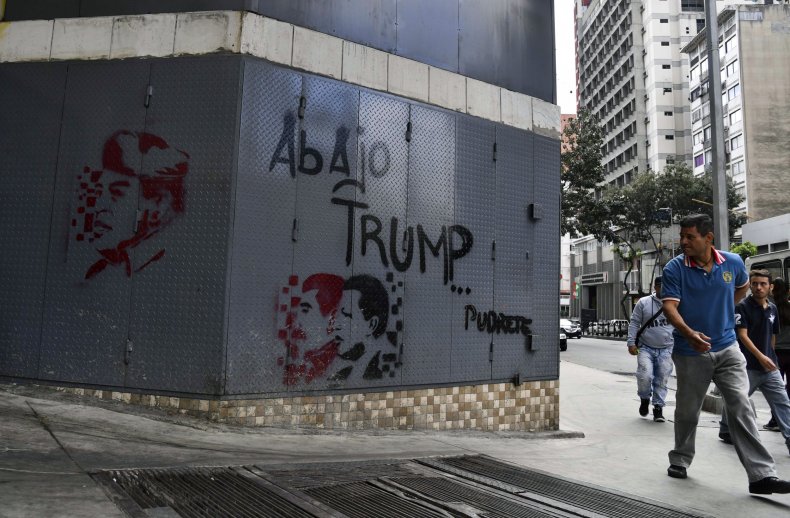 In a message addressed directly to "the people of the United States," Maduro warned Wednesday that a "campaign has been prepared to justify a coup d'état in Venezuela," one that has been "set, financed and supported actively by the Donald Trump administration." He warned that the U.S had its sights set on his country's vast oil reserves, such as those in Iraq and Libya, and compared any potential conflict with Venezuela as being "a new Vietnam," but "worse."
The U.S. has a decades-long history of intervening against left-wing and socialist movements across Latin America and, in order to deal with the current crisis in Venezuela, Trump has appointed Elliott Abrams, a former assistant secretary of state convicted for his role in a 1980s plot through which former President Ronald Reagan's administration secretly sold arms to Iran throughout its war with Iraq in order to fund counter-revolutionary militias known as "contras" against the socialist Sandinista-led government in Nicaragua.
Abrams was also said to be behind a coup attempt against Maduro's predecessor, Hugo Chávez. After being pardoned by former President George H.W. Bush, Abrams would go on to serve on the younger Bush's national security council, a position which he used to secure funds for an uprising against Chávez in 2002. In September, The New York Times reported that Trump administration officials had met with Venezuelan opposition figures within the past year in order to plan a coup and The Associated Press reported just last week that secret talks between the opposition and international foes of Maduro had taken place in order to form an anti-Maduro coalition.