Venezuela's Maduro Sends Message to U.S. Citizens: Do Not Let Donald Trump Start a War in My Country
Venezuelan President Nicolás Maduro has issued a video message addressed directly to "the people of the United States," urging them to prevent President Donald Trump from starting a war in Latin America.
In a video published Wednesday to Maduro's account on Facebook—which recently removed the socialist leader's "verified" check amid the ongoing political crisis—he warned U.S. citizens not to trust the media, which had waged a "brutal campaign of false images" and "mounted videos." He said that "a campaign has been prepared to justify a coup d'état in Venezuela," one that has been "set, financed and supported actively by the Donald Trump administration."
Protests against deteriorating economic conditions—along with allegations of election fraud and human rights abuses—swelled as Maduro was sworn into his second term earlier this month, compelling opposition leader and National Assembly head Juan Guaidó to declare himself interim president. The U.S. recognized the move and has increasingly pressured Maduro to step down in a series of developments that the Venezuelan leader warned could lead to a military confrontation akin to U.S. wars in Iraq, Libya and Vietnam.
"If the U.S. intends to invade us, they will have a Vietnam worse than they can imagine. Let's not allow violence," Maduro said, urging viewers to "not permit a new Vietnam in Venezuela."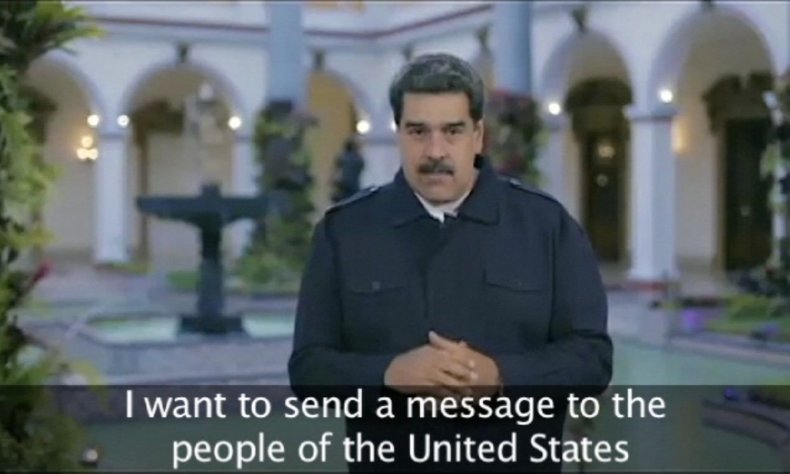 The U.S. entered Vietnam in the 1960s in an attempt to bolster allied South Vietnamese forces against communist North Vietnam and Viet Cong insurgents, a campaign that ended with a withdrawal and eventual communist takeover in 1975. The conflict was one of many U.S. attempts to combat spreading leftist movements across the globe amid fears that its Soviet rival was gaining ground in the Cold War. Washington's anti-socialist efforts also took place in the form of multiple interventions in support of right-wing forces in Latin America, where as recently as 2002, the CIA was reportedly involved in an attempted coup against Maduro's predecessor Hugo Chavez.
The Trump administration, however, has portrayed Maduro as an "illegitimate" leader due to his government's failure to stop a historic financial crisis that has led to unprecedented hyperinflation, a lack of essential goods and the exodus of millions of citizens, as well as alleged attempts to suppress his country's opposition. Following the White House's decision to recognize Guaidó, the U.S. rolled out sanctions against Venezuela's state-run oil company, something Maduro said belied Washington's true intentions.
"We have our problems, like any other country, and we will solve them by ourselves. In our country, there is the largest certified oil reserve in the world and the eyes of those who lead the empire in the United States want to put their hands on it, as they did in Libya and Iraq," Maduro said, noting that "they cannot invent that Venezuela and Maduro have weapons of mass destruction in order to intervene against us."
Venezuela did, however, received a visit last month from two nuclear-capable Tupolev Tu-160s as part of an air force delegation designed to demonstrate solidarity between Caracas and Moscow. Russia has extended billions of dollars of credit to Venezuela, considering it a valuable bastion of support in the West, and Moscow has criticized Washington's actions there.
Venezuela's political crisis has split the international community. Maduro has so far been backed by fellow leftist-led Latin American states Bolivia, Cuba, El Salvador and Nicaragua, as well as Dominica, Suriname, Saint Kitts, Nevis, Saint Vincent and the Grenadines in the Caribbean sphere, and Belarus, China, Cambodia, Equatorial Guinea, Iran, Laos, the Palestinian government, Russia, South Africa, Syria and Turkey elsewhere in the world. Guaidó has secured the support of nearly every other Latin American state, as well as the U.S. and a number of its allies, including have Albania, Australia, Canada, Georgia, Haiti, Israel, Kosovo, Taiwan and the United Kingdom.
Mexico and Uruguay have offered to host talks, while the European Union, India and the United Nations among others appealed for calm. Russia too has volunteered to mediate between the government and opposition in a proposition that Maduro has apparently accepted, though he has refused "imperialist" demands for snap elections, which were not due to be held again until 2025.