Russia Using Chemical Weapons Should Be 'Red Line' for NATO, GOP Rep. Says
Rep. Michael Waltz, a Florida Republican, said Tuesday that Russia's alleged use of chemical weapons against civilians in Ukraine should be the "red line" for NATO to become involved in the war.
Speaking on Fox News, Waltz responded to reports that the Russian military dropped toxic chemicals on Ukraine's besieged southeastern city of Mariupol on Monday. The allegations have not yet been verified by the U.S. or NATO.
"Well, this is part of the Russian doctrine, and it's certainly part of [Russian President Vladimir] Putin's doctrine to escalate to weapons of mass destruction. It would not surprise me if this is true," Waltz told Fox News.
"President [Joe] Biden should have been setting red lines from the beginning with the use of weapons of mass destruction. I believe that red line...that would be the line for NATO to become directly involved. We cannot allow chemical weapons, or God forbid, tactical nuclear weapons, to be the next rung in the escalation ladder that we allow Putin to go to," he added.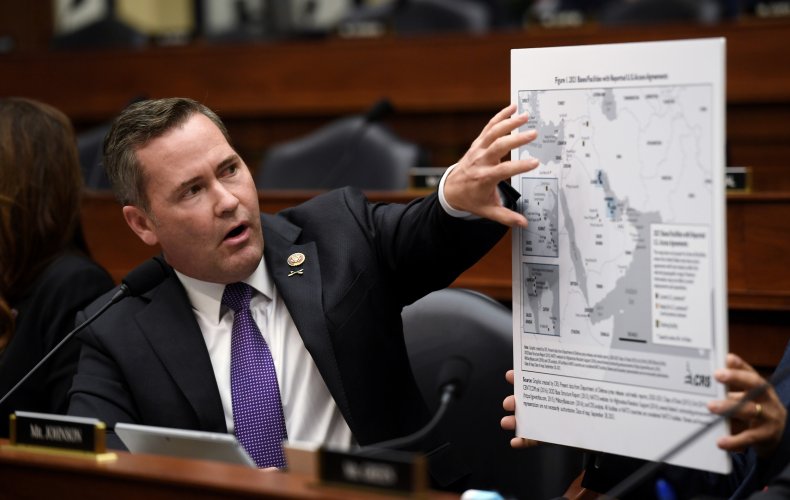 The alleged use of chemical weapons was first reported by the Azov Regiment, a far-right nationalist unit of the National Guard of Ukraine. The battalion wrote in a Telegram post on Monday that Russian forces used a chemical substance of an "unknown origin" via a drone, which caused at least three people in Mariupol to become poisoned.
One soldier injured in the alleged attack described an explosion and then a "sweet-tasting" white smoke covering the area, while another said he immediately lost his breath and collapsed with the feeling of having "cotton legs," the BBC reported.
The reports sparked immediate condemnation from Ukrainian President Volodymyr Zelensky, who said the use of chemical weapons would mark a "new stage of terror against Ukraine." Several Western nations, including the U.S. and U.K., are currently working to investigate the attack.
"We are aware of social media reports which claim Russian forces deployed a potential chemical munition in Mariupol, Ukraine," Pentagon Press Secretary John Kirby said in a statement Monday evening. "These reports, if true, are deeply concerning and reflective of concerns that we have had about Russia's potential to use a variety of riot control agents, including tear gas mixed with chemical agents, in Ukraine."
Biden and NATO have previously warned that potential use of chemical warfare by Russia could result in direct involvement from the West. On Tuesday, James Heappey, the U.K.'s armed forces minister, said that "all possible options are on the table" regarding a response from NATO troops.
Ukrainian Deputy Defence Minister Hanna Maliar said Monday that the government is investigating the allegations and that phosphorous ammunition may have been used according to early information, the Ukrainian newspaper Ukrayinska Pravda reported.
Phosphorus is not classed as a chemical weapon under the U.N. Chemical Weapons Convention, but its use is tightly regulated under international law. However, it can be strong enough to burn human flesh and is illegal to use on civilians.
Newsweek contacted Russia's foreign ministry and ministry of defense for comment.
Correction 4/12/22, 3:05 p.m. ET: This story has been updated with the correct spelling of "Azov Regiment." An earlier version of this story said "Azoz."